"National Cheng Kung University (NCKU), Taiwan and the Technische Universität Darmstadt (TUDa), Germany jointly hosted a 1-Year–Celebration of the TU Darmstadt Asia Office @ NCKU through a two-day event. On May 7th, the NCKU-TUDa-Bosch Joint Workshop mapped out a study program combining exchange at the partner university and an internship at Bosch in Taipei, all made possible by a scholarship program; and on the other hand stimulated scientific cooperation and its applications in advanced industry. On May 8th, NCKU, TUDa and the German Academic Exchange Service (DAAD) together explored possibilities and funding for faculty's research plans and students' overseas study. Exchange students from TUDa to NCKU also shared their learning and living experiences in Tainan by poster presentations and answered many questions by NCKU students who are interested in an exchange semester at TUDa. The 1-Year–Celebration not only overviewed the long-term exchange over 30-plus years between the two universities, but also solidly advanced future projects, reflecting NCKU's pragmatic methodology toward international education and cooperation.
NCKU President Huey-Jen Jenny Su noted that NCKU has signed 41 agreements with 14 German universities. The inauguration of TU Darmstadt Asia Office @ NCKU is the first time a German university deploying an office in Taiwan, which densifies bilateral interaction and contributes to multilateral partnership. For example, the NCKU-TUDa-Bosch framework allows students to do an internship and participate in business projects in a world-class company. When adding more colors to the students' learning journey and solidifying their strength for future career, this program acts as a cornerstone for the two nations' talent and leadership cultivation. On the other hand, the two schools' professors specializing in mechanical engineering, chemical engineering and material science will devote their scientific research and development energy and chain with industrial pulse and needs through this trilateral academia-industry cooperation.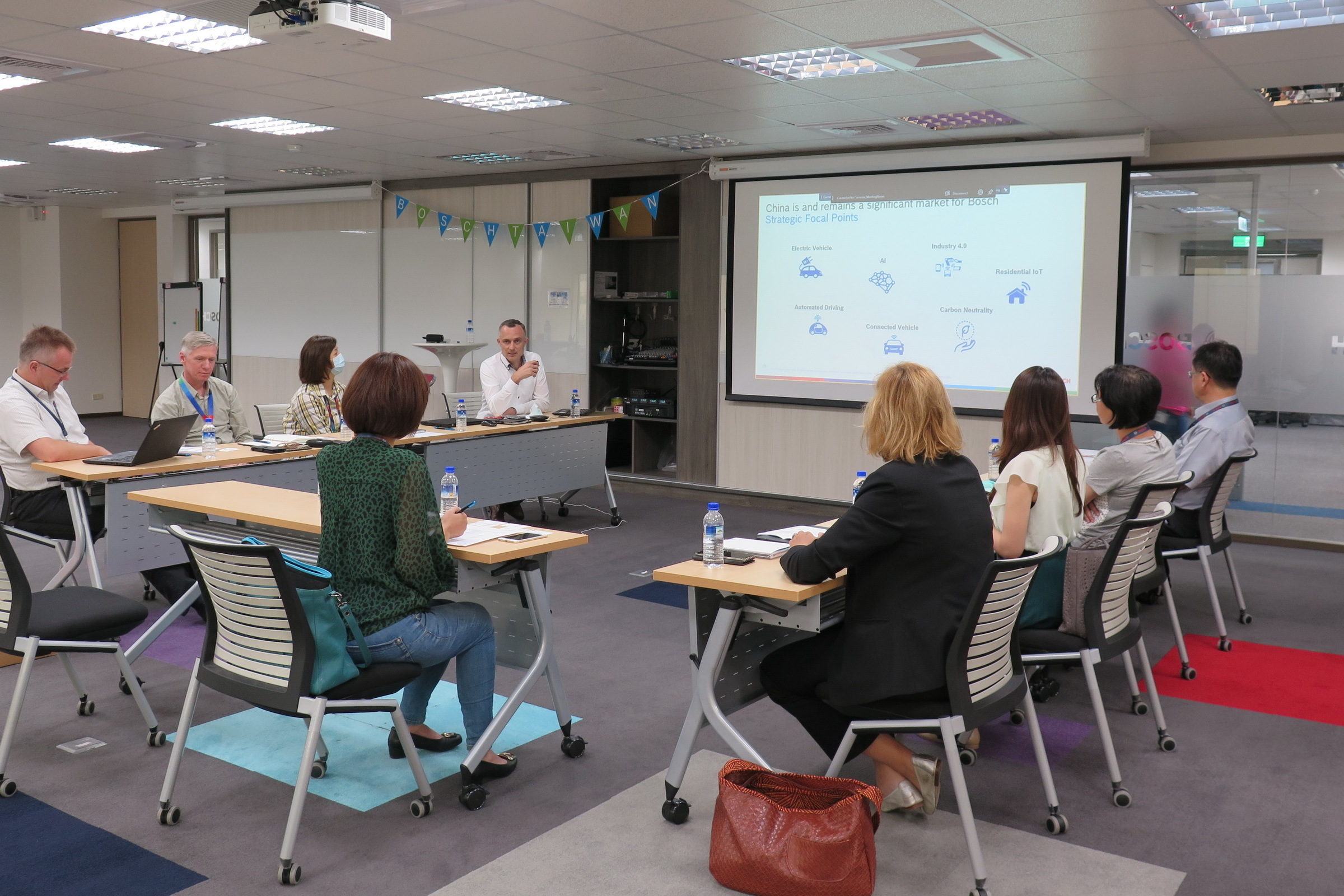 TU Darmstadt Asia Office @ NCKU Celebrates 1st Anniversary
To nurture students' capability of international mobilization and adaptation, as well as to apply academic research results in people's true needs and lift the overall development of human society, are the core values upheld in NCKU's international education, President Su pointed out. She added that because all NCKU members share these same values, the school has adopted the Sustainable Development Goals (SDGs) for many years; resulting to NCKU's high ranking and extraordinary achievement, 2nd in Asia and 38th in the world, in the Impact Rankings 2020 released by the Times Higher Education (THE) magazine on April 22. In this regard, TU Darmstadt is not only an important old friend but also a like-minded partner of NCKU. As the two schools embrace the same values, harmonious sparkles are always found during planning or implementing projects. President Su expects to greet more anniversary celebrations for many years and to make joint dedication to the two nations' future.
The two schools have conducted multifaceted collaborations, Prof. Hsiao-Wen Wang, NCKU's Vice President for International Affairs, said. The German Language & Culture Intensive Lecture Program, merging language lessons with knowledge about German workplace, education and cultural differences, aims to build up the language ability and international adaptability of students and faculty members. The deployment of a member from TU Darmstadt's International Relations and Mobility unit in NCKU campus can provide direct and accessible individual consultation for overseas study and research in Germany, and enhance general career education and language course design. A short-term course was opened by TU Darmstadt faculty in the area of material science. In addition to bilateral exchanges, multilateral projects are also promoted. The two schools are currently cooperating with Bosch and DAAD respectively, and are planning future projects in NCKU's Overseas Research Centers in Malaysia, Vietnam and Thailand. Meanwhile, as NCKU's learning environment and Taiwan's epidemic prevention achievements receives high recognition from TU Darmstadt, during this difficult time, TU Darmstadt still chose NCKU and sent five German exchange students here.

Exchange students from TUDa to NCKU shared their learning and living experiences in Tainan
Claudia Finner, Director of the TU Darmstadt Asia Offices who had previously served in academic institutions in Singapore, Japan and other countries, praised NCKU about its exceptional research foundation, outstanding pragmatic spirit and unchanging dedication to issues of tomorrow. Elvira Khamenok, an exchange student from TU Darmstadt to NCKU's Mechanical Engineering Department shared about her pleasant stay here and passionately described it with friendly people, interesting culture, delicious food and astonishing landscape. Jens Grünwald, another exchange student from TU Darmstadt, appreciated NCKU for the prompt assistance and kind acceptance when he encountered changes caused by the epidemic. He also thanked all the kind Taiwanese people who had reached out warm hands to him and praised that the beautiful sceneries in Taiwan are truly worth exploring. NCKU will certainly receive his positive recommendation as a study or exchange destination, he said.

The inauguration of TU Darmstadt Asia Office @ NCKU
NCKU and TU Darmstadt signed their first academic cooperation agreement in 1987 and have since then promoted faculty mobility and student exchange and bridged between the Taiwan Comprehensive University System (TCUS) and the TU9 German Institutes of Technology. Over 30 years of mutual understanding and co-work, the two schools successfully earned recognition of EU's Erasmus Program in 2017. TU Darmstadt further opened its Asia Office in NCKU in May 2019. NCKU has signed 41 agreements with 14 German universities, facilitating overseas student exchange, short-term research and internship, academic visits and dual-degree programs. As the strength of Germany and NCKU in engineering are both well-known, many joint research projects are developed in energy and material science fields.(Writing by Office of International Affairs, National Cheng Kung University. Photo by Office of International Affairs and News Center )