On the afternoon of Friday, June 19th, international students from the Class of 2020 gathered for an emotional farewell party. The first-ever International Degree Students' Farewell Party, organized by the NCKU Office of International Affairs, provided attendees with an opportunity for physical, face-to-face interactions with their peers in midst of the global pandemic. 50 out of 275 graduating international students registered for the farewell party. Professors turned the tassel for the graduates and offered some advice to send them off on their next journey.
Dr. Huey-Jen Jenny Su, President of NCKU, inspired the students to seek a better world and to keep the best interest of others in mind when faced with challenges in making decisions. "You'll be proud of your choices in the end." Dr. Su assured the students that well-considered decisions will yield positive feedback.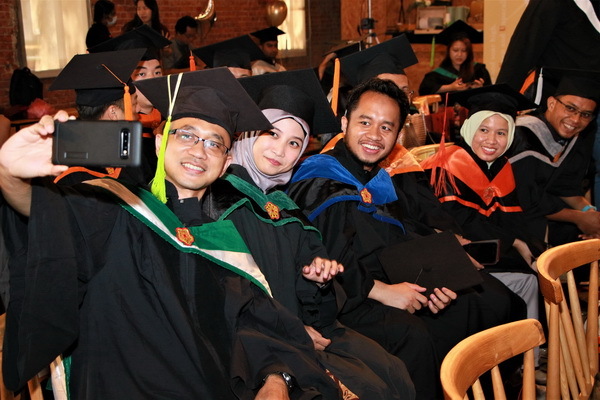 international students from the Class of 2020 gathered for an emotional farewell party
Prof. Hsiao-Wen Wang, Vice President of OIA, gave the graduates four pieces of advice: "Be true to yourself;" "Believe in yourself;" "Don't take everything for granted;" and "If the world is going to be better, it is going to be up to you." She encouraged the students to view the university experience as a starting point from which to make positive changes in the world.
Mr. Pramukti Iqbal, a Ph.D. student in the International Doctoral Program in Nursing, revealed in his valedictorian speech that his bond with Taiwan began because of the 2001 drama Meteor Garden. When he was choosing a Ph.D. program, he looked up Taiwanese universities and decided to attend NCKU. "Being a part of NCKU makes me proud. NCKU is my second family," the Indonesian student said.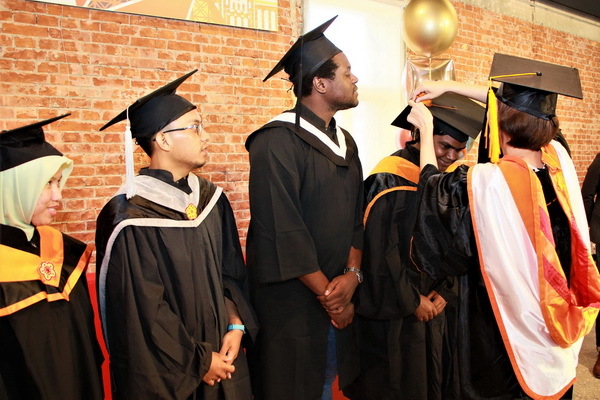 international students from the Class of 2020 gathered for an emotional farewell party
Mr. Ralph Nicolai Nasara, also a valedictorian of Class 2020, a Ph.D. student in the Department of Materials Science and Engineering, shared stories from his journey at NCKU. The Philippine student started his pursuit of renewable energy research in the NCKU graduate program in 2014 and finished his Ph.D. in 2020. He stated that the turning points in his life were not planned, and told the attendees that uncertainty in life means opportunity.
Mr. Somda Baza Rodrigue is graduating from the International Bachelor Degree Program on Energy in Engineering. The Burkina Faso student expressed his deep affection for Taiwan and is saddened by the thought of his coming departure. Having spent the first half of his twenties in Taiwan, he remarked that he gained a lot of life experiences during the years and that he considers Taiwan his second home because he feels he "grew up here in Taiwan." The farewell party made him more sentimental than the commencement ceremonies did because most of the international students attending the party will be leaving Taiwan shortly after graduation, so the feeling of them parting ways hits home strongly.
One of the observing students revealed that she also will graduate this year but did not register for the party. Watching the commencement from the sidelines filled her with strong emotions, and she said it was a pity that she did not register. Another student who is set to graduate next year enjoyed observing the event and hopes there will be another farewell party next year that she can attend. (Writing by Hsu Tsu-yueh)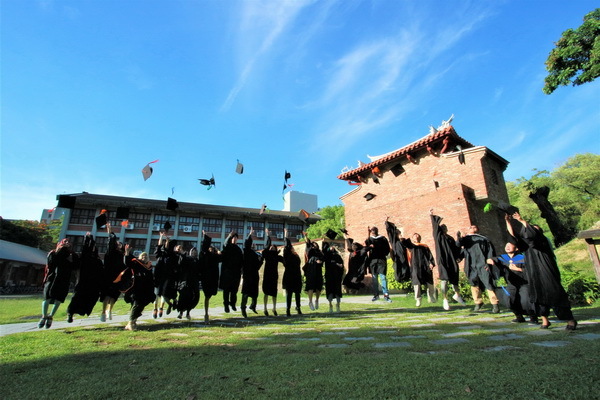 international students from the Class of 2020 gathered for an emotional farewell party