NCKU Hospital in Action: Taiwan Assists India in the Fight Against COVID-19 with Oxygen Concentrators and Oxygen Cylinders
Written by Hsu Tsu-Yueh. Photos provided by
Ministry of Foreign Affairs.
In light of India facing its second wave of COVID-19 outbreak, National Cheng Kung University (NCKU) Hospital cooperated with Taiwanese government to investigate Taiwan's production capacity for oxygen concentrators, assisting in the humanitarian aid mission of sending epidemic prevention supplies to India. The first batch of medical supplies, including 150 oxygen concentrators and 500 oxygen cylinders, arrived at the Indian Delhi Airport on the morning of May 2. Gourang Das, the Indian diplomat to Taiwan, expressed gratitude for Taiwan's friendship and assistance. NCKU Hospital continuously works in accordance with governmental policies to promote medical and health cooperation and humanitarian assistance between Taiwan and India.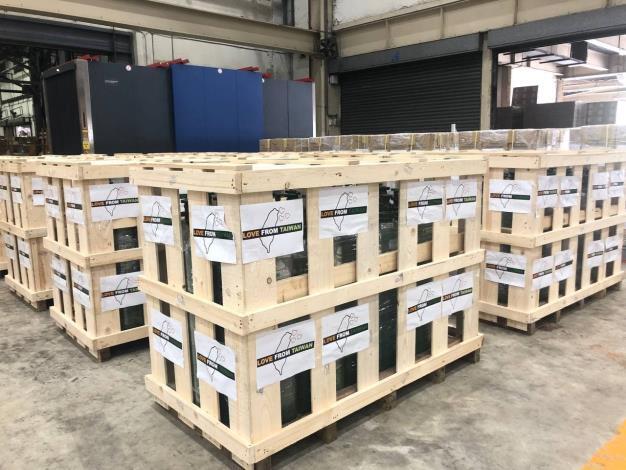 NCKU Hospital cooperated with Taiwanese government to help India deal with its second wave of COVID-19 infection.
Taiwanese Ministry of Foreign Affairs (MOFA) stated that the second wave of the epidemic in India has been fierce and has continued to worsen since the beginning of last month. The number of confirmed cases and the number of deaths in a single day in the past consecutive days have repeatedly reached new highs. India, important friend and partner to Taiwan, is in need of assistance from the global community. In the past week, MOFA has speedily integrated domestic medical resources to accelerate the process of Taiwan's humanitarian assistance to India and urgently provided the first batch of relief supplies.
Virus knows no borders. The spread of the epidemic in India highlights the urgency and importance of global and regional cooperation in pandemic prevention. As an important medical institution of the nation, NCKU Hospital quickly integrates domestic medical resources and provides assistance to the international community such as epidemic prevention experiences and medical supplies. Continuing its two-way cooperative relationship with India in recent years, NCKU
Hospital devotes itself to humanitarian aid work and puts in effort for cooperation in epidemic prevention to help India tide over the difficulties as soon as possible.
Since 2018, NCKU Hospital has been active in establishing links with Indian officials, hospitals, and NGOs, participated in the Taiwan Expo in India organized by the Taiwan External Trade Development Council (TAITRA), invited Indian officials, experts and scholars with the World Health Organization Southeast Asia Regional Office (WHO SEARO) and the United Nations Children's Fund (UNICEF) to come to Taiwan to give speeches, and signed MOUs with NGOs. Moreover, selecting Indian doctors for training in Taiwan creates opportunities for two-way communication. NCKU Hospital actively connects Taiwan's medical industry with the Indian medical market.
In 2019, in addition to continuously inviting Indian experts and scholars to Taiwan and training medical personnel during training exchange to Taiwan, NCKU Hospital also hosted an international forum at Delhi to promote the energy of medicine and healthcare in Taiwan. NCKU Hospital led Taiwanese manufacturers to promote their products in the Medical Fair India 2019, the largest exhibition in the medical field in South and Central Asia, and established an picture archiving and communication system (PACS) in Indian Cygnus Hospital Rama Viharru Branch, in cooperation with Ophthalmic Institute Guru Nanak Eye Centre to apply Taiwanese product for eye surgery plans. Through two-way communication, NCKU Hospital is moving towards the goal of the internationalization of Taiwan's medical and healthcare industry.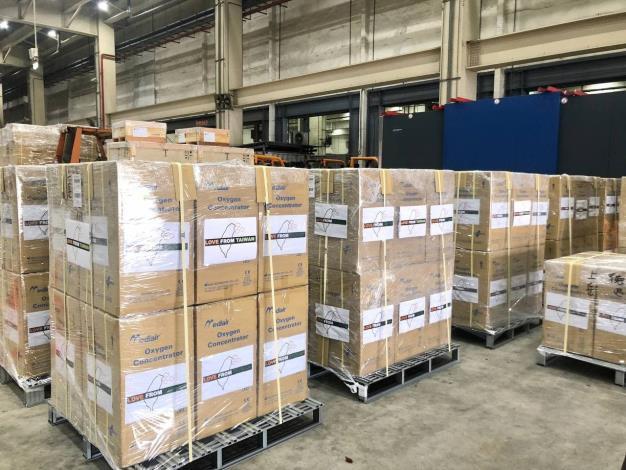 NCKU Hospital quickly integrates domestic medical resources and provides assistance to the international community

such as epidemic prevention experiences and medical supplies.
In response to the 2020 pandemic, the two-way communication activities between NCKU Hospital and India were moved online and conducted via video calls, setting the record of simultaneous participation from 8962 Indian doctors and the accumulated participation from over 10,000 medical personnel. In terms of the industrial links, in addition to Indian industry seminars, one-on-one negotiations between Taiwanese manufacturers and Indian buyers were also provided to help strive for more international marketing opportunities. NCKU Hospital has referred orders for electronic thermometers, forehead thermometers, rapid test kits, respirators, and medical gloves to Taiwanese manufacturers. After joint online forum with India, NCKU Hospital has further created business opportunities of close to 2 million U.S. dollars for protective suit and COVID-19 tests.
In this difficult time, Taiwan stands with our friends from India to face the challenges posed by COVID-19. Taiwan is capable of and willing to persist in making contributions to the international community and will continue to provide the Taiwan experience in epidemic prevention and medical supplies to help.