NCKU Team Rises to the Challenge: The MOHW Commissions NCKU to Produce Educational Training Videos on Vaccines
Written by NCKU News Center. Image credit to NCKU Hospital.
The Ministry of Health and Welfare commissioned
National Cheng Kung University (NCKU) Hospital, NCKU Department of Nursing, and NCKU Center for Continuing Education to shoot and produce educational training videos on COVID-19 vaccines. In the videos, Dr. Chin-Shiang Tsai, an infectious disease doctor at NCKU Hospital, and Yen-Chin Chen, a nurse in the NCKU Department of Nursing, explain the types of vaccines available, their side effects, and the procedures for vaccine administration.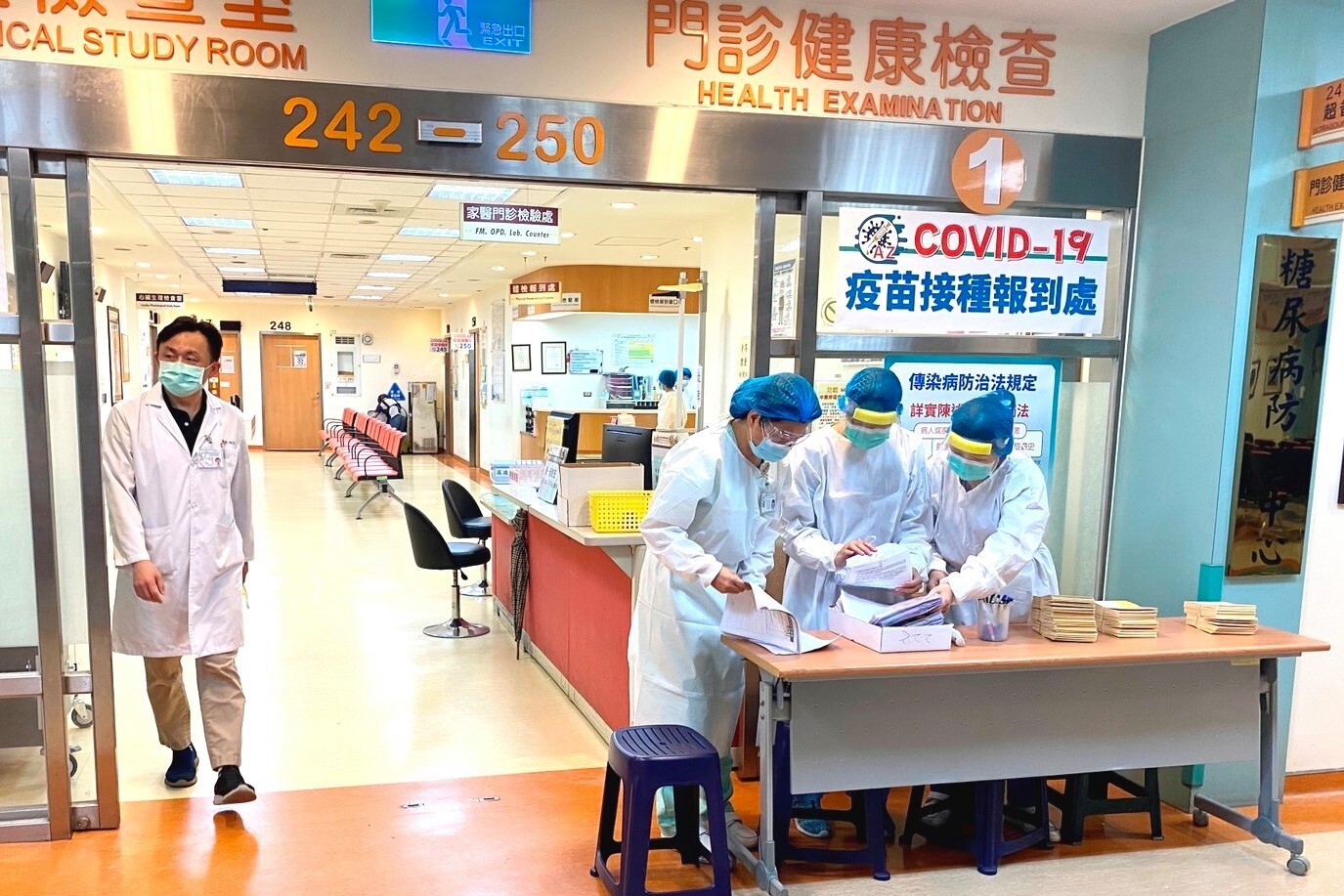 The educational training videos provide the public information on COVID-19 vaccines. In the first video, Dr. Tsai informs on "Vaccine Must-Knows and Common Side Effects", and in the second, Nurse Chen expands on "Vaccine Administration and Related Precautions".
The director of NCKU Department of Nursing, Professor Nai-Ying Ko, who spearheaded the vaccine education and training team, said, "Everyone knows that their participation contributes to our country's efforts in containing and preventing the spread of the virus. This is where they can do their part." Even so, much of the team's work and diligence have gone unseen by the public. Moreover, as the epidemic continues to intensify and more information comes through, our knowledge and understanding of these vaccines grow as well. As a result, the production team continually cut and re-shot portions of the training videos in order to keep up with all the latest information on the vaccines and to ensure that the most up-to-date information is presented.
Professor Ko highlighted that this video project was able to come to fruition because of the tight-knit teamwork at NCKU, which made it possible for quick, accurate real-time updates and adjustments to the educational training videos. Professor Ko added, "Together as a team, we were able to accomplish much. It was all thanks to the NCKU team that we were able to have this opportunity to complete this project."
Professor Ko further elaborated that the COVID-19 vaccine must be administered to the public on a large scale, and all related information must be communicated to everyone to guarantee that the process goes seamlessly. Ko also pointed out that this video project was a rare opportunity for NCKU to bring their outstanding younger medical personnel into the national spotlight, and he expressed his gratitude towards the members of the production team for their hard work and cooperation.
The director of NCKU Center for Continuing Education, Dr. Jyh-Wei Shin, said, "We can't force anyone to get vaccinated, but we can educate everyone on how to get vaccinated. Throughout the entire production process, the team was under pressure to complete the draft on time while having to constantly revise and update it. It was hard work." Dr. Shin added that NCKU has a social responsibility to help society, and this video project has provided that very opportunity for NCKU to fulfill USR. He also expressed his thanks for the team's hard work throughout the entire process and affirmed that the completion of this project would not have been possible without everyone's collaboration and dedication.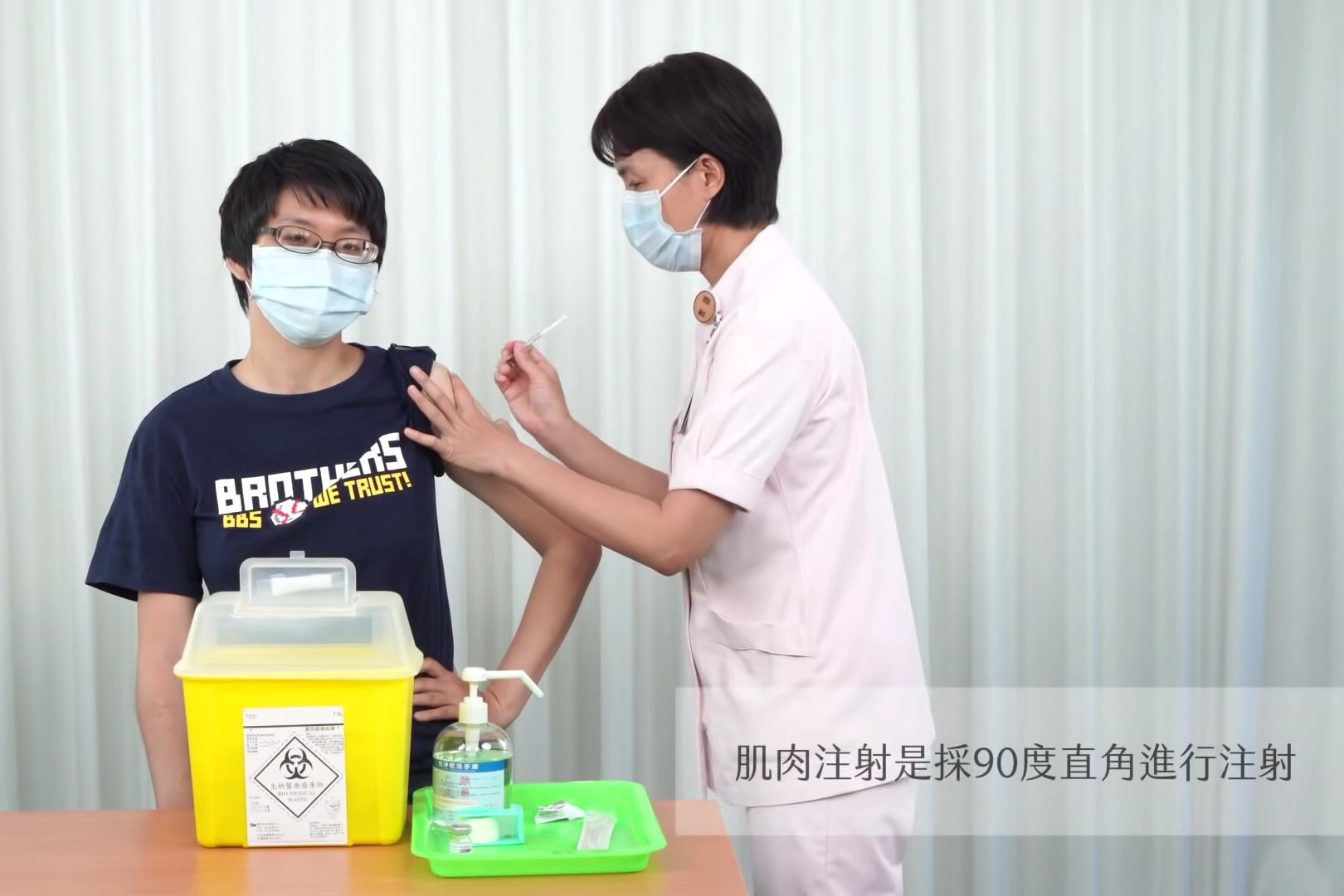 In the "Vaccine Administration and Related Precautions" video, Nurse Chen presents detailed descriptions of all the steps before, during, and after vaccination with the aim of making everyone aware of the vaccination process and its related details to ensure that the process goes smoothly.
The process for the administration of the COVID-19 vaccine is as follows: pre-injection assessment, pre-injection preparation, vaccine injection, and post-injection education and record-keeping. Before administering the vaccine, nursing staff must confirm the identity of the recipient of the vaccine. The recipient must fill in a vaccination consent form, and then a doctor will evaluate whether they are suitable for vaccination. Nurse Chen clarified that those who have a history of severe allergic reactions to any component of the vaccine or those who have experienced thrombotic thrombocytopenic purpura or heparin-induced thrombocytopenia are prohibited from getting the vaccine.
After the vaccine is administered, pressure needs to be applied to the injection site, and the area should not be massaged. Recipients of the vaccine should rest and be observed for 30 minutes after injection in the event that there are any sudden adverse reactions. If an adverse event occurs after vaccination, doctors or public health personnel will report the incident in the Taiwan V-Watch system. Vaccine recipients must fill out a COVID-19 vaccination record card with their personal information and any vaccine-related information. A vaccination sticker must then be placed onto the recipient's national health insurance card. The recipient can also access the Taiwan V-Watch system on their mobile device to report their health status as well as obtain any health education or information. After the vaccination, the recipient must report their health status every day for one week.
In the "Vaccine Must-Knows and Common Side Effects" video, Dr. Shin explains that prior to receiving the COVID-19 vaccination, recipients should have a solid understanding of the vaccine and be made aware with detailed explanations of the purpose of the vaccination, the different types of vaccines, side effects, and precautions.
The side effects caused by the COVID-19 vaccine have created some apprehension around getting vaccinated. However, Dr. Tsai reminds us that although the symptoms in young people infected with COVID-19 are usually mild, the mortality rate of COVID-19 among the elderly, obese, and those with multiple comorbidities are higher than that of influenza. Furthermore, while the vaccine does not provide 100% protection, the viral load and infectivity of the COVID-19 virus are reduced if infection occurs after vaccination. If most of the public is vaccinated, herd immunity can be achieved and a return to normalcy is possible.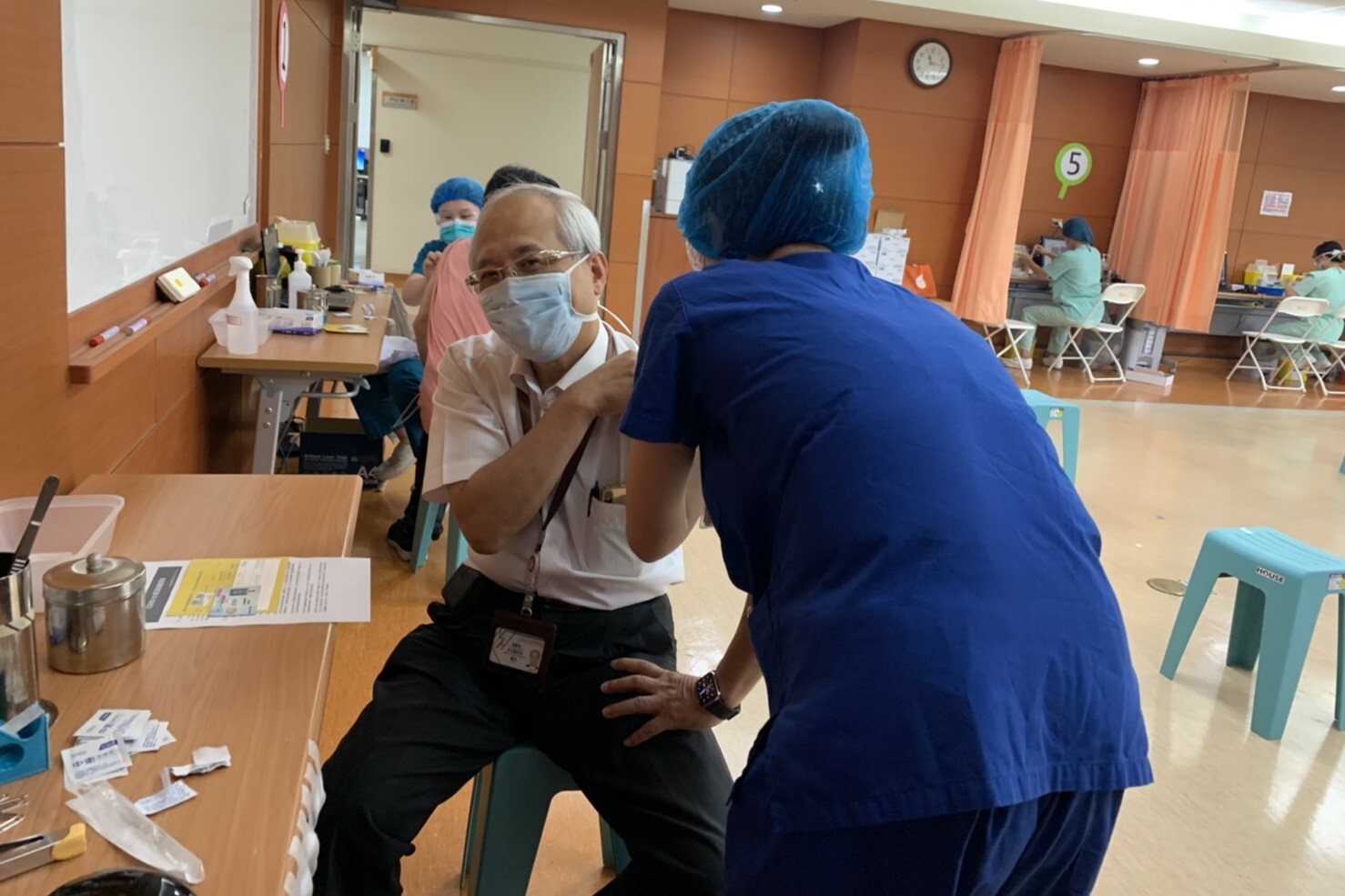 Dr. Tsai said that the main COVID-19 vaccines currently administered can be divided into two types: viral vector vaccines, which use harmless viruses to deliver genetic information to cells in order to trigger an immune response (e.g., vaccines by AstraZeneca and Johnson & Johnson), and mRNA vaccines (e.g., vaccines by Pfizer and Moderna). Among them, the AstraZeneca and Moderna vaccines both require two doses and can be administered to those who are 18 years or older. The interval between the two doses of the AstraZeneca vaccine is 8 to 12 weeks, and the interval for the Moderna vaccine is 4 weeks. The design of the vaccine trials as well as the locations where these trials were conducted also differ among the different brands of COVID-19 vaccines.
The public should be aware that those who have experienced a severe allergic reaction to any component found in the COVID-19 vaccine should refrain from getting the vaccine. Those who experience symptoms like fever or a moderate to severe acute disease of any kind should wait until their condition has stabilized before proceeding with vaccination. At present for the COVID-19 vaccine, getting vaccinated with different brands for each dose of a two-dose COVID-19 vaccine or getting another vaccination for a different disease at the same time is not recommended. Dr. Tsai added that relevant precautions are surveyed before vaccination to ensure safety. In addition, COVID-19 vaccines for children are still in clinical trials, so it is not currently recommended that children be vaccinated.
Common side effects from the COVID-19 vaccinations include soreness at the site of injection, fatigue, headache, muscle aches, and fever. Side effects are milder among those who are older and usually disappear after a few days. Fevers usually subside within 48 hours, but if fever persists, or if there are any severe allergic reactions or other symptoms that cause discomfort, medical attention should be sought immediately. Vaccine protection usually takes effect two weeks after a dose. However, social distancing and precautions must still be adhered to because it is still possible to contract COVID-19 even after being vaccinated.
Dr. Tsai clarified that the observed side effects of the mainstream COVID-19 vaccines are, for the most part, common for most vaccinations,
due to strong immune responses being triggered. He further cautioned that COVID-19 is here to stay and will likely continue to coexist with the human race. Therefore, all are encouraged to get vaccinated.