Cultural Heritage in NCKU: First Designated General Antiquity in Museum Collection
Written by Hsu Tsu-Yueh. Image credit to National Cheng Kung University Museum.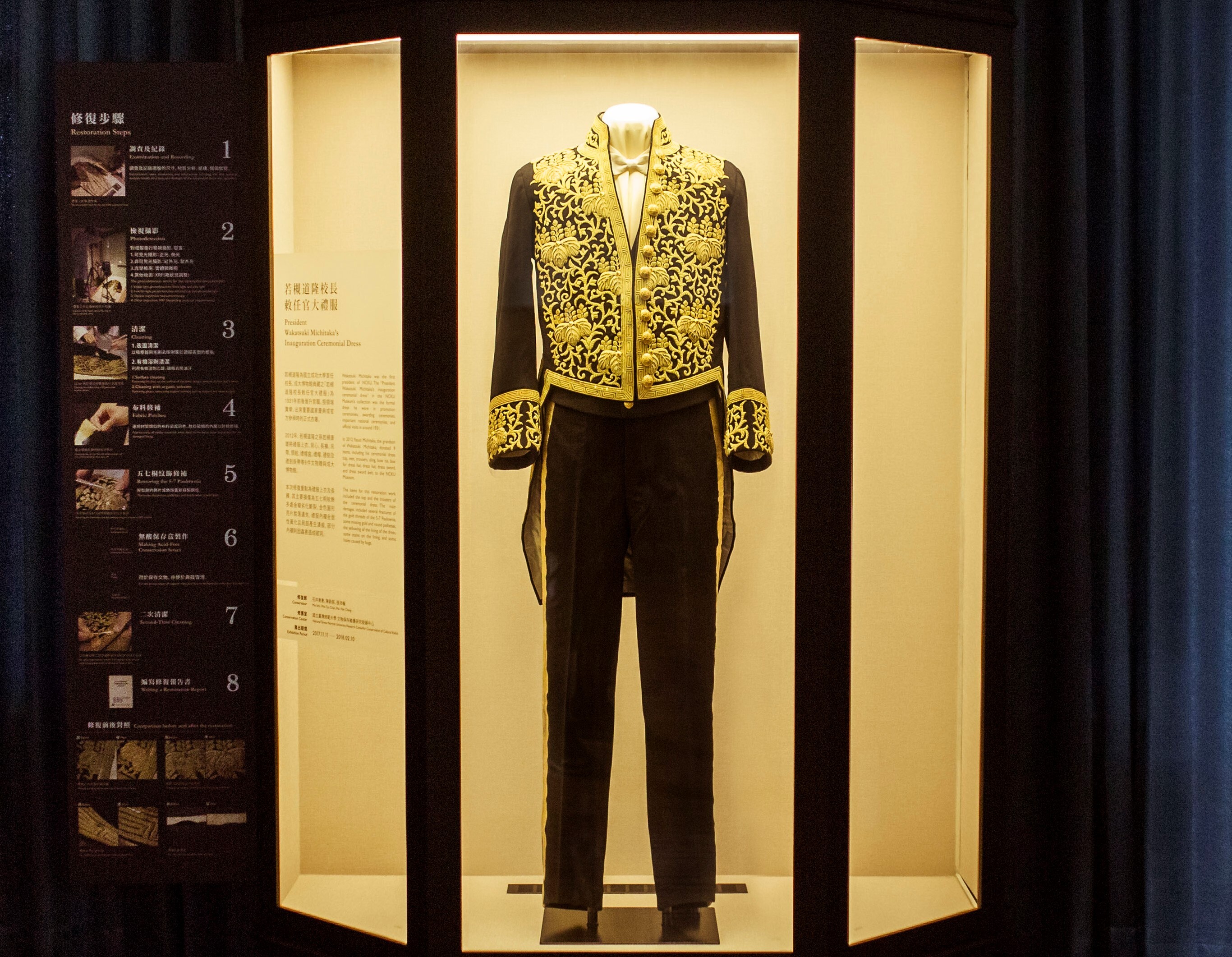 The Inauguration Ceremonial Dress of President Wakatsuki Michitaka was officially designated as a "general antiquity" by the Tainan City Government
The Inauguration Ceremonial Dress of President Wakatsuki Michitaka (
若槻道隆校長
), part of the National Cheng Kung University's collection, was officially designated as a "general antiquity" by the Tainan City Government on September 5, 2023. This makes it the first item in NCKU's and NCKU Musuem's collections to be legally recognized as a piece of cultural heritage antiquity.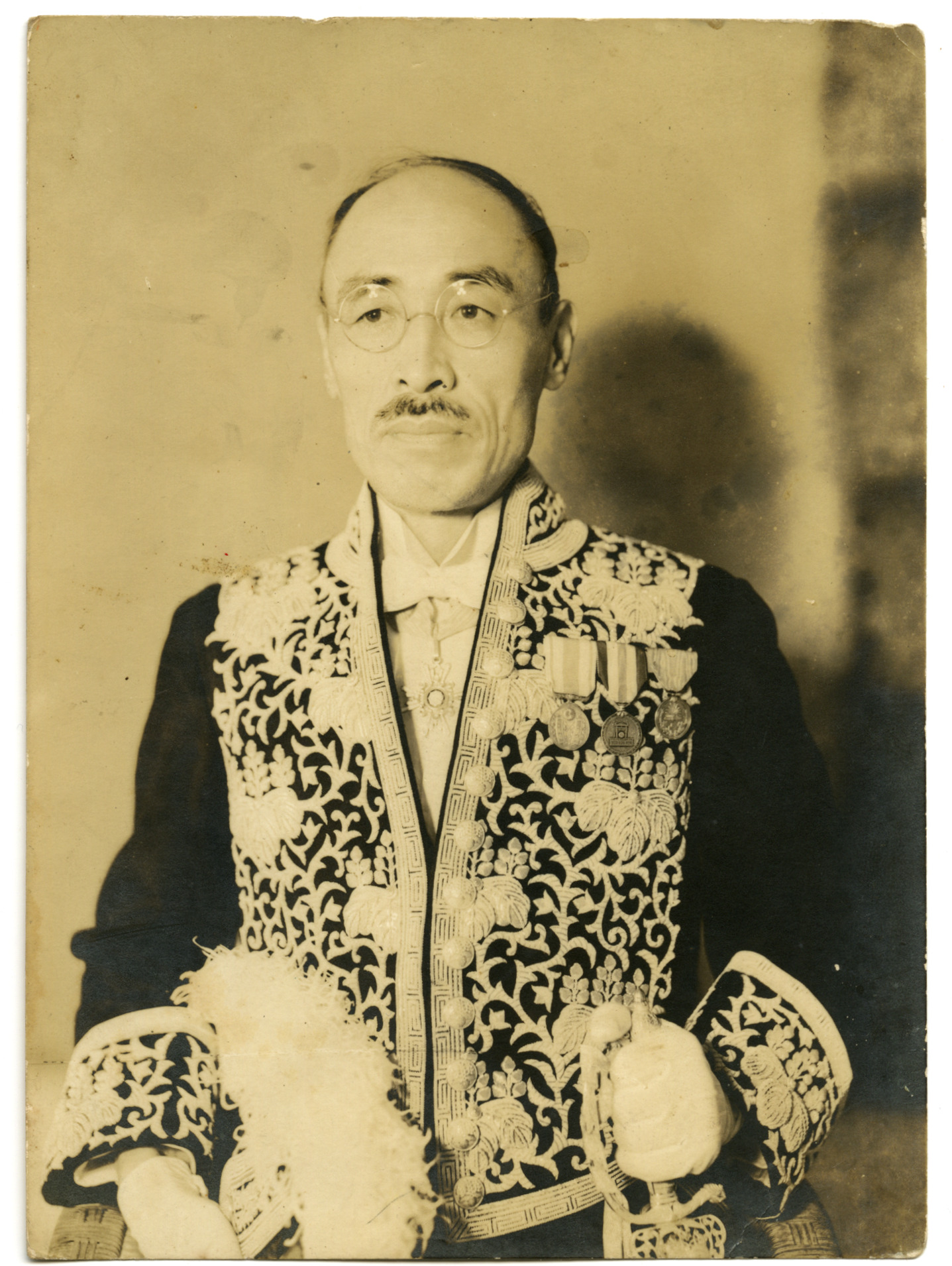 President Wakatsuki Michitaka Wearing the Inauguration Ceremonial Dress. Image credit: NCKU Museum collection, Lin-An Hsu family donation
President Wakatsuki Michitaka served as the first president of the Tainan Technical College, which is the predecessor of the current NCKU, from 1931 until 1941. The Tainan Technical College was established in 1931 under the decree issued by the Government-General of Taiwan. The Inauguration Ceremonial Dress was the formal attire that President Wakatsuki Michitaka wore to official ceremonies. The design of this Inauguration Ceremonial Dress was made in 1886, introduced after the Meiji Restoration as a form of Western-style clothing, and remained in use until 1945. The "5-7 Paulownia Seals (
五七桐紋
)" on the Inauguration Ceremonial Dress symbolizes the Cabinet of Japan, presented in the combination of a black background and golden threads, conveying the grandeur and nobility associated with this
Inauguration Ceremonial Dress.
The Inauguration Ceremonial Dress under restoration process in 2016
The Inauguration Ceremonial Dress had been in possession of the Wakatsuki family in Japan after the post-war period. In 2012, when Professor Yasuo Wakatsuki, the grandson of President Wakatsuki, visited the NCKU Museum, the connection between NCKU and the Wakatsuki family was reestablished. In 2013, the President's daughter-in-law, Mrs. Hisako Wakatsuki, donated the Inauguration Ceremonial Dress to the NCKU Museum's collection. After acquiring this precious item, immediate efforts were made to preserve it. After three years of research and restoration by Professor Yuan-Feng Chang of NTNU Research Center for Conservation of Cultural Relics and Visiting Researcher Mie Ishii of the Tokyo Research Institute for Cultural Properties, the Inauguration Ceremonial Dress was able to be exhibited in its optimal condition at the NCKU Museum for a short-term exhibition, and will be preserved in the Museum's collection for a longer term.
The Inauguration Ceremonial Dress in exhibition for NCKU's 90th anniversary in 2021
Regarding the Inauguration Ceremonial Dress being designated as a general antique, NCKU Museum expresses gratitude to the Tainan City Cultural Heritage Review Committee for recognizing the cultural heritage value of this item, and also extends its thanks once again to President Wakatsuki Michitaka for his past contributions to Tainan Technical College, and to the Wakatsuki family for cherishing this longstanding friendship between Taiwan and Japan.
Provider:
NCKU News Center