Vice Premier visits NCKU to inspect dengue fever prevention measures (news)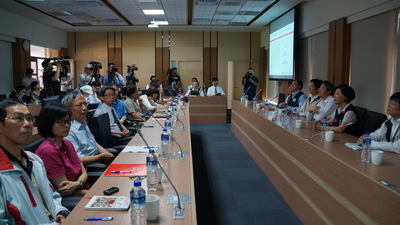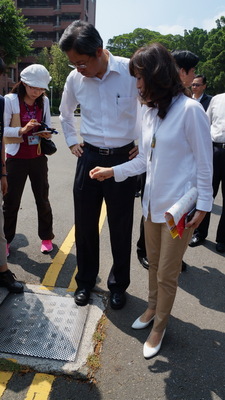 Tainan, Taiwan, September 25, 2015
Accompanied by Jih-Haw Chou, Deputy Director-General of Center of Disease Control (CDC) and William Lai, Mayor of Tainan City, Vice Premier San-Cheng Chang arrived in NCKU at 10:30 a.m., Wednesday, September 23, to inspect its dengue fever prevention measures.
NCKU President Huey-Jen Jenny Su led her staff members welcomed Vice Premier Chang and the government officials at a meeting where she briefed them the overall plan and strategy the university had adopted in the fight against dengue fever.
Chang said that he was very impressive about the effective control activities NCKU adopted during the epidemic period.
The strategy on prevention and control of dengue fever and continuous efforts to monitor and control diseases under surveillance are proved to be practical, keeping dengue fever in check, according to Chang.
NCKU has dealt with an outbreak of dengue fever on campus since early August and an on-going campaign against dengue to engage communities against dengue has proven effective.
A mobile epidemic prevention team was set up accordingly, whose main mission is to inspect the status of eradication of breeding vectors on campus and neighboring areas as well.
Chang advised NCKU to manage relevant education and training for schools in Taiwan, providing general knowledge about dengue and enhancing awareness of dengue outbreak among people.
The Ministry of Education will organize a national demonstration on dengue prevention at NCKU to offer a training program to promote school health education and prevention of dengue fever advocacy activities.
Enditem/