NCKU professor presents dengue fever hot spot data with web visualization (news)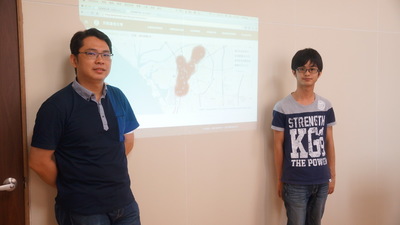 Tainan, Taiwan, October 13, 2015
Dengue fever has been a major public health concern in Taiwan. To understand the distribution of dengue fever in time and space, Prof. Kun-Ta Chuang from the Department of Electrical and Computer Sciences, National Cheng Kung University (NCKU), Tainan, Taiwan, employed big data and web visualization to illustrate spatial temporal dispersion of dengue fever and hot spot detection in Tainan City.
A research team led by Prof. Chuang has established an organization called Taiwanstat (用數據看台灣) which is dedicated to present Taiwan's data with web visualization.
On the website of Taiwanstat, the spatial and temporal clustering of dengue virus transmission in the districts of Tainan City is observed, demonstrating variation in local infection patterns.
A map of dengue transmission in Tainan City is showed on the website to illustrate and visualize the prevalence of dengue fever and abundance of their vectors.
According to the team, the variation of determinants for dengue infection in space and time could be taken into account when designing local dengue control programs.
Prof. Chuang said, Hot spot analysis is more appropriate and easier-to-understand information for people to learn the distribution of dengue fever in time and space.
We are not only interested in discovering the story behind data, but also displaying graphs on our website in a clear way that anyone can understand, said Prof. Chuang whose research interests are data mining, database systems, cloud computing, and web technology.
"Although most people think of Taiwanstat only as a platform that displays visualization of data, we believe that it is a media that sends important message to the public by monitoring the data for and with the public," said Chuang.
He also noted that during the draught period, people were able to see the first hand information about the reservoirs on Taiwanstat and be more conscious about what is happening around their society.
We hope that through our platform people will gain a deeper understanding of Taiwan by seeing it with a novel perspective, according to Chuang.
Enditem/