Links for International Scholar
Living in Taiwan
Post office Locations
National Cheng Kung University Post Office: No. 1, Daxue Rd., East Dist., Tainan 70101, Taiwan (R.O.C.) (Located in Kuang-Fu Campus)
Tainan Dongning Rd. Post Office: No. 323, Dongning Rd., East Dist., Tainan 70160, Taiwan (R.O.C.)
Tainan Chenggong Rd. Post Office: No. 6, Chenggong Rd., North Dist., Tainan 70401, Taiwan (R.O.C.)
Bank Locations
Bank of Taiwan: No.180, Sec.2, Chung-Yi Rd.,Tainan City, Taiwan, R.O.C
King's Town Bank: 1F.&2F., No.98, Sec. 2, Linsen Rd., East Dist., Tainan City 701, Taiwan (R.O.C.)
CTBC Bank: 1F., No.290, Sec. 2, Changrong Rd., East District, Tainan City 701, Taiwan (R.O.C.)
Mega International Commercial Bank: No.225, Sec.1, Changrong Rd., Tainan City 70143, Taiwan
Telecom
Taiwan Mobile:http://english.taiwanmobile.com/
No.113, Shengli Rd., East Dist., Tainan City 701, Taiwan (R.O.C.)
Tel: 0809-000-852
Chunghwa Telecom:https://www.cht.com.tw/en/home/cht/service/call-line
Tel: 0800-080123
No.164, Yule St., East Dist., Tainan City 701, Taiwan (R.O.C.)
Transportation
---
How to get to Tainan
There are two main international airports in Taiwan: Taoyuan International Airport (TPE) and Kaohsiung International Airport (KHH).
Passengers Arrived at Taoyuan International Airport:
There are three ways to get to Tainan: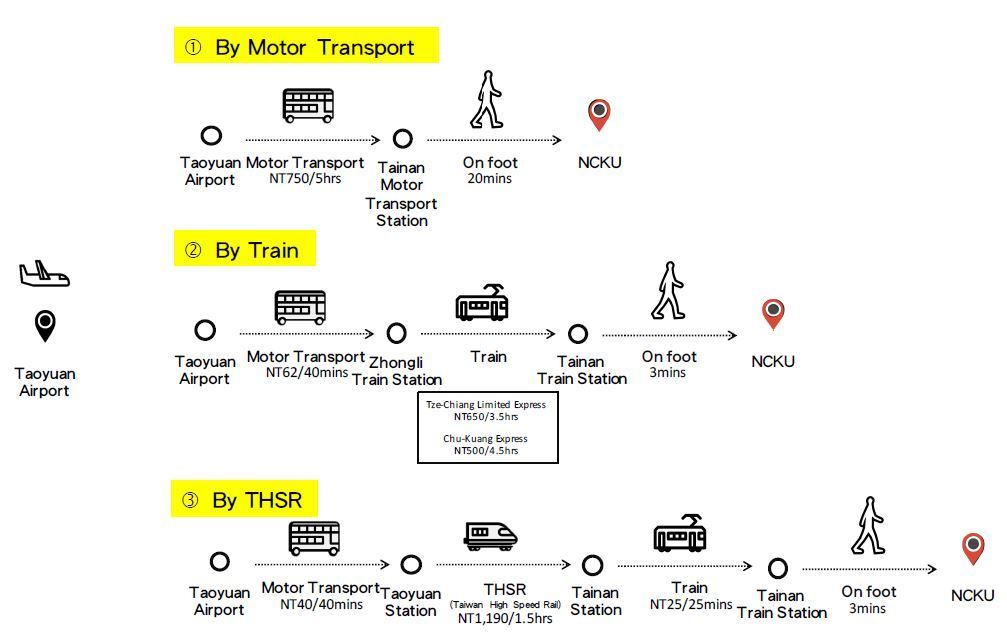 (Click to view larger image)
Passengers Arrived in Kaohsiung International Airport: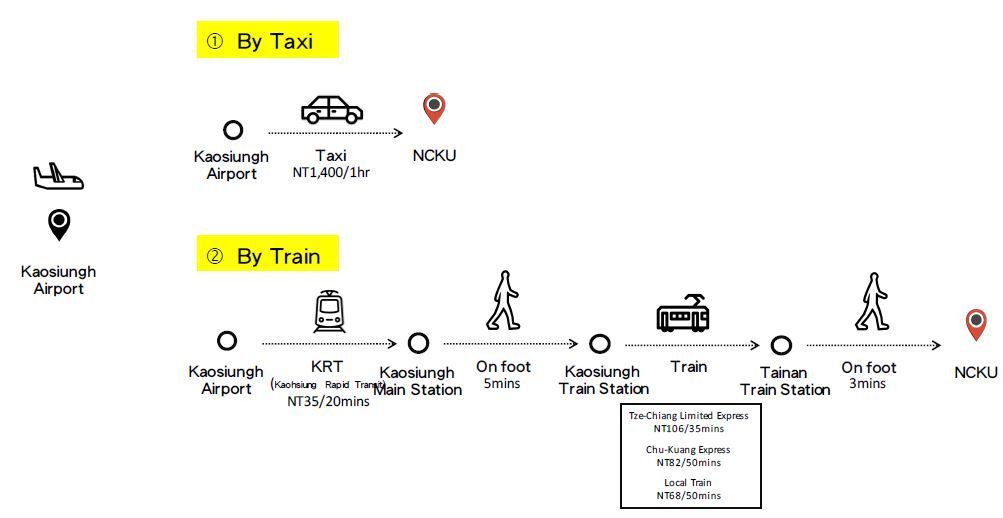 (Click to view larger image)
Transportation is convenient in Tainan (Taxi, Buses, Scooter):
Riding a scooter is the most convenient transportation in Tainan, but prior to do so, you should get your license at Taiwan Motor Vehicle Office.
Education and Learning
---
國立成功大學附設臺南市私立員工子女幼兒園
Address: 70101 No.1-3, Daxue Rd., East Dist., Tainan City 701, Taiwan (R.O.C.)
Tel: 06-2757575-61991.61992
Fax: 06-2345869
Charlotte Infant Care Center
Address:No. 57, Longshan St., East Dist., Tainan City
Tel: 06-2895388
Learning Chinese
---
NCKU Chinese Language Center (CLC) was offering a complete Chinese language training program, to promote international cultural exchange. Due to a rise in interest from younger students, the center also provides a summer class for youth (over 15 years old). Visiting international students have opportunities to interact with over 20,000 students currently enrolled at National Cheng Kung University, as well as with the local population of Tainan City. Furthermore, the CLC also offers customized programs for international study tours/groups and Chinese Mandarin teacher training groups.
National Cheng Kung University, College of Liberal Arts, Chinese Language Center (CLC)
Tel: 06-2757575 ext 52040 / E-mail:em52040@email.ncku.edu.tw
Health Insurance
---
National Health Insurance Administration (NHI)
The National Health Insurance (NHI) program in Taiwan, launched in 1995, has successfully provided universal and quality healthcare to the people at affordable costs. The program has been focusing on ensuring care for the socially and economically disadvantaged people, making sure that everyone is covered, and improving on healthcare quality.
Enrollment:
Foreign Nationals from Hong Kong, Macau, China, or Other Countries who Reside in Taiwan with an Alien Resident Certificate (ARC)
To have active insurance coverage is essential for everyone. If you don't have an ARC to apply NHI.please contact your NCKU contact person to enroll in other insurance programs.
National Health Insurance Administration (Southern Division)
Address: No. 96, Gongyuan Rd., Jhongsi District, Tainan City (70006)
Tel: (06)224-5678
National Health Insurance Administration
NCKU Health Center:
2F., Yun-Ping Building (East), Kuang-Fu Campus
Service Hours: Mon. to Fri. 08:00~17:00
http://health.epsh.ncku.edu.tw/app/index.php?Lang=en
National Cheng Kung University Hospital
No.138,Sheng Li Road,Tainan, Taiwan 704, R.O.C. Tel: (06)235-3535
http://www.hosp.ncku.edu.tw/nckm/english/HomeStyle.aspx?Type=11&ContentPage=0
Sin-Lau Medical Foundation, the Presbyterian Church in Taiwan
No. 57, Sec. 1, Dongmen Rd., East Dist., Tainan City 70142 , Taiwan (R.O.C.)
Tel: 06-2748316
http://www.sinlau.org.tw/en/mode02.asp?m=201112291115241&t=sub
Chi Mei Medical Center
No.901, Zhonghua Rd., Yongkang Dist., Tainan City 710, Taiwan (R.O.C.)
Tel: 06-2812811
Chi Mei Medical Center
Other Hospitals and Clinics:
http://health.epsh.ncku.edu.tw/p/412-1097-21750.php?Lang=zh-tw
Provider:
Office of International Affairs