NCKU recruits chairmen of financial holdings to lead investment advisory committee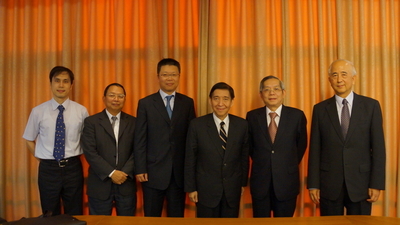 Tainan, Taiwan, September 26, 2013

"With government finances becoming scarce, education financing in the future will become difficult," said National Cheng Kung University (NCKU) Vice President Dr. Chih-Chin Ho when giving remarks at an appointment ceremony of investment advisory committee recently.

"Adding that Taiwan has a low birthrate which leads to a gradually aging society, it is estimated that national budget allocated to education is bound to be reduced gradually too," noted Ho while explaining why top-tier national universities are heading towards the trend of self-funding.

NCKU has recruit chairmen from local financial holdings as members of its investment advisory committee with a view to increase the return on investment of the university's endowment funds.

Vice President Ho on behalf of President Hwung-Hweng Hwung presented letters of appointment to Hua Nan Financial Holdings Chairman Teng-Cheng Liu, First Financial holding Chairman Ching-Nien Tsai, Deutsche Asset and Wealth Management General Manager Jim Chang, NCKU Department of Accounting and Department of Finance Professor Dr. Meng-Feng Yen and NCKU Department of Industrial and Information Management Professor Dr. Der-Chiang Li.

The presentation of letter of appointments was then followed by the 1st meeting where discussions were made on investment plan for the next stage.

Ideas were exchanged on issues such as the amount of investment, asset allocation, screening of financial instruments and others.

The committee members acknowledged the measure taken by the Ministry of Finance, Taiwan, to shorten the administrative schedule of the sale of securities limited by the National Property Act, with the view that this measure will help enhance investment yield of university endowment funds.

According to Ho, how to make effective use of endowment fund investment to obtain more funds for university development has become an important task for NCKU; hence, the university needs the help of experts and scholars who are familiar with market mechanisms to achieve this goal in a volatile economic environment.

He also pointed out that it is an honor to have appointed experts with strong financial professional background and a great abundance of experience in investments as members of the NCKU investment advisory committee.

The mission of the NCKU Investment Advisory Committee revolves around asset allocation, investment, investment instruments, the amount of investment, investment opportunity, risk management, profit and loss of investment, reward system for professional managers, investment performance appraisal and other advice and recommendations, functioning as a reference for evaluating the university's endowment fund investment.

The committee consists of five to seven members, where one-third of the members appointed, with the approval of NCKU President, must come from outside the university.

After receiving the letter of appointment, the members will serve a 2-year term and will have to re-appointed again at the end of the term. NCKU Vice President, as appointed by NCKU President, will be the convener of the committee whereas the NCKU Chief Financial Officer (CFO) will take the position of secretary general of the committee.