Famed Japanese Scholar to Lead NCKU Genomics Research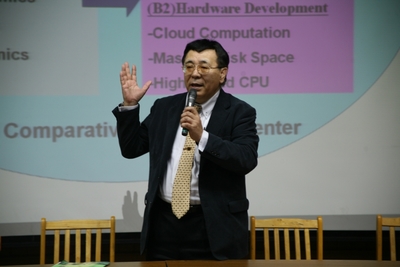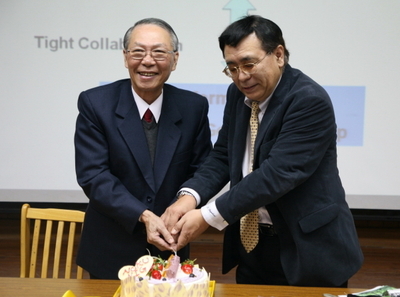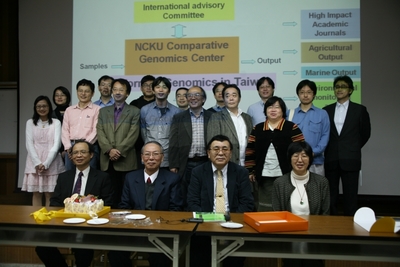 Tainan, Taiwan, December 12, 2011

National Cheng Kung University in southern Taiwan threw a party on Dec. 10 to welcome Takashi Gojobori, a world-renowned expert on molecular evolution and comparative genomics, and his research team from Japan for joining the university's genomics research and teaching.

"It is a privilege of the university to have Prof. Gojobori lead the genomics research on our campus," said President Hwung-Hweng Hwung of NCKU. With a solid engineering research of NCKU, which helps promote the application of genetics study, the input from the National Institute of Genetics of Japan and the prospective NCKU Comparative Genomics Center, will enlarge NCKU's role in global genetics research.

Prof. Gojobori said the NCKU Comparative Genomics Center will be a good platform of genomics in Taiwan, as it will have an international advisory committee and work in close collaboration with his group in Japan. He expects future performance in academic journals, agricultural output, marine output, and environmental monitoring and conservation.

"What attracts Prof. Gojobori to NCKU is its well-rounded research environment of genomics," said Distinguished Prof. and Chair of Life Sciences Dept. Tzen-Yuh Chiang. Chiang said NCKU will become a base for research, teaching, and talent cultivation in the field of genetics.

At the moment, three of Prof. Gojobori's group members -- Kazuho Ikeo, Kenta Sumiyama, and Naoki Osada -- have participated in the teaching of master and doctoral courses.

A Symposium of Genomic Conservation and Diversity of Organisms was held before the reception party, with some 40 participants from Taiwan's National Cheng Kung University, National Sun Yat-sen University, National Taiwan Ocean University, and Japan's National Institute of Genetics, SOKENDAI, and Ochanomizu Women University participating.

Gojobori is vice-director of the National Institute of Genetics (NIG) and professor at Center for Information Biology and DNA Data Bank of Japan (DDBJ). He is well known for his study of molecular evolution and comparative genomics. He was the 2007 member of the Pontifical Academy of Sciences and is now professor of the Department of Life Sciences and visiting Distinguished Visiting Chair Professor of NCKU.

Prof. Gojobori, Prof. Tzen-Yuh Chiang of NCUK and other scholars from Asian countries established the Society of Genetics, Genomics, and Computational Biology in November, 2011.