"The Whole New World" NCKU 2009 International Freshman Orientation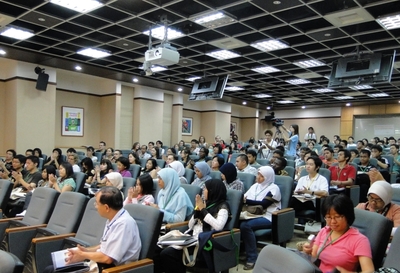 Tainan, TAIWAN, September 12, 2009--- National Cheng Kung University freshmen orientation for international students was kicked off by the Office of International Affairs (OIA) at Jun-Ming Hall (1F) in the Department of Mechanical Engineering, Tzu-Chiang Campus on September 12th to help incoming undergraduate and graduate students get acquainted with the campus and culture of Taiwan.

The NCKU President, Academician Michael Ming-Chiao Lai (賴明詔), attended and gave the greatest respect to welcome all the international students. Also there were more invited speakers coming which are Prof. Chin-Cheng Chen as the Chairman of Department of Chemical Engineering, Prof. Shyh-Yu Shaw as the Director of the NCKU Alumni Center, Assistant Prof. Szu-Chi Tien from Department of Mechanical Engineering, and Prof. Victor Jeng-Chung Chen as the division director of the OIA International Student Affairs Division and also the host organization of this Zero-Week orientation.

President Lai (賴明詔) welcomed all international students to NCKU as the student is the most important component of NCKU. In order not to miss the opportunity to greet all NCKU international new students, he turned his chance down to deliver the keynote speech and received an award in New York coincidently scheduled to be this morning. "NCKU is one of the top universities in Taiwan and indeed a comprehensive university. Only the very top 5% students in Taiwan can get their opportunities to study in NCKU, and all of you must be very fortunate", said President Lai. NCKU provided so many resources such as advanced national-scale research centers and laboratories to support the teaching and research environment for all the students. "Besides to reach out the professional skills in NCKU, the most important thing for all the international students went abroad is to learn the different culture", said President Lai, who shared his experience as a PhD student back in University of California, Berkeley and wished all of them to open their hearts, reaches all diverse cultures, and accept all different experience to rich themselves.

Except learning the professional knowledge and skills from higher college system, there are two more important missions to be a successful 21st-century citizen in NCKU, especially mentioned by President Lai as follows, "Share the experience , appreciate to reach different experience, then aspect" and "Exercise your heart, your mind and your body". "It's important to share different experience, share your own commitment to culture education from my own. You need to appreciate the culture share. Besides that, good health is very important," said President Lai. At last, President Lai also wished all the international students to have a healthy body until they are graduated from NCKU.

Mike, a Russian student and a senior international student, who finished his master degree this year and is ready to extend his study for PhD in IAA (Institute of Aero- and Astronautics), mentioned that he had the chance to study in NCKU regarding to the cooperation of his Russian alma mater university and NCKU. It is a great chance to study in NCKU due to the rich research environments and completed teaching atmosphere. People here all are very nice and kind. At last, it is worth to study at least one time in NCKU for the whole life, and will never regret it.

Simona from Slovakia and a freshwoman in Department of Psychology commented that it is so a good city and a big university to study. She felt warmly to meet many friends from other countries when she came to NCKU. She took her time to travel around Tainan with bicycle. She wishes to study at least four years in NCKU.

Another freshman, Osama from Honduras attending the Institute of Engineering Management mentioned that Taiwan is really concerned about the environment and did the recycling a lot compared with his own country. He is interested in learning Chinese culture and figured about that NCKU is quite famous at engineering in Taiwan, and also had a good reputation in Asia. He hopes to reach more culture shocks in NCKU with those from different countries.

There were more than 100 international freshman and senior students attending the orientation. In information session on 12th September, the International Student Affairs Division offered many helpful lectures for international students, such as "How to Get Used to Taiwan", "Application to Free Chinese Course", "Information of the School Dormitory", and "How to Apply for Resident Visa & Alien Resident Certificate (ARC)". During the session, the freshmen were also placed into groups and given a chance to ask upperclassmen about college and campus life.

In this academic year, there are 363 newly admitted international students and 219 students had registered. There are 48 international students studying in undergraduate programs, 132 in master programs and 39 in PhD programs. It was predicted to be more international students registered during the October. Certainly, more and more English friendly campuses will be realized in NCKU, as more and more international students come to NCKU.

In this year, the newly admitted international students come from 48 different countries all over the world, including Bangladesh, Belize, Brazil, Burkina Faso, Canada, Columbia, Czech, Dominica, Ecuador, El Salvador, France, Gambia, Germany, Guatemala, Haiti, Honduras, Hungary, India, Indonesia, Iran, Iraq, Italy, Japan, Jordan, Kiribati, Kyrgyz, Malaysia, Mexico, Mongolia, New Zealand, Nicaragua, Panama, Pakistan, Paraguay, Peru, Philippine, Poland, Russia, Saint Christopher and Nevis, Singapore, Slovakia, South Africa, South Korea, Thailand, United Kingdom, United States, and Vietnam.