New Prospects for Shrimp Farming in Taiwan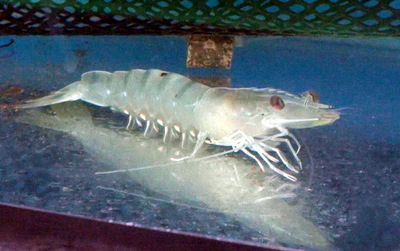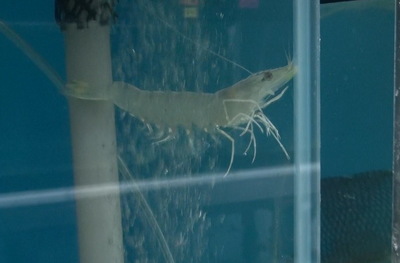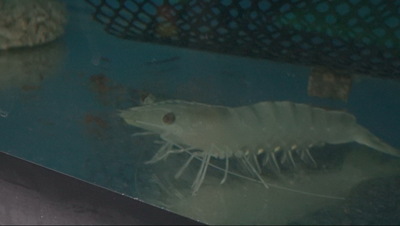 National Cheng Kung University Successfully Cultivates Black Tiger Shrimp Resistant to White Spot Syndrome Virus

Over two decades ago, white spot syndrome (WSS) was a new disease that swept through the shrimp farms of Taiwan and caused massive losses. The same disease also caused similarly devastating outbreaks in other shrimp farming countries across the world. WSS is caused by the white spot syndrome virus (WSSV), and even today WSS remains one of the greatest threats to shrimp farm globally.

For a long time, both shrimp farms and scientists have hoped to breed animals that are resistant to this deadly virus, and now, in a collaborative study with OSO Organic Shrimp Farm, a black tiger shrimp enterprise established in Madagascar by the largest aquatic product distributor in France, Dean Lo Chu-Fang of the College of Bioscience and Biotechnology, National Cheng Kung University (NCKU) and her team have finally cultivated a black tiger shrimp that is resistant to WSSV.

Two WSSV resistant shrimp families have already been successfully produced, these breakthroughs have already generated a lot of interest and excitement in the shrimp farming community.

Black tiger shrimp is a large shrimp that tastes sweet, and is deliciously tender and firm. It has a high retail value, and is very popular in high-end consumer markets in Europe and America.

Once in the 1980's Taiwan was a major producer of this species, but when a serious outbreak of monodon baculovirus (MBV) in 1988 was followed four years later by the catastrophe of WS in 1992, the country's shrimp industry collapsed.

Recovery was slow, and in 20000, when SPF (specific pathogen free) pacific white shrimp first became commercially available, most farmers switched from black tiger shrimp in order to cultivate this species instead.

Meanwhile however Prof. Lo, who began studying WSSV in 1994, had put together a team to investigate the functional genomics of black tiger shrimp and WSSV. This groundbreaking work led to the publication of many papers that continue to be highly cited even today.

Besides her academic research achievements, Prof. Lo and her team are not afraid to step outside of the laboratory and into the practical field of shrimp farming in order to study the genetics and breeding of virus-resistant black tiger shrimp. When NCKU became aware of Prof. Lo's ambitions, the university provided a hectare of land in its Annan Campus and built a world class shrimp genetics and breeding center for the team.

The first requirement for breeding virus-resistant shrimp is the availability of large numbers of healthy shrimp with high genetic diversity, and luckily, in 2012, Prof. Lo was contacted by Mathias Ismail, the managing director of an organic black tiger shrimp farming operation in Madagascar. This company was OSO, and Mathias wanted to discuss cooperation possibilities, because he was worried that the spread of WSSV worldwide would endanger their business.

Mathias also indicated his willingness to provide an abundance of healthy black tiger shrimp along with relevant farming technologies to assist Prof. Lo's team in their research.

Prof. Lo asked OSO to gather black tiger shrimp samples from different populations in different sea areas in order to maximize their genetic diversity. After these shrimps were delivered to the shrimp genetics and breeding center in NCKU, thanks to Prof. Lo's prior knowledge of the relevant key factors, she was able to very quickly screen tens of thousands of shrimp for resistance to WSSV.

To verify that the black tiger shrimp with virus resistance markers were really able to resist WSSV, the shrimp were challenged with a high dosage of the virus – and the experimental results were very encouraging.

Over the past two years, OSO has generously shared their shrimp farming and water quality maintenance technologies as well as their expertise in shrimp farm design with Prof. Lo's team, and they have built up a good partnership since 2012, often sharing experiences and results with one another.

Prof. Lo and her team began cultivating the first generation of WSSV-resistant black tiger shrimp in NCKU last November, starting from shrimp postlarvae almost invisible to the naked eye. It takes on average one and half year for a black tiger shrimp to grow to the point where their reproductive organs are mature and they can be used for breeding.

The shrimp were grown in a strictly-controlled room for 9 months and are now roughly 20 cm long.

Prof. Lo indicated that all of the shrimp are very healthy, and that not even one shrimp has become sick. A special feed is currently being used to accelerate the shrimps' growth, so that they can be used for breeding as soon as possible.

Prof. Lo pointed out that virus-resistant shrimp is just the beginning, and that she will continue to research and develop black tiger shrimp families that are also stress resistant and fast growing.

This will reduce farming costs and increase the shrimp farmers' revenue, and hopefully help to drive a renewed and sustainable shrimp farming industry in Taiwan and other Asian countries.