Gro Brundtland Week 2017 celebrates women scientists' hard-earned success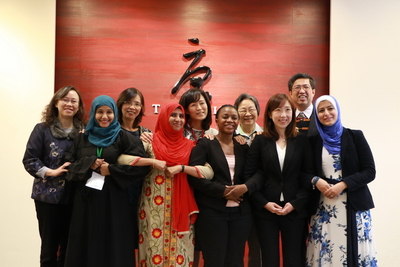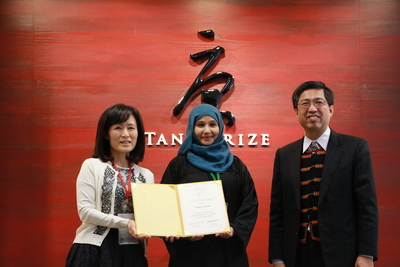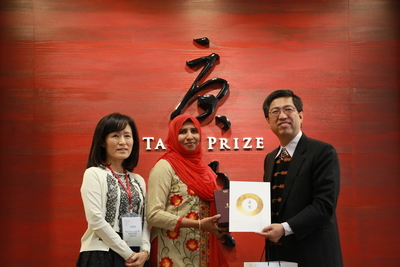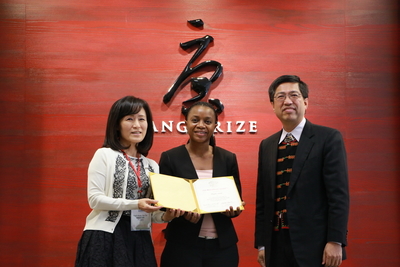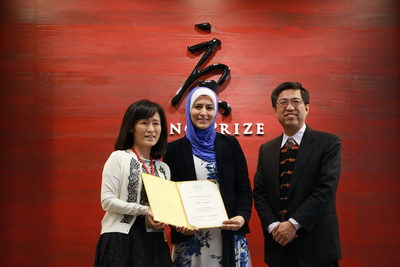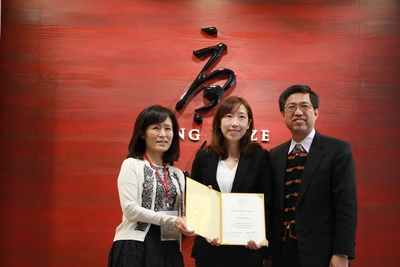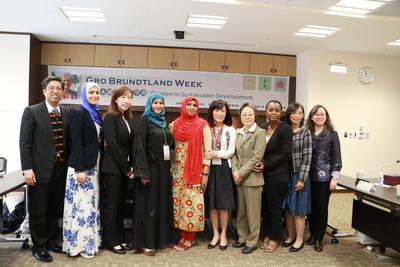 Tainan, Taiwan, March 17, 2015

The Gro Brundtland Week of Women in Sustainable Development officially closed today at the Tang Prize Foundation in Taipei City, Taiwan.

The CEO of the Tang Prize Foundation, Jenn-Chuan Chern, and National Cheng Kung University (NCKU) President Huey-Jen Jenny Su delivered closing remarks and congratulated the five winners of Gro Brundtland Awards at the closing ceremony on March 17.

An awards ceremony of Gro Brundtland Award was presided over by NCKU President Su, where the five recipients of Gro Brundtland Award were honored and their achievements were celebrated.

NCKU President Su who chaired the organizing committee of Gro Brundtland Week, said the five award winners were chosen from about 40 submissions from 24 countries.

The candidates' research, practice, experiences and leadership in the social sector were among the criteria the jury looked at, Su said.

Tang Prize Foundation CEO Chern said there remain many unsolved issues in public health and "women are essential to finding solutions to these problems."

The five recipients have excelled in their fields of expertise -- including children's and women's health, medical education and fighting disease -- despite the limited resources and institutional barriers they face, Chern said.

Among the five winners, Phyllis Awor, a Ugandan public health physician, currently works at Makerere University School of Public Health as a Senior Researcher, said, "As a female medical doctor and public health specialist from Sub-Saharan Africa, I have keenly followed, the development of the Gro Brundtland week in Taiwan."

"I am honored to win this award and I am excited about the connections and the opportunity that it presents. I undertook my doctoral studies in Norway, and I hold Gro Brundtland in high esteem. She is a great role model for both male and female scientists," said Awor.

Wafa Al-Jamal, a Jordanian research fellow in the School of Pharmacy at University of East Anglia, UK, said, "Gro Brundtland Award is one of the few awards that recognizes women contribution to science and sustainable development.
It is a great achievement, and it will definitely help me to establish worldwide collaborations, which aim to strengthen the links and knowledge exchange between researchers in the UK and developing countries."

Winning the Gro Brundtland Award means a lot to Fathiah Zakham, an assistant researcher at the Hodeidah University, Yemen. She said, "I am a female Yemeni researcher coming from a country suffering from war and humanitarian crisis and this award will provide me a hope for better achievement and advancement of science and make me more motivated."

Farah Naaz Fathima, professor at St. John's Medical College, Bangalore, India, said that she was delighted to be selected to receive the Gro Brundtland Award 2017. "This is tremendous encouragement for female scientists like me from developing countries."

Yi-Chun Yen from Taiwan is a postdoctoral fellow at Duke-NUS Medical School in Singapore. Winning the award, she said, "I really appreciate this great opportunity to meet other female researchers over the world and establish the international connection.

With the aim of promoting public interest in the area of sustainable development and honoring female researchers from developing countries and Taiwan, the Gro Brundtland Week of Women in Sustainable Development was held from March 11 to 17, at NCKU, Tunghai University, Tzu Chi University, National Taiwan Normal University, and Tang Prize Foundation.

Five qualified female researchers from developing countries and Taiwan was invited and subsidized to present their work during the week.

Former Norwegian Prime Minister Dr. Gro Harlem Brundtland won the 2014 Tang Prize in Sustainable Development, and provides a half of her research grant to promote the involvement of younger women researchers from developing countries toward the issues of sustainable development and equitable health systems.