2017 NCKU Commencement Held on June 3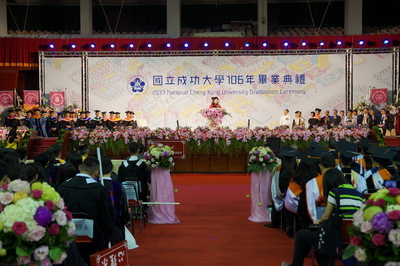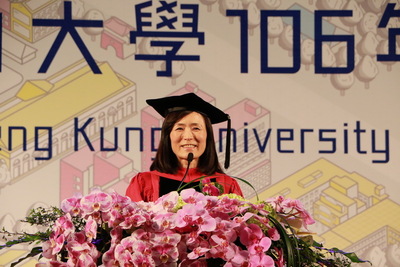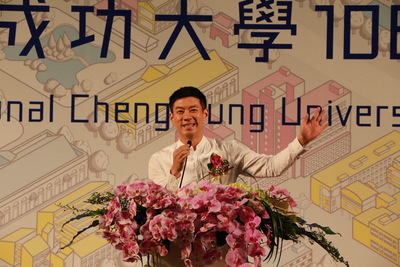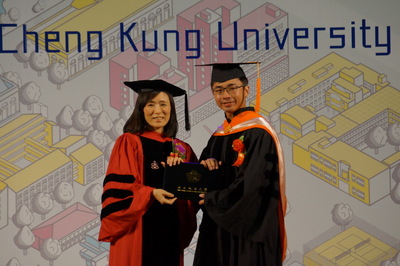 Tainan, Taiwan, June 6, 2017
On June 3rd, National Cheng Kung University (NCKU) held the 2017 Commencement at 6 pm on Kuang-Fu Campus, with NCKU President Huey-Jen Jenny Su, Ogilvy & Mather Taiwan Chief Creative Officer Ta-Chung Kung, Legislator Jin-Pyng Wang and the President of National Tainan Girls' Senior High School Wen-I Cheng attending the Commencement to wish wholeheartedly promising future for the graduates.
In the ceremony, President Su mentioned that late Honorary Professor, Kun-yen Huang once quoted Christina Rossetti's poem, Who Has Seen the Wind, and compared manners to the wind, saying that manners are like the wind, which is hard to be noticed until a situation rises, when people finally realize the importance of manners.
She continued, "Manners are invisible but palpable. Manners reflect people's personalities when they regard manners as the basics of their lives. NCKU provides the basic needs of cultivating good manners. But it is the students who decide on what kind of people they will become after studying at NCKU."
Mr. Kung of Ogilvy & Mather Taiwan also shared with the graduates his own experience when he entered the workforce. "Now I am giving you 4 gifts: slash, courage, comfort and the rising sun in your mind."
"A slash is a punctuation meaning 'and'. I hope you will play more than one role in the workplace to gain various experiences in your lives. I was an advertiser when I first entered the workplace, but now I am an advertiser/ director/ writer/ guitarist/ composer/ lecturer, and I will continue to draw slashes in my life," said Kung.
He continued, "Failure is inevitable, but it doesn't mean that you are doomed. Your life will go on even if you fail to achieve your goals. Failure is not the end but a whole new starting point of your journey. Pluck up your courage and continue to explore the world."
Kung also reminded the graduates, "You should find something that brings you comfort when you work on it. Meanwhile, you should also find your dreams and keep them alive in your heart. Then, hope and motivation, like the rising sun, will surely light up your life."
Before the Commencement, many departments also held their own farewell parties for the graduates.
In the commencement, NCKU Graduates' Association staged a unique performance, which turned the 4 years at NCKU into arithmetic sequences and formulas.
The total number of NCKU graduates this year is 5716. Among which, 2521 graduates are from bachelor's programs, 2958 from master's programs, and 237 from doctoral programs.
enditem/ Ruby Cheng