NCKU launches Global Academia-Industry Alliance Hub at UM today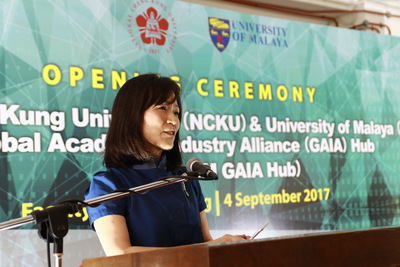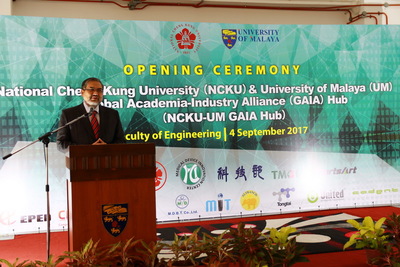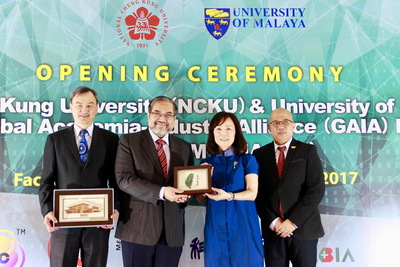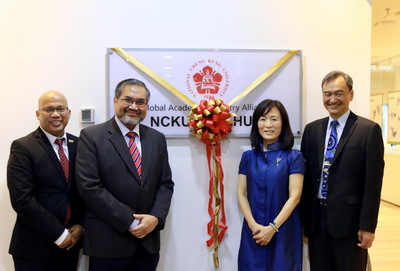 Tainan, Taiwan, September 4, 2017

National Cheng Kung University (NCKU) in Taiwan and the University of Malaya (UM) in Malaysia co-hosted an opening ceremony for the launch of Global Academia-Industry Alliance (GAIA) Hub, today, at UM Industrial Innovation Center, Malaysia.

NCKU President Huey-Jen Jenny Su, UM Acting Vice Chancellor Awang Bulgiba Awang Mahmud, and Deputy Minister of Ministry of Science and Technology (MOST) Fong-Chin Su all attended the ceremony on behalf of the respective organizations.

UM Acting Vice Chancellor Awang Bulgiba Awang Mahmud gave his opening remarks saying, UM and NCKU have tied up with the medical technology industry to promote innovative devices. NCKU-UM GAIA Hub is a result of a long relationship between the two universities.

In her opening remarks, President Su said, "Coming to UM campus is now like going to my home in the southeastern Asia, and I also am mindful only the true friends will accommodate our schedule and host such an exquisite ceremony for us."

MOST Deputy Minister Su commented that NCKU-UM GAIA Hub is by far the best innovative model for academic-industry collaboration.

President Su also said, "Over the past decade, we from the NCKU community have had the privilege and pleasure to evolve and progress together with colleagues from UM, both scientifically and culturally, based on the spirit of academic freedom and the search for new frontiers as the educated global citizen."

Many Internationally renowned companies in the sector of medical devices including United Orthopedic Corporation, M.D.B.T. Co., Ltd., SPORTSART, EPED Inc., joined the celebration for the first alliance in southeastern Asia and witnessed the birth of NCKU-UM GAIA Hub.

NCKU-UM GAIA Hub is set up to facilitate an international ecosystem that conducts research outputs to innovative applications beneficial to aging society.

GAIA is an initiative led by NCKU's Medical Device Innovation Center (MDIC) bringing together Taiwan's medical and healthcare-related industry, government bodies, global academic institutes and research centers to jointly develop and market Taiwanese products.

After the ceremony, a demonstration and presentation of Taiwan's medical devices was held to showcase the latest technology and innovation.