The Youngest Academic Achievers in NCKU: Bringing Out the Best in Both Teachers and Students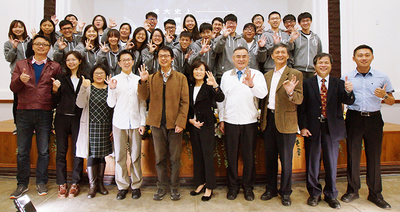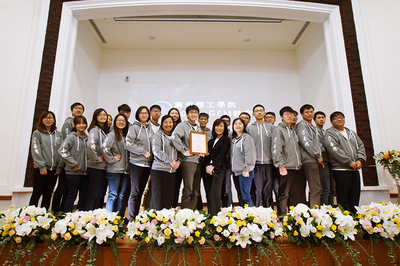 NCKU teachers and students bring out the best in each other. Building on last year's success, seven professors received the 2017 Wu Da-Yu Memorial Award of the Ministry of Science and Technology. Two student teams won international competition awards. Medical students won four awards, including a Gold Project Award, in BIOMOD sponsored by Harvard University. The team of interdisciplinary students won a gold medal and the championship for the "Best Environment Project" in 2017 iGEM sponsored by MIT. President Huey-Jen Jenny Su hosted "The Youngest Academic Achievers in NCKU" award ceremony on December 8th to congratulate them on their outstanding performances which write a new page for school history. She encouraged both teachers and students to free themselves from self-limitations, just as the saying goes: "Until you spread your wings, you'd have no idea how high you can fly." Apart from constantly writing a history to glorify the school, as a multi-award-winning university, NCKU expects to set a benchmark for others.
The award ceremony was held in Gezhi Hall. President Su first presented the trophies to the winners of the Wu Da-Yu Memorial Award: Assistant Professor Wei-Cheng Wang of Department of Aeronautics and Astronautics, Associate Professor Kung-Chien Wu of Mathematics Department, Associate Professor Che-Ming Li of Engineering Science Department, Associate Professor Chia-Yen Lee of Institute of Manufacturing Information and Systems, Associate Professor Wei-Jiun Guo of Department of Biotechnology and Bio-industry Sciences, Associate Professor Yuan-Chi Tseng of Industrial Design Department, and Associate Professor M. C. Chen of Chemical Engineering Department. President Su then praised the student teams that won the international competition awards, BIOMOD and iGEM. Dean Woei-Shyan Lee of College of Engineering, Dean Wei-Chou Hsu of College of Electrical Engineering and Computer Science, Associate Chair Shyh-Jou Shich of College of Medicine and other support tutors attended the award ceremony, too.
President Su indicated that each generation must consolidate its competitiveness. NCKU made a breakthrough in history at the Wu Da-Yu Memorial Award last year by defeating National Taiwan University, National Tsing Hua University and National Chiao Tung University. NCKU has won seven awards this year and shall work even harder next year. She in particular pointed out that, since interdisciplinary provides us with future opportunities, in addition to their professional fields, teachers should think more about interdisciplinary areas and help NCKU find out resources that have not been fully investigated.
President Su told the student teams that the meaning of winning represents more responsibilities. "You can do better and even stand on the top of the world. You can achieve self-actualization and further lead your juniors down certain paths, which is also NCKU's task to create something different for the world, that is, human beings' permanent pursuit of the meaning of survival and development."
All the winners of the Wu Da-Yu Memorial Award unanimously expressed their thanks to NCKU for giving such a good research environment that they can shine in their professional fields and gain today's glory. Professor Wu said the aerodynamics study is only in the initial stage of enlightenment in Taiwan and he hopes his researches can be constructive. Professor Guo noted that Tainan is a city of agricultural major and she hopes her researches on plant molecular physiology make more contributions to the local agricultural industry.
In order to express the theme of "Design peptide-based nanoparticles to compete mRNA binding site of human antigen R," a large number of 3D molecular rotation models are embedded in popular science websites by NCKU BIOMOD team to create an intuitive impression, in which a vivid battle between spies and extraterrestrial robots is introduced. While in the award ceremony, by mimicking entertainment news broadcasting, their report introduced the entanglement of polypeptide molecules as that in the triangular relationship, which is as impressive. Captain Ming-Wei Hsu of College of Medicine said, "We started with the love triangle story from Taiwan's most popular soap opera, and then presented our theme in line with the news anchor's reporting. Eventually we were honored to get such a great award."
The iGEM team combines the fields of biotechnology, electrical engineering and machinery and designs devices to monitor and adjust water quality based on water quality control. The team has participated in the 2017 iGEM contest and stand out from over 300 competition teams around the world. The team demonstrated a 5-minute briefing in the award ceremony and won warm applause. Team leader Ming-ming Wu said the output value of Tainan in aquaculture and fisheries accounts for one fourth of the total in Taiwan.