The NCKU Academy of Educators to Be Established on 28th Oct.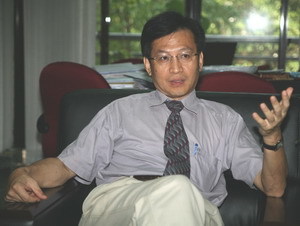 The National Cheng Kung University (NCKU) will take the pioneering position to establish the Academy of Educators, which is similar with that in University of California at San Francisco (UCSF), and will award fellowship to excellent-teaching faculty in the convocation ceremony on 28th of October.

Many universities have instituted some incentives to encourage faculty for their distinguished research achievements, such as Honorary Professors, Distinguished Professors and professors are also ranked by their research outputs, for instance, number of academic articles published on international journals. Thus, universities have been giving an impression of more emphasis laid on research rather than on teaching. The measure of establishing Academy of Educators certainly reflects one of educational policies of NCKU, namely equal emphasis on both research and teaching.

According the Academician Michael M.C. Lai, the President of NCKU and also the Honorary Chair of Academy of Educators, the essential mission of being a faculty is performing outstanding research as well as giving excellent teaching and added that faculty members who receive the awards as fellows of the NCKU Academy of Educators are deemed as prominent and respectful as Academicians of the Academic Sinica.

Professor Ming-Jer Tang, the NCKU Vice President for the Office of Academic Affairs, indicated that the goal of establishing Academy of Educators is to share teaching experience, to assist in developing curricula and to promote the teaching quality of faculty members.

"Each Fellow of Academy of Educators is the main force to help cultivate students with leadership which involves humanistic spirit and professional knowledge, creative and global view, and interdisciplinary learning as an educational goal of NCKU", Professor Tang added.

Professor Tang also pointed out that the chance to get fellowship from Academy of Educators is only one out of 100 faculty members. Awarded with one hundred thousand New Taiwan Dollars, approximately three thousand and six hundred US dollars, in 3 successive years, the fellowship symbolizes the most privilege honor for faculty with distinguished teaching achievement.
Professor Tang also said that the intrinsic value of education is to stimulate people with humanism in their minds, namely with caring, reciprocal and social spirit intrinsically. Professor with Fellowship of Academy of Educators can be viewed as outstanding model with spirit of humanism for all students and faculty.

The establishment of Academy of Educators was approved on 3rd June, 2008 with the aim to share teaching experience, to assist in developing curricula and to promote the teaching quality of faculty.

According to the announcement of regulation, the Academy of Educators nominated President as Honorary Chair, Vice President as Honorary Vice Chair, and Vice President for Office of Academic Affairs as Chair.