SATU Presidents' Forum Highlights on Responsibilities of Higher Education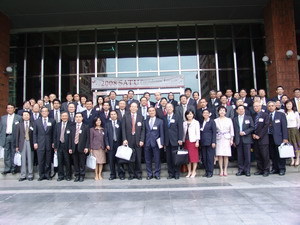 The second biennial Presidents' Forum of Southeast Asia Universities (SATU Presidents' Forum) kicked off its opening ceremony on Nov. 10th at National Cheng Kung University in Tainan, where Academician Michael M.C. Lai, the President of NCKU made an opening remark and Dr. Ovid J.L. Tzeng (曾志朗), the former Minister of Education and currently the Minister without Portfolio of the Executive Yuan gave a keynote speech. This is the first time to have universities from India participating in this Forum, themed "Global Humanity Global Humanity Challenges and Pressing Responsibilities of 21st Century Universities."

According to President Michael M.C. Lai of NCKU, the region of Southeast and South Asia and Taiwan is assuming a growing role in the global arena; therefore, it is vital for us to respond to contemporary world issues. SATU provides us with a platform to share our valuable experiences, ideas, and expertise not only to enhance higher education, but to promote international cooperation and collaboration as well.

"Living in the midst of the 21st century, when humanity is being constantly challenged and tragedies are being witnessed, misfortunes are daily experiences; but so are the hopes and aspirations as long as we work hard and work together," said President Michael M.C. Lai.

The keynote speaker, Dr. Ovid J.L. Tzeng (曾志朗), the former Minister of Education and currently the Minister without Portfolio of the Executive Yuan, shared his opinion on higher education entitle "After the Olympics: Thoughts behind the Gold". Dr. Tzeng said that setting aside political issues and looking at the sportsmanship of the athletes in Olympics, we can learn a lot from them. Concepts of competition, achieving a goal, etc. can be translated directly into the language of academic success.

"There are two seemingly conflicting trends in Taiwanese universities: the rapid increase in the number of institutions, but a decrease in funding and international participation," said Dr. Tzeng.

Dr. Tzeng provides his opinion on strategy to solving the problem. He suggested having grand planning for higher education as well as classification of higher education into four categories: Research, General, Specialized, and Community College.

"All the universities now look alike; they simply want to achieve better rankings. We should fund different types of institutions differently, depending on strengths in research, teaching, etc. New budget should be diversified to reflect this, funding calculated and provided differently," suggested Dr. Tzeng.

Dr. Tzeng pointed out the mission of a great university – educating the public, the young, and ourselves; integrity and concern for justice; a passion for life a curiosity for the unknown.

"Prepare students to live intelligently in modern society – information literacy in classics, sciences, arts, web navigation skills, creativity education, enjoy the world through physical, mental, and abstract means," said Dr. Tzeng.

Dr. Tzeng concludes with quoting seven principles for good practice in undergraduate education from Chickering and Gamson: 1. Encourage contact between students and faculty; 2. Develop reciprocity and cooperation among students; 3. Encourage active learning; 4. Give prompt feedback; 5. Emphasis on timeliness; 6. Communicate high expectations; 7. Respects diverse talents and ways of learning.

About Ovid J. L. Tzeng
Ovid J. L. Tzeng is currently a Minister without Portfolio of the Executive Yuan and former Vice President, from 2002 to 2006, of the Academia Sinica in Taiwan R.O. C. He is a respected psychologist recognized for his work in cognitive neuropsychology and is known particularly for his extensive analysis of cognition and memory system. His Ph.D. Dissertation was honored in the "Creative Talent Award Program of the year 1972" by the American Institutes for Research.

Ovid joined the faculty of Ohio University in 1972 and after two years moved to the University of California, Riverside (UCR). In that period, he created a research center for studies in speech recording process during reading, human information processing, bilingual speech perception, orthography and reading behaviors of dyslexics, and Chinese aphasia. In particular, he was the leading pioneer in the field of the Cognitive Neuroscientific Studies of Chinese Language. There were three papers published in Nature between 1976 and 1979 for his research work on the cognitive neuropsychology of Chinese language processing and that was considered an honor in the field of Psychology.

Ovid has had a distinguished professional career that includes serving as Visiting Associate Professor at the Department of Linguistics, University of California, Berkeley; Visiting Associate Professor at the Haskins Laboratories and Yale University; Visiting Scientist at the Salk Institute for Biological Studies in San Diego; External Examiner for the Institute of Education, Singapore and the Chinese University of Hong Kong; Professor and Dean of the College of Social Sciences at the National Chung Cheng University; Professor and President of he National Yang-Ming University; Minister of Education, Taiwan, R.O.C.. He was awarded a National Award of Distinguished Scholarship of Ministry of Education, R.O.C. and the Special Lectureship in Cognitive Science by the National Science Council, R.O.C. Besides, he is the author of more than 100 scientific papers and also the consulting editor for many journals including Cognition: International Journal of Cognitive Science; Memory and Cognition, Psychological Research: An International Journal of Perception, ,Learning and Communication; Journal of Chinese Linguistics (UC-Berkeley Press),Chinese Journal of Psychology, Journal of East Asian Linguistics; and Educational Journal in Hong Kong.

Since 1994, Ovid has been a fellow member of Academia Sinica and devoted himself to the research of cognitive neuroscientific studies of memory and language. Now, serving as one of the three Vice Presidents of Academic Sinica, he is responsible for promoting the interaction between Academia Sinica and International Council of Science Union (ICSU). He is also responsible for promoting the cooperation between Academia Sinica and research institutes around the world. In addition, he is currently the Director of the newly established Taiwan International Graduated Program (TIGP).

About SATU Forum
As the Southeast and South Asian region is facing critical challenges in economic, societal, and politic structures, there is a need to gather experts and educators to exchange ideas and face shared challenges. The excellence of universities is an important key to enhance a nation's competitiveness. Therefore, the Former President Chiang Kao of NCKU together with Presidents of prestigious universities of Southeast Asian countries initiated the "Presidents' Forum of Southeast Asia and Taiwan Universities" (abbreviated as SATU Presidents' Forum) to provide a venue for academics to share their valuable experiences to improve higher education and international cooperation in the region. Hence, the Secretariat of SATU Presidents' Forum (which includes divisions of Secretariat, Academic Exchange, Student Affairs, and Industry-Academia Collaboration) has been established at National Cheng Kung University to coordinate and to promote the related activities.
SATU Presidents' Forum will be held biennially to achieve the following objectives: 1.To strengthen the academic cooperation between Taiwan and Southeast Asian countries. 2. To foster internationalization through academic and cultural exchange and collaboration. 3. To promote the quality of education, research, and community services. 4. To establish exchange programs for university students, faculty and administrative staffs. 5. To enhance partnership between industry and academia. 6. To facilitate sustainable development in economic, social and environmental aspects.