$110M NTD Alumni Gift to Build a NCKU Center for Research Excellence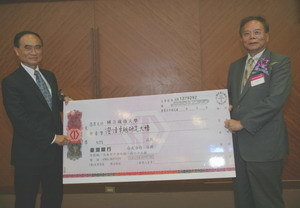 Because of appreciation for the cultivation from alma mater, Dr. Cheng-Ching Wu (吳澄清博士), a NCKU Outstanding Alumni and Chairman of Tasco Chemical Corporation (台灣石化合成股份有限公司), generously gave a monetary gift of 110 million New Taiwan Dollars (NTD), approximately 3.3 million in USD, to build a multi-functional center for research excellence, which will be located in Tzu-Chiang Campus. Academician Michael M.C. Lai, the President of NCKU, announced it in the donation ceremony on 12th, November.

The five-floor building with two underground levels is scheduled to house one world-class international auditorium, offices and research facility for renowned foreign researchers and visiting faculty, research centers for national-scale projects, and research room. It is expected that Dr. Wu funded multi-functional center for research excellence will help facilitate the internationalization and school development.

Dr. Cheng-Ching Wu, the recipient of 2003 NCKU Outstanding Alumni Award, found TASCO Chemical Corp., where he has been serving as Chairman of TASCO Chemical Corp since 1982. Dr. Wu holds a B.S. in Chemical Engineering from National Cheng Kung University (NCKU) in 1958 and a MS and a Ph.D. in Engineering from University of Tokyo. Before changing his career to petrochemical industry in Taiwan, Dr. Wu had taught in the Department of Chemical Engineering of National Taiwan University. Dr. Wu was rewarded the "National Outstanding Technology Talents" in 1977 from President Chin-Kuo Chiang (蔣經國總統), the Former President of Taiwan, as well as "Chemical Engineering Medal" to recognize his effort and contribution on technology and national economics.

Dr. Wu changed his career from academia into chemical industrial sector since 1975, when Taiwan was facing economic take-off. Dr. Wu led Taiwan VCM Corporation (台灣氯乙烯) to overcome many challenges and return great revenue. Dr. Wu has been committed to developing domestic petrochemical industries, constructing national infrastructure, improving quality of social environment and cultivating excellent workforce. With pioneering view, Dr. Wu promoted the use of lead-free petroleum to reduce the lead pollution in 70's.

In order to encourage young researchers and students' research on chemical engineering, Dr. Wu has been offering scholarship for students from chemical engineering and chemistry related departments in many universities since 1987. Dr. Wu also made great contribution to society development and social security. For example, he has chaired the Taiwanese Institute of Chemical Engineers, and Chemical Society located in Taipei, two of the largest scientific societies in Taiwan.