Kyoto University President Visited NCKU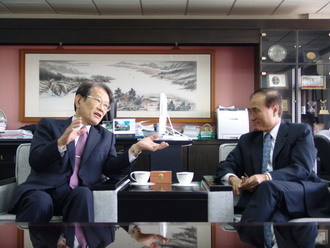 Professor Hiroshi Matsumoto, the President of Kyoto University (Kyodai), has a one-day visit at the National Cheng Kung University (NCKU) on November 18 to meet President Michael M.C. Lai of NCKU.

Academician Michael M.C. Lai compared NCKU to Kyodai because both universities are the second largest university in Taiwan and in Japan, respectively. Similarly, NCKU is located in Tainan, the historical and culture-rich city of Taiwan, while Kyodai is located in Kyodo, the historical and culture-rich city and the home to tradition in Japan. "NCKU views Kyodai as a model of becoming top-tier World University," added Academician Michael M.C. Lai. President Lai acclaimed Kyodai's excellent academic achievement according to the number of Nobel Prize Laureates.

Professor Hiroshi Matsumoto, the President of Kyodai indicated how Kyodai could attract more students studying in Kyodai, instead of University of Tokyo, which is deemed as the top university in Japan. "Most of students who come to study in Kyodai because of the cultures of Kyodo and the academic freedom in Kyodai," said President Matsumoto. "Compared with University of Tokyo on the advantage of her location at the business and political center in Japan, Kyodai features her culture and academic research, which can be seen on the number of Nobel Prize Laureates," added President Matsumoto. The other advantage of Kyodai is the "freedom" atmosphere, including academic freedom and freedom from control of central government, which allows Kyodai to conduct independent researches. However, President Matsumoto also worried about the heavy load of paper work and administrative job to young researchers as well as the unstable funding after corporatization.

President Michael Lai said that NCKU should shoulder more social responsibility to meet the social demands because NCKU get the huge additional funding from 5y5B project.

President Matsumoto admired President Lai to play violin in the leisure time under the condition of burning the candle at both ends: research and administrative work.

Professor Hiroshi Matsumoto also gave a lecture entitled "Sustainable Humanosphere with Space Environment Use" at the NCKU Conference Hall.


About Kyoto University
Kyoto University (京都大學) is a major national university in Kyoto, Japan. It is the second oldest university in Japan, and formerly one of the Imperial Universities of Japan. The university has a total of about 23,000 students enrolled in her undergraduate and graduate programs.

Kyoto University has historically advocated a "spirit of freedom" in her academic activities. The university established herself as a premier research university with five Nobel Laureates and two Fields Medalists among her faculties and alumni. The university is also known as the home of the Kyoto School group of philosophers.

Kyoto University was ranked as the 22nd best university in the world in 2007 according to the Academic Ranking of World Universities. The Times Higher Education Supplement ranked Kyoto University as the 25th in the world and the 3rd in Asia in 2007.