NCKU TOUCH Center Recognized in Europe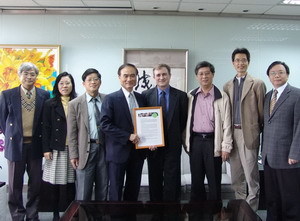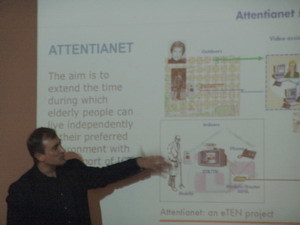 Tainan, TAIWAN, Dec. 9, 2008 --- Center for Technologies of Ubiquitous Computing and Humanity (TOUCH Center) in National Cheng Kung University (NCKU) was named as one of members of European Network of Living Labs (ENoLL) in the 3rd Wave Call for membership of ENoLL. Professor Esteve Almirall, the project leader of Living Labs, made a speech entitled "Opening the Innovation Process: Open Innovation, User Innovation and Living Labs" on Dec. 8th to share his experiences on open innovations and user-driven creations. Prof. Almirall also visited Academician Michael M.C. Lai, the President of NCKU, to confer the certificate of the member of ENoLL to NCKU. In the same time, Professor Esteve Almirall also invites the NCKU faculty to join the 4th and 5th Calls of the EU Seventh Framework Programmes (FP7) Projects.

President Michael M.C. Lai of NCKU said that Taiwan government is pushing intellectual technologies with a slogan "i-Taiwan", pronounced "Love Taiwan" in Chinese. "Taiwan has strong IT industry, which is an incredible advantage to the development of intellectual technology. Professor Esteve Almirall responded that it's a right policy in Taiwan.

Professor Esteve Almirall said that intellectual technologies are required to integrate various fields and fit among business model, culture, society and technological possibilities. "NCKU TOUCH center is pacing the right direction because it's designed based on a real-life model and improved according to comments from visitors and students," added Professor Almirall.


In the 8th speech, Professor Esteve Almirall, the ENoLL emphasizes on collaborative innovation among all Living Labs. With this kernel concept, the NCKU will be able easily to join the research activities conducted in the ENoLL, so that NCKU can expand the connections with European Union. With this advantage, the NCKU will be received more strength in human-centric innovation technologies. Thus, the NCKU could help the industries in Taiwan to get the up-to-date information and resources to lead the companies in the smart living technologies tightly connected to European Union for innovation designs.

Professor Esteve Almirall quoted the definition of "Innovation" from Dr. Michael Schrage of MIT as "Innovation isn't what innovators do. It's what customers adopt!"

Because TOUCH Center just joined ENoLL on Nov. 2008, NCKU are admitted to become a partner and also receive budget from EU by means of raising proposal except for paper works. Of course, FP7 project (2007-2013) can cover the fee for collaboration with European Union and Touch Center as well.

Being named as one of ENoLL members has evidently shown that the research activities conducted in NCKU TOUCH Center has been successfully recognized internationally and the visibilities of the Center will also become seemingly significant.

About NCKU TOUCH Center
The Center for Technologies of Ubiquitous Computing and Humanity (TOUCH Center) under the theme of "leading to smart living of the future", is organized by the researchers from multiple disciplines such as information communication technology, medical and psychology, literature and art, architecture and design areas to develop creative smart living products and quality mental sensation living spaces in the NCKU, Tainan, Taiwan. The researches are based on cooperation intelligences and user driven innovations.

TOUCH Center supported by the National Science Council, Taiwan, plans to develop the creative human centric living products and quality living spaces for the future. TOUCH Center has launched NCKU Aspire Home and NCKU Art Corridor, which successfully integrate technology and design together. After feasibility tests, the developed smart living products and spaces are demonstrated in NCKU Aspire Home for aspiring evaluation by the visitors.

The human-centric Aspiring Home is located in Chi-Mei building of Tzu-Chiang Campus of the NCKU with five main themes: 4D interactive virtual reality room, smart living room, digital study room, smart bedroom, smart kitchen and interactive garden. The smart living room provides people to enjoy real-time movies, music and games with the technologies of audio, visual detection through multiple microphone and camera arrays. It can also provide people with function of interacting with counterparts in far distance away as well as the function of security service. Digital study room features the interactive furniture, such as multiple touch desks, digital bookshelves. Smart bedroom can automatically play music or astronomical video depending on use's interests. The sensor-driven technology which can indicate accurate medical service according to user's physiological condition will reduce the accident risk for taking care of elders. The ceiling of the smart bedroom actually is a screen figured with a detection camera. When the people lie down in the bed, the system will enter a spiritual visual and audio healing mode to conform their sleep. The magic mirror not only as a traditional mirror can also be commanded by speech for information services. In the smart kitchen, people can audibly command the electrical appliances and be reminded of the purchasing, preserving date and category of the food in the refrigerator. It also provide digital recipe for non-professionals to cook delicacies. Interactive garden features the wonderland of digital and interactive technologies. The sensor-driven technologies can be experience ubiquitously in this garden.

Currently, NCKU Aspire Home is open weekly and NCKU Art Corridor exhibits interactive arts daily to attract visitors. The visitors were asked to fill questionnaires to give the improvement of living products and spaces. So, all the demonstrations are constantly modified based on visitors' feedbacks. Besides, the TOUCH Center also establishes a highly interactive lifestyle story design platform to collect intelligence through Web 2.0 technology. Besides, the TOUCH Center also conducts design workshops and conferences to collect the up-to-date technologies for future digital life.


About Professor Esteve Almirall
Professor Esteve Almirall, the project leader of ENoLL, is currently teaching as an Associated Professor (part time) at Universitat Politécnica de Catalunya as well as ESADE Business School in Spain. Besides teaching, He also does researches in the area of Computer Science and Business and he manages some EU and national projects. Professor Almirall's specialties focus on Innovation, Artificial Intelligence, Open Innovation, Collaborative Environments, Innovation Management, Recommender Systems, Complex Models, Living Labs and User Centered Innovation.

About the European Network of Living Labs
The European Network of Living Labs is a grown up initiative coming from the own European Living Lab and sponsored by the European Community through a number of European Projects and coordinating actions like COLLABS, CORELABS, Laboranova, EcoSpaces, Co-Spaces, C@R, WearIT@Work, VEP, etc. The development of the network started in the year 2006 according to a road-map, based on the project-plans of the EU coordination actions CoreLabs and CLOCK, in close cooperation with the Living Lab sites and the Living Lab Open Innovation Community. The CO-LLABS Thematic Network and the Living Lab Leadership-group have now taken over the role to coordinate the development of the ENoLL.
The ENoLL membership is currently spread to 29 countries, such as Austria, Belgium, Brazil, China, Denmark, Finland, France, Germany, Greece, Hungary, Ireland, Italy, Netherlands, Norway, Poland, Portugal, Spain, Sweden, Switzerland, Taiwan, and UK.
A Living Lab is both a methodology for User Driven Innovation (UDI) and the organization that primarily use it. A Living Lab is about experimentation and co-creation with real users in real life environments, where users together with researchers, firms and public institutions look together for new solutions, new products, new services or new business models. But also Living Labs are about societal involvement, about promoting innovation in a societal basis, involving academia, SMEs, public institutions and large companies in an Open Innovation process that because happens in real environments has an immediate impact. This is how Living Labs aim to contribute to a new Innovation System where users and citizens become active actors and not only passive receivers.