Delta Electronics Founder and Chairman Bruce Cheng Endows NCKU with NT$250 Million to Build the NCKU-Delta Building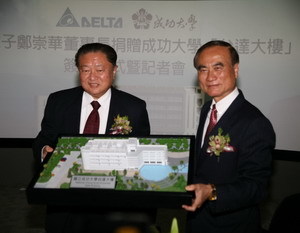 National Cheng Kung University (NCKU) announced today that Founder and Chairman of Delta Electronics, Inc. Mr. Bruce Cheng has endowed his alma mater with $250 million NTD, approximately 7.5 million USD, for the construction of the "NCKU-Delta Building" to be used for the development of advanced research and industry-academia cooperation. The NCKU-Delta Building will be established in the Southern Taiwan Science Park (STSP). This is Chairman Chen's third endowment to NCKU after his 2001 donation of one million shares of Delta Electronics stock to establish the K.T. Li Technology Lectureship and in 2007 a donation of 100 million NTD to construct the Y. S. Sun Green Building Research Center.
The endowment ceremony was held at Delta headquarters in Taipei today. The President of NCKU Michael Ming-Chiao Lai and Mr. Bruce Cheng both attended the ceremony. Mr. Cheng presented the symbolic building model to President Lai. They also signed a research and development Memorandum of Understanding (MOU) at the ceremony.

President Lai said that under the global financial crisis, NCKU really appreciated the endowment from Dr. Cheng, who has built up Delta Electronics from the ground and has currently a remarkable accomplishment on business. "In addition, Dr. Cheng also showed generous concerns to the society and environment. The products of his company are always designed with the aim to protect environment and reduce carbon emission," President Lai added.

President Lai also praised the personality of Dr. Cheng, who are humble and of Confucius spirits. "Dr. Cheng is a good model for entrepreneurs and his achievement has honored his alma mater, NCKU," President Lai acclaimed. President Lai said that Dr. Cheng's endowment for scholarship or awards did not be named for his own name, instead, he attributed all the achievements to people who made great contributions to Taiwan.

"NCKU-Delta Building will provide a successful platform for cooperation among government agencies, industries and academics. It will also take responsibility for technology and research improvement since outstanding researchers from NCKU, Delta Electronics and Academia Sinica will be recruited inside. It is expected that NCKU-Delta Building will benefit the economy and society of Taiwan," President Lai said.
Delta Electronics is happy to support academic development which also benefits the improvement of industry," said Mr. Cheng. He appreciates incorruptible, honest politicians such as Mr. K.T. Li and Mr. Y. S. Sun who successfully led Taiwan through a difficult economy and global politics during the bitter and severely challenging period of the 1970's when Taiwan was developing. Now with gratitude, Mr. Cheng is giving back to society and to his alma mater.
This NCKU-Delta Building is Mr. Cheng's personal endowment. In addition to a monetary donation, NCKU and Delta Electronics will also sign a MOU covering R&D cooperation on commercial technologies. The building will be a research center for industry, government and academia, benefiting NCKU as well as all industry. The building will have five floors above ground and one level below ground for a total area of 9,518 square meters. When completed, the building will serve as a joint R&D center for industry, government agencies and research institutes.
The R&D alliance between NCKU and Delta will focus on seven main areas: 1) renewable energy, energy-storage, energy-saving, and related technology development; 2) environmental protection technology; 3) power electronics, switching power supply related technology; 4) electric vehicles; 5) imaging, information, internet, multimedia, and display related technology; 6) medical related technology; and, 7) materials, production procedures, and equipment related technology.
Mr. Bruce Cheng, esteemed as a pioneer in Taiwan's electronics industry, earned a B.S. degree from the Department of Electrical Engineering of NCKU in 1959. He was presented with an honorary Doctorate from NCKU in 2007 and was also the recipient of the "NCKU Outstanding Alumni Award" in 1995.
Mr. Cheng founded Delta Electronics in 1971 with an initial capital of NT$100,000 and 10 employees to produce television components. Today, Delta is the world's largest provider of switching power supplies and brushless fans, as well as a major source for power management solutions, components, display solutions, industrial automation, networking products, and renewable energy solutions. With a consolidated annual sales turnover of US$ 4.8 billion in 2007, Delta is now the world's largest manufacturer of switching power supplies and brushless fans. Under Mr. Cheng's leadership, Delta Electronics has won many awards including Forbes Asia's "Fabulous 50" (Fab 50) award in 2007 and 2008. CNBC European Business magazine listed Delta Electronics in its "Global Top 100 Low-Carbon Pioneers" second annual ranking in the January/February 2008 issue. Delta was also awarded "the Most Admired Company of electronics industry" in surveys conducted by the renowned CommonWealth magazine for six consecutive years. Delta Electronics has also won Global Views Magazine's annual "Corporate Social Responsibility Award" three years in a row including the 2008 CSR distinguished honors award. Mr. Cheng was chosen as the "Most Admired Executive of 2007 and 2008 by CommonWealth magazine. In July 2008, the Committee on Small Body Nomenclature (CSBN) of the International Astronomical Union (IAU) approved the name of "Chengbruce" for asteroid 168126.