Karl Marx Exhibition at National Cheng Kung University Invites Younger Generation to Explore Marxist Thought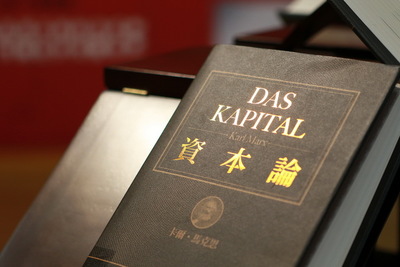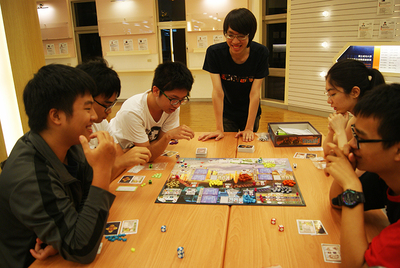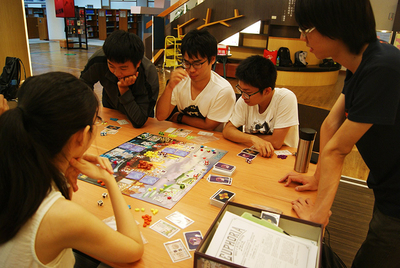 To commemorate the bicentennial of Karl Marx, National Cheng Kung University Library is holding a book exhibition centered on Karl Marx, his ideology, and his works. One of the main exhibits is Marx's classic work Capital, which is showcased in the multi-purpose reading area located in the eastern section of the first floor. The exhibit extends from the first to second floor of the library. For the first time, NCKU Library has teamed up NCKU Fantasy to gamify elements of the exhibition in the form of educational board games. These Marxist-themed board games will hopefully attract more visitors from the younger generation and help them discover Karl Marx and his ideology.

NCKU Fantasy President Tse-Jui Chen, a first-year in the NCKU Information Engineering Department, assisted in finding theme-appropriate board games for the event. Chen admitted that before collaborating in this event he did not have a solid grasp of Marxist thought. But as he searched for suitable board games using keywords like "capital", "class", and "communist", Chen gradually familiarized himself with Marxist values. Chen felt that incorporating related board games into the exhibition was both a creative and meaningful endeavor. He believes the presence of board games at the exhibition enables visitors to more fully experience Marxist culture.

NCKU fourth-year Shang-Ru Wu was one of the students who visited the exhibition. Wu left a comment for Karl Marx: "I want to apologize to you. In the past, due to historical and political reasons, I held a preconceived notion of who you were, and I almost didn't come today. I realized that I had the mistaken understanding that communism causes communal poverty." It was only after Wu read some Marxist text that she realized Karl Marx was a romantic who exuded a certain gentleness in his intense writings. Wu was thankful to Marx for the insight that many things are not bound by "iron laws" but are rather what we make of them through personal experience and contemplation. She learned that the potential to create something new is always present. As long as you never stop pondering and contemplating, life and living will always be meaningful.

The director of the NCKU Library Chien-Wen Wang reminisced about his past: "When I was young, Marxist ideology was taboo, but we all yearned to read his works and find the power to express our criticisms. Though Karl Marx himself failed to carry out his ideology, the impact of his ideology has reverberated around the world for over half a century and will continue to do so. His ideology is worth looking into, especially for the younger generation."

Chien-Wen Wang emphasized that around the world, students are rediscovering Marxism. The NCKU Library took on the task of giving voice to different outlooks. Until July 4th, readers are welcome to attend a variety of board game events, speaking engagements, and look through the collection of displayed literature to explore the works of this great thinker and his impact on the world.

This exhibition was spearheaded by Hui-Wen Lin, the deputy director of the NCKU Library. Upon entering the exhibition venue, visitors are immediately greeted by nine lighted display panels, each presenting one of the key concepts of Marxism: capitalism, class, dialectics, state, revolution, history, religion, alienation, and humanity. Lin explained that the display panels were meant to facilitate an accessible grasp of the quintessence of Marxism and hint at the vestiges of Marxist thought that are still extant in modern society.

This is the first time the NCKU Library has worked with NCKU Fantasy to set up a designated area for board games. The games were specially selected to correspond with the theme of the exhibition. Hui-Wen Lin spoke on the thinking behind the board game element: "The younger generation will probably not go out of their way to read Marxist literature, so we picked a method that would present Marxism in a language that they could relate to. We chose to bring in board games into the exhibition so that students could come and learn about Marxism in relaxed way."

All three volumes of Karl Marx's Capital were placed on a revolving bookshelf, which was designed by America's third president Thomas Jefferson. Hui-Wen Lin said that Marx lived out his final days in London. This revolving bookshelf symbolizes a London Underground terminus. The various bands of colors on the floor correspond with the nine lighted display panels. Readers can the follow the color of their choice and arrive at one of the lighted displayed panels and view the classic texts in the panel. The main visual display is a large clock set at the 2 o'clock mark, a reference to the time Marx was born. Next to the Capital book display are two other revolving bookshelves holding various works related to Marxist thought as well as monitors playing short films showing perspectives on Marxism.