NCKU Library's One Book, One World exhibition on Darwin: Walk into a Treasure Box and Experience the Classic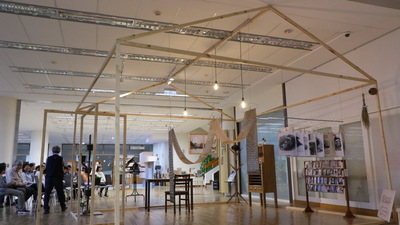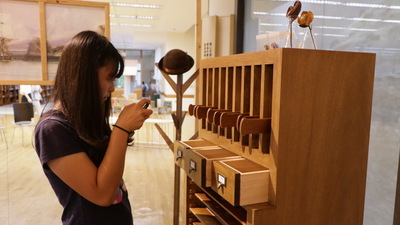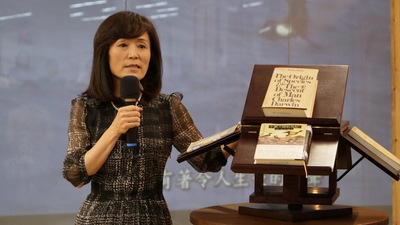 The NCKU Library began featuring Charles Darwin's On the Origin of Species on October 31 for its One Book, One World Ⅲ exhibition. The exhibition starts with Darwin's study and laboratory in his former home Down House in Kent, England. The multi-functional reading area on the first floor features a 6-ping (19.8 m2) concept house with corner posts. It contains various key displays that have attracted a number of students and teachers. Students have found surprise animal figurines in small drawers and stopped to ponder famous sayings. The exhibition lasts until January 11, 2019. Readers are welcome to visit, explore Darwin's past, and look for the traces that he and his theories have left.

The main theme On the Origin of Species was published in 1859. The complex argumentation in the book indicated that evolution indeed takes place but that the process is very slow. In addition, the number of species will change, but they all have common ancestors. More importantly, natural selection is the driving force behind evolution, which provoked much controversy among scientists. Young contemporary physicist Boltzmann thus named the 19th century "the century of Darwin".

This special exhibition was jointly curated by Professor Hui-Wen Lin, associate university librarian and associate professor of the Institute of Creative Industries Design, and Professor Heng-An Chen of the Department of History. She pointed out that Darwin's research has many rich aspects, and that is why they built a house based on the Darwin spirit. The house displays watercolor paintings of beagles, floor plans, fossil rocks, and many seeds. Visitors can open drawers to look at various species of plants. One corner is embellished with orchids, and a painting with some of Darwin's famous sayings hands to the right of the entrance. There are even photos that were taken by one of the librarians during a trip to the Galapagos Islands, allowing visitors to see the land that Darwin once studied.

One both sides of the house are gardens that symbolize Darwin's research and observations, which actually comprise unique stamps from around the world. They show how various nations have honored Darwin's theories and development. There is also a rich collection of bone china plates, bone china jewelry boxes, and silver coins celebrating Darwin's 200th birthday. With anticipation, Professor Lin said, "This house is like a large container that brings everyone together but allows them to understand Darwin's world individually."

NCKU President Dr. Huey-Jen Jenny Su thanked the library staff for their efforts in changing a place that archived knowledge in the past into a new venue for knowledge impact and exchange. She is happy to see that One Book, One World has a series of inspirations. She is thankful that such an event can take place in a corner of NCKU and that some life has been injected into this space. Now, there are natural sounds and conversations, but they are not dissonant. "This is also the development of a new culture and new habits."

NCKU university librarian Professor Chien-Wen Wang explained that NCKU Library has been holding themed book exhibitions in special forms since the winter of 2017. Each time, they choose an important classic that has influenced the world through time and space. While focusing on the classic itself, they also include speeches and film festivals to honor the classic and the great mind that created it. Past exhibitions focused on Max Weber's Science and Politics and Karl Marx's Capital. Critique of Political Economy. For the university's anniversary in 2018, the One Book, One World Ⅲ exhibition features Darwin's On the Origin of Species and guides readers in retracing Darwin's footsteps into the world of the theory of biological evolution.