NCKU's SATU Event Gathers 72 Universities in Southeast and South Asia to Discuss Higher Education Talent and Academia-Industry Innovation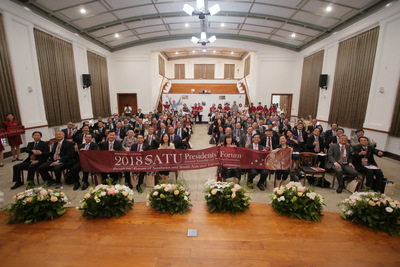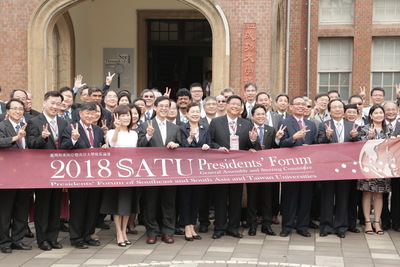 NCKU hosted the 2018 Presidents' Forum of Southeast and South Asia and Taiwan Universities (SATU Presidents' Forum). The opening ceremony was held in Ge-Chi Hall on the morning of the 16th and was attended by 72 presidents and representatives from universities in Taiwan, India, Indonesia, Malaysia, Vietnam, Thailand, Singapore, the Philippines, and Brunei to discuss academia-industry development involving agriculture, healthcare, and engineering. The biennial transnational event attracting considerable attention, Vice Minister of Economic Affairs Mei-Hua Wang and Political Deputy Minister of Education Leeh-Ter Yao were both present to express their support for the SATU platform and their hope to continue talent exchanges between Taiwan and other countries in Southeast and South Asia.

Vice Minister of Economic Affairs Mei-Hua Wang placed particular emphasis on the importance of talent exchange, indicating that it not only brings short-term benefits but also exerts long-term influences on Taiwan, especially with the New Southbound Policy. She also shared with the attendees Taiwan's experiences in cultivating science and technology talent to promote industrial development, stressed the need to cultivate more computer and AI talent in Taiwan to cope with the future digital era, and looks forward to collaborations between Taiwan and other SATU members.

Political Deputy Minister of Education Leeh-Ter Yao recognized SATU as a fine exchange platform and a solid foundation for collaborations between countries. He pointed out that Taiwan is currently proactively promoting a university social responsibility (USR), and through the SATU platform, it is hoped that international USR can be developed in the future to propel regional prosperity and progress.

Due to the fact that NCKU is the permanent international secretariat of SATU, NCKU President Dr. Huey-Jen Jenny Su felt that their responsibility was even greater. "One of the crucial tasks of SATU is to cultivate top local talent so as to effectively resolve many international problems and challenges," she indicated. NCKU initiated the SATU Presidents' Forum in 2003, and it is the first international alliance in academia-industry cooperation to be promoted in Taiwan. Prior to the New Southbound Policy, SATU had already become a crucial channel of practical exchange among institutions of higher learning in Taiwan, India, and other nations in Southeast Asia. SATU has also brought about significant achievements with 34 collaboration projects among member universities and much international support.

Six new universities joined SATU in 2018, the scope of its membership reaching a record high. The number of attending foreign presidents this year was also the highest in the last three forums. The total number of attendees increased by 25%, including attendees in positions higher than vice president or vice president for international affairs in top universities in Taiwan, India, Malaysia, Vietnam, Thailand, Singapore, and the Philippines. It is the also the first time that four representatives from the Indian Institutes of Technology (IIT) attended the forum. CEO of the Research and Services Headquarters Chih-Han Chang, who is responsible for academia-industry cooperation at NCKU shared NCKU's academia-industry experiences in the first speech of the forum, which focused on the challenges that higher education institutions face regarding industry chains.

Chih-Han Chang mentioned that NCKU has so far established 3 overseas R&D bases in accordance with the New Southbound Policy with the objective of sustainability and that new bases are also being planned in Indonesia and the Philippines. He stated that academia-industry cooperation is already a crucial matter around the world but also faces many new challenges. He first gave a brief introduction to the basis and energy of academia-industry cooperation in NCKU, named some successful cases, and explained how failed cases could be improved. He further analyzed what NCKU learned in regards to intellectual property patents. "For a university that can implement patents on its own, any unlicensed patent will become a liability, not an asset." For universities, maximizing the value of intellectual property patents means find ways to license them. He emphasized, "A good patent portfolio determines whether a technology has value."

Chih-Han Chang also shared some achievements in innovation and entrepreneurship. In recent years, NCKU has made many adjustments and achieved much progress. From the perspective of the university, "technology is important; commercial models are more important, and even more important are teams." Most universities only have technical teams; Chih-Han Chang maintained that even with first-class technology, teams without administration, finance, and regulations only have a small chance of success. For this reason, NCKU has been actively investing in innovation and entrepreneurship in the past few years and assembling diverse talent to create good commercial models.

Finally, with the Global Research & Industry Alliance (GLORIA) platform that NCKU established the year before as an example, Chih-Han Chang explained how the model uses an industry membership scheme to make technological R&D at NCKU more efficient and its industry chain relations closer. As a result, industries will be able to perceive the superb technologies, talent, and service from NCKU. "The managers at GLORIA understand the differences between academic and industrial jargon, so they can help transfer technologies into production processes and increase success rates."

As the permanent international secretariat of the SATU Presidents' Forum, NCKU is a constant international culture and education organization between universities in Taiwan and in Southeast and South Asia. With the promotion of collaborative exchanges and progress in higher education as its purpose, the biennial SATU Presidents' Forum also aims to achieve six objectives: strengthen academic cooperation among Taiwan and Southeast and South Asian countries, foster internationalization through academic and cultural exchange and collaboration, promote the quality of education, research, and community services, establish exchange programs for university students, faculty, and administrative staff, foster partnerships between industry and academia, and facilitate sustainability in economics, society, and the environment.