NCKU Medical Student Po-Chin Li Is Elected President of IFMSA with Strong Support
Standing out from his international peers, NCKU medical student Po-Chin Li was elected the 70th president of the International Federation of Medical Students' Associations (IFMSA). Li shared this honor and his joy with his teachers and friends via Facebook after being elected and thanked every person who had helped and supported him in the past. He particularly thanked Vice President Chien-Jen Chen for writing his recommendation letter. Li won against numerous competitors, demonstrating the educational spirit of the College of Medicine at NCKU in attaching importance to public participation and humanistic solicitude and promoting Taiwan's achievements in medical education and healthcare quality.
Li went to Rwanda to attend the IFMSA's 69th March Meeting, where he ran for and was elected the 70th president. His term will run from October, 2020, to September, 2021.
NCKU medical student Po-Chin Li was elected the 70th president of IFMSA.
Taiwan's achievements in combating the novel coronavirus have received international recognition, thereby highlighting its strength in medicine. NCKU president Dr. Huey-Jen Jenny Su received news of Li being elected on Facebook. The last time a medical student from the Asia-Pacific region was elected president was 25 years ago, and in the first round of votes, Li was already supported by over 60% of the representatives around the world. Dr. Huey-Jen Jenny Su is proud that one of their students has an opportunity to shine on the global stage and extremely comforted that a student cultivated at NCKU can help Taiwan increase its international visibility so that the international healthcare industry will get to known NCKU and Taiwan's progress in medical education, public health, and healthcare quality.
Established in 1951, the IFMSA is an independent and non-political alliance. It is also an unofficial organization that has contact with the United Nationals System. The IFMSA is a forum where students in medical fields around the world can discuss medical and health-related issues. It currently consists of 106 National Member Organizations (NMOs) all over six continents. The Federation of Medical Students in Taiwan is a member of the IFMSA and has hosted IFMSA General Assemblies in 2014 and 2019.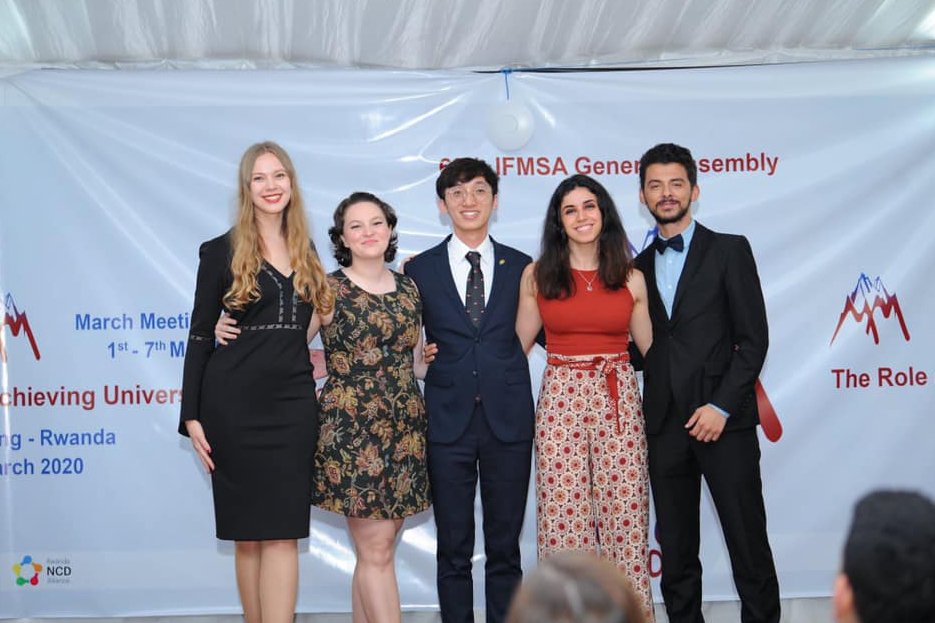 The IFMSA regularly holds General Assemblies in March and August every year.
Head of NCKU's School of Medicine, Shyh-Jou Shieh, M.D., Ph.D., indicated that Li has always shown a strong interest in diplomacy and international affairs. Even when his studies in medicine are grueling, he still manages to find the time to take part in international and diplomatic affairs. He is a student with ideals and ambition and has a strong desire to do something meaningful for Taiwan. He aims to combine his profession with diplomacy and increase Taiwan's visibility.
Li enthusiastically participates in affairs associated with the IFMSA. In 2019, he served as the 31st president of the Federation of Medical Students in Taiwan and attended the IFMSA General Assemblies as Regional Director for the Asia Pacific. Prof .Shyh-Jou Shieh said, "The education at NCKU's School of Medicine attaches importance to diversity and humanistic solicitude as well as to the medical profession. This environment enables students to play to their personal strengths and display their ideals and ambition.
The IFMSA regularly holds General Assemblies in March and August every year. Each year, the meetings bring together hundreds of medical students from around the world. The 69th March Meeting was held in Rwanda from March 1 to March 7. During the meetings held in this seven-day period, the delegates discussed matters together and elected the next president.