National Cheng Kung University launches Shalun Ecocity Initiatives with triple-helix model of innovation
May 10, 2020, Tainan, Taiwan
National Cheng Kung University (NCKU) launched the Shalun Ecocity Initiatives today with more than 70 representatives from industries, academia, and government to foster eco-innovation with triple helix international partnerships.
The Shalun Ecocity Initiatives aims to make NCKU the inaugurator to form joint forces among universities, industries, and government in an innovative ecosystem, establishment of an internationally emerging technology domain, and an ecologically healthy city powered by smart solutions and circular economy.
representatives from industries, academia, and government to foster eco-innovation with triple helix international partnerships.
The opening ceremony was held at the third floor of NCKU Future Atelier at 10 in the morning of May 10. NCKU President Huey-Jen Jenny Su welcomed all the representatives from the government and private sectors, and said, "the world is fighting the novel coronavirus (COVID19) pandemic and responding its impact, NCKU is willing to lend a helping hand, advancing the academic research to market practices, gathering expertise, helping the world tackle COVID-19 pandemic, climate change and ecological crisis."
President Su claimed, NCKU would like to propose revitalization plans, and formulate practical action plans to foster eco-innovation, improve the smart AI solutions for sustainable infrastructure projects in Shalun and support the regional development.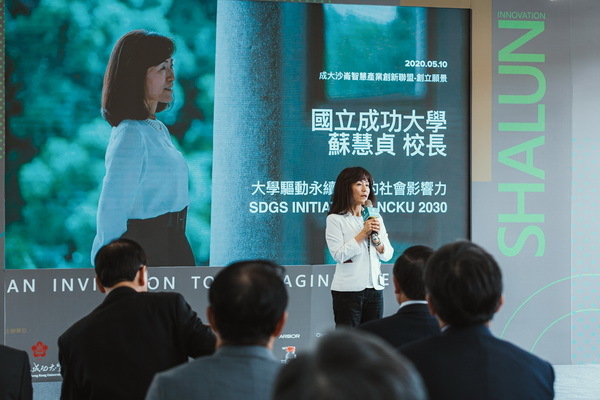 President Su claimed, NCKU would like to propose revitalization plans
NCKU Executive Vice President Fong-Chin Su said at the opening ceremony that NCKU has played an important role in accelerating innovation in Taiwan. "As an R&D hub, the University hope to seize the opportunity to establish a regional cluster for attracting enterprises and research institutions to thrive together," said EVP Su.
As the main initiator, NCKU proposed the Shalun Ecocity Initiatives to promote ecosystem sustainability, society sustainability, and economy sustainability for continuity of co-creation and innovation, enhancement of well-being and health, and growth of digital economy, according to Su.
John Hepburn, CEO and Scientific Director of Mitacs, a not-for-profit organization based in Vancouver, Canada, sent his greeting video and said, "Innovation cannot happen in isolation. International collaboration can be a catalyst for creating impactful initiatives with global implications, and over the past 10 years we have worked diligently to do just that - connect Canada with like-minded partners to create a continuum of knowledge sharing. Our partnership with NCKU is a testament of that firm belief."
After the opening ceremony, Executive Yuan Vice Premier Chi-Mai Chen, and Tainan City Mayor Wei-Che Huang join the parallel workshop, as well as NCKU faculty members and over 40 executive representatives from 24 corporates based in Taiwan, Japan, the United States, and Canada.
Vice Premier Chi-Mai Chen(left)and NCKU President Huey-Jen Jenny Su (right)
The one-hour parallel workshop includes 4 major topics regarding the future development of the Shalun Smart Green Energy Science City: smart healthcare, circular economy, future transportation, and green energy.
"Our shared vision is to create a more agile and collaborative platform to promote the development of a smart eco-city and realize smart solutions to tackle with the great challenges in our era," President Su noted.
Vice Premier Chi-Mai Chen of the Executive Yuan said that to activate the economy in southern Taiwan, we must invest in resources and talents. The Shalun Smart Green Energy Science City has gradually completed the construction of its various demonstrations, looking forward to working with the local entrepreneurial teams in Taiwan and the world to jointly promote new applications and establish regional innovations.
He applauded the launch of the Shalun Ecocity Initiatives, and the role of organizing interactive communication NCKU will take on and the University community will serve as a technological hub to cooperate with industries and the government, to promote Shalun into an ecocity model.
Tainan City Mayor Huang expressed that green technology is a key for Taiwan's energy transformation in the 5+2 industrial development program. It is hoped that the Shalun Smart Green Energy Science City could promote solar power, wind power, energy-saving green buildings while smart grid and other green technologies and industries are developing rapidly to attract new industries.
NCKU President Su indicated that the Times Higher Education University Impact Rankings map how universities around the world are committing to the 17 United Nations Sustainable Development Goals (SDGs). This year, NCKU is the 38th in the world, top in Taiwan and 2nd in Asian with 11 of the 17 goals in the top 100. The NCKU scored particularly well for SDG 9 (Industry, Innovation and Infrastructure), ranked 10th globally. The UN SDGs also showed us that agriculture alone is not enough, integration with technology will be crucial.
President Su said, "Life after COVID-19 will reshape, but we need to concentrate on the fact that life still carries on. Emphasizing energy efficiency, environmental symbiosis, healthy and sustainable, low-energy transportation, renewable energy production, and reduction in ecological footprint, the Shalun Ecocity Initiatives provides unique opportunities.
This initiative invites guest speakers from the 24 companies to work together with NCKU faculty and researchers on the subject of project integration, action planning, and realize the projects.
NCKU formed the Shalun Ecocity Initiatives surely to attract domestic and foreign corporations which are developing breakthrough technologies and providing smart solutions.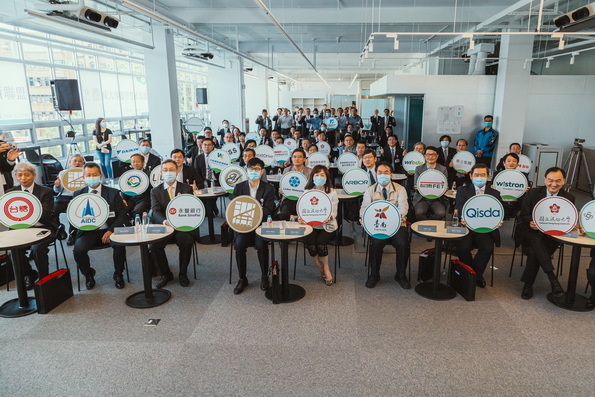 The opening ceremony was held at NCKU Future Atelier
The first Shalun Ecocity Initiatives meet-up has consult alumni companies and effectively organize a working group of the key executives from the industries. More workshops will be held to further unite industry and academic resources with local government policy agencies.