Yen Ting Cho Donates 200 Face Masks and Enriches Fashion at NCKU
Founded by Yen-Ting Cho, Associate Professor of the Institute of the Creative Industries Design, NCKU, his eponymous brand "Yen-Ting Cho" has launched a series of three face mask: "Bloomsbury Square," "Dreamscape," and "White Palace." The first 200 face masks will be donated to the administrative units at NCKU. On May 13, the official Yen-Ting Cho site will have a flash sale. Dr. Cho looks forward to transmitting positive emotion and creating new fashionable styles during the Covid-19 pandemic.
"Only by training oneself to create an unprecedented work can one transmit courage to others," says Dr. Cho. With persistence and courage, Dr. Cho believes that his creations become perfect through experiencing risks and crises. COVID-19 has caused global economic effects, and the fashion industry is no exception. By launching the series of face masks, Dr. Cho also expects that "people will be empowered by his works."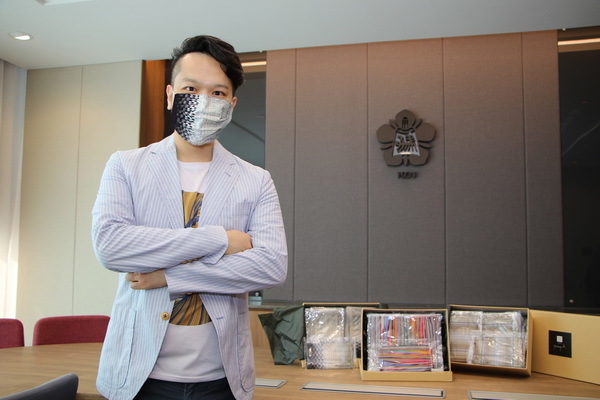 Dr. Huey-Jen Jenny Su, President of NCKU, points out that as diverse, dynamic university, NCKU shows the forward-looking thinking that helps solve problems through the use of professional technology and cultivating the power of the arts. The series of three face masks is an embodiment of fashion, style, and practicality. The patterns on the masks were designed using "MovISee," a digital design software program developed by Dr. Cho. Each face mask can be viewed stereoscopically after putting it on. For example, the Bloomsbury Square series has different colors on both sides and can be seen as either cool or fashionable. The patterns in the Dreamscape series are like currents intersected on the mask. With vertical lines, the White Palace will have the effect of facial retouching.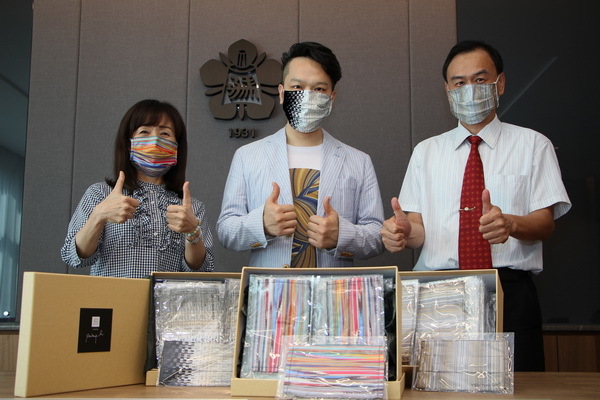 During the COVID-19 pandemic, NCKU solves problems with professional technology and cultivates the power of arts and culture.
Since summer is coming soon, all of the face masks are made of a breathable silk-like fabric, so those who wear one all day long won't feel hot and uncomfortable. In the design process, the team designed more than 20 patterns and finally decided on these three different mask styles. The design team, "Tainan Digital Textile Printing," founded by NCKU alumni, also worked overtime to finish printing within one week.
The design team checked every detail against rigorous standards in order to ensure the quality of the masks. Dr. Cho points out that though the cost of the silk-like fabric is higher, it is more comfortable than any other fabric alternatives. The brightness, contrast, and saturation of the fabric color make the patterns on the masks quite vivid.
Covering surgical masks with a mask cover can help avoid staining the surgical masks and decrease the frequency at which they have to be discarded. Dr. Cho mentioned that if there is no close contact, mask covers can be used on every occasion and can be an alternative in response to the shortage of face masks.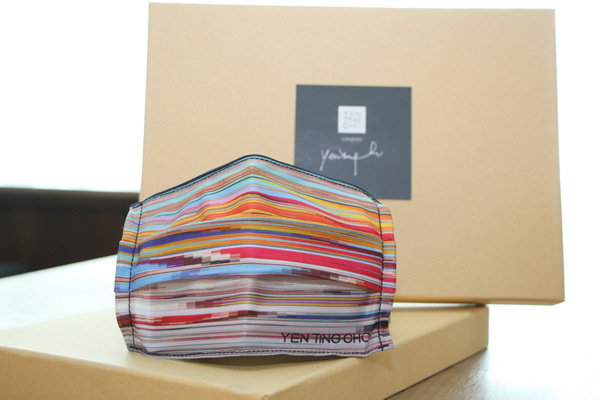 Dr. Cho's internationally renowned fashion product.
Using his program "MovISee," Dr. Cho has created a series of stylish fashion accessories. In addition, his works combine NCKU's Banyan Garden, the university's classical buildings, and the blue sky of southern Taiwan. Through industry-academia cooperation and collaboration with local industries, his brand "Yen-Ting Cho" is widely admired at international trade fairs, and his products are displayed in museums and in a select shop, Nasher Sculpture Center. In addition, due to having clients all over the world, he also gets many opportunities to work with international brands such as Bulthaup (Germany), SFMOMA (United States), the Museum of Arts and Design (United States), Psyché (France) and Pierre (Monaco).