Enhance Future Combat Capability: NCKU Signs a Memorandum of Understanding on Taiwan-Vietnam Talents Cultivation
Since multinational corporations are eager to recruit top talents who embody international mobility, NCKU-Butterfly Program and ASEAN Talent Cultivation Program provide funds, amounting up to 1,000 U.S. dollars (30,000 NT dollars), for a total of 6 students from Vietnam each semester. Moreover, National Cheng Kung University (NCKU) will offer opportunities of company visits and business internships to Vietnamese international students to explore more career options after they returned to Vietnam.
Dr. Huey-Jen Jenny Su, President of NCKU, Mr. Wen-Ju Xi, CEO of Chen-Yung Memorial Foundation, Mr. Tai-Long Chau, Chairman of Kuang Tai Metal Industrial Corporation, and Mr. Joseph Wang, Chairman of Gloria Material Technology Corporation signed a memorandum of understanding on August 3. Dr. Su mentioned that top talents will explore more possibilities and patterns of social innovation. Linking academic resources with business model will initiate students to realize the challenge of job market, set study goals and then empower their future skills.
NCKU-Butterfly Program signs a memorandum of understanding on Taiwan-Vietnam talents cultivation
Mr. Anh Dung Nguyen, Director of Vietnam Economic and Cultural Office in Taipei, pointed out that the cultivation of talent is the major goal of Vietnam's national development. Since many enterprises in Taiwan are the world's top 500 businesses, Vietnam government places great emphasis on the collaboration with Taiwan. Prof. Yueh-Heng Li, the Associate Vice President for International Affairs of NCKU, mentioned that this is the third year since the New Southbound Policy was launched. Nearly 200 Vietnamese students study in NCKU and now is the second most number of international students in NCKU.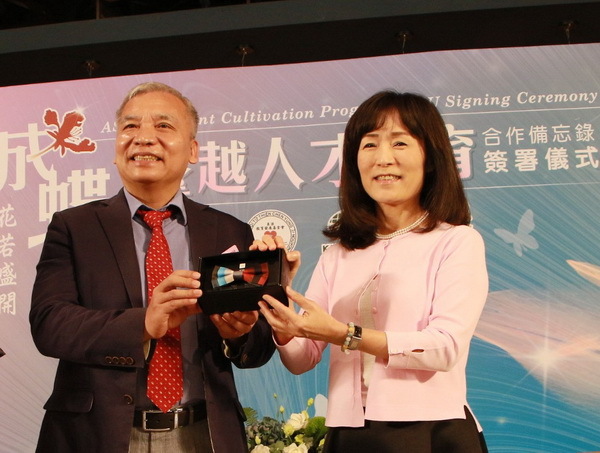 Dr. Huey-Jen Jenny Su, President of NCKU, gave the NCKU souvenir as a gift to Mr. Anh Dung Nguyen, Director of Vietnam Economic and Cultural Office in Taipei.
"NCKU expects students to emphasize not only on achieving high academic performance but also on putting academic achievement to good use in the future," said Dr. Woei-Jer Chuang, Director of Transfer and Business Incubation of NCKU. Since more than 100 companies have collaborated with NCKU, Dr. Chuang encouraged Vietnamese international students to focus on both academic majors and the understanding of the entrepreneurship. Dr. Chuang expects international students can advance international perspectives and then bring Taiwan's enterprise experiences back to their home country.
Tuyet Nhi Do, a graduate student of the Department of Biomedical Engineering of NCKU, agrees that scholarship can help international students pay more attention on academic research. Manh Van Nguyen, a Ph.D. student at the Geospatial Artificial Intelligence of the Department of Geomatics of NCKU, also points out that she will enhance writing skills of technical research paper and actively participate to more international conferences if she continually gets the scholarship. Nguyen looks forward to devoting herself to 4.0 industrial innovation after she finishes her degree and returns to Vietnam.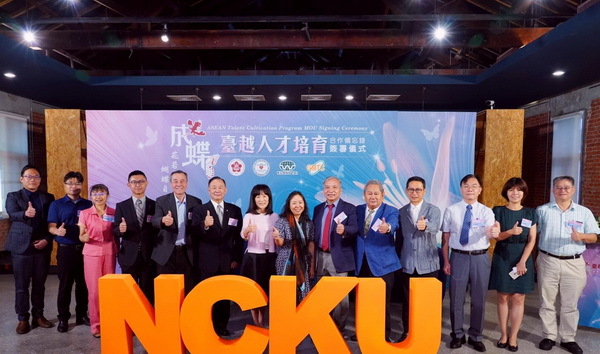 Taiwan-Vietnam talents cultivation: industry-academic cooperation aims to cultivate future top talents.
As a diversified talent-cultivating platform for industry-academia cooperation, NCKU-Butterfly Program cooperates with industry and cultivates international talents actively. In 2019, after collaborating with E.SUN Bank and Kingdom of Cambodia in June, and signing a cooperation project with Delta Electronics (Thailand) Public Company Limited in December, NCKU-Butterfly Program will continually carrying out industry-academic cooperation to cultivate more top talents. In addition, this program aims to help international enterprises set sustainable development goals and to enhance the academic influence of NCKU and of Taiwan.