Waving Goodbye to Class 2021: NCKU Online Commencement
Writing and Photo by NCKU News Center.
Class 2021 of National Cheng Kung University experienced the university's first-ever online commencement on the morning of June 5. Live-streamed on NCKU official Facebook fan page and YouTube channel, the online commencement attracted over 1200 views from NCKU faculty, senior NCKU students, students' family and friends, and NCKU alumni in 1.5 hours. Words of encouragement flooded the comment section on the social media platforms, giving best wishes from all over the world to Class 2021.
Huey-Jen Jenny Su (

蘇慧貞

), President of NCKU, turned the tassel for Yun-Zhan Cai (

蔡昀展

), PhD student from the Department of Computer Science and Information Engineering, Makeba Dudley, graduate student from the Department of Psychology, and Hsin-Ju Lin (

林欣汝

), undergraduate student from the Department of Occupational Therapy.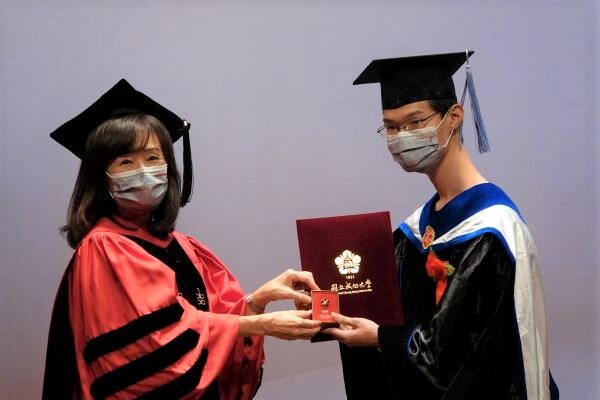 President Su gave the NCKU badge to the graduating students
President Su mentioned that the NCKU campus has never seen this emptiness on commencement day in the 90 years of history since its establishment in 1931. The Spanish flu that roared over humanity in 1918 is a powerful mirror to the COVID-19 pandemic now. Diseases seem to emerge unexpectedly, leaving the world torn and devastated. However, an opportunity for a rebirth lies in these challenging times. Graduates were encouraged to look back on history warmly, to take on the future with integrity, and to observe the world with kindness. "With the optimism and confidence acquired from NCKU," President Su said to the students, "continue to cast the light into the darker corners of the planet and bring the hope for a better tomorrow."
Due to the influence of COVID-19, the 2021 NCKU Commencement was conducted online
In the face of the pandemic, celebrations see no more gathering, and the commencement was live-streamed from a near-empty Cheng Kung Stadium with pre-recorded video of the commencement speech. Valedictorian Makeba Dudley from the Department of Psychology gave a heartfelt speech, calling Taiwan her second home. The experience of studying abroad has put a lot of obstacles in her way, but these precious experiences of overcoming the obstacles contributed to her growth. She expressed that she changed her perspective on things and learned to fight for her own success. Under the current COVID-19 pandemic, "the life and future we have been preparing for will not be the same. The goals we hoped to attain may have slowed in pace, but while the pandemic is beyond our control, we are taught to remain firm and be resilient."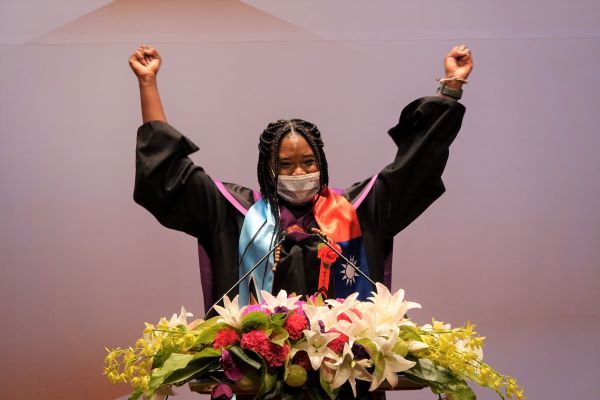 Valedictorian Makeba Dudley encouraged fellow students to remain firm and be resilient
"Change is never easy but always possible." Quoting U.S. president Obama, Makeba Dudley made promises with fellow graduates: Keep exploring. Keep dreaming. Keep asking why. Don't settle for what you already know. Never stop believing in the power of your ideas, your imagination, your hard work to change the world.
A descendant of the Caribbean island Saint Lucia, Makeba Dudley finished her Master's Degree in NCKU Department of Psychology. Bearing a 12-hour time difference between Taiwan and her home country, she revealed she had thought about dropping out when she first came to NCKU 7 years ago. With encouragement and help from NCKU faculty and students, she persevered and learned the language that was foreign to her, adapted to the environment, and overcame academic pressure.
18 years ago, NCKU had the 2003 graduation commencement cancelled under the influence of SARS. NCKU Alumnus from Class 2003 of the Department of Electrical Engineering and the founder and CEO of world-renowned chip provider Kneron Inc., Albert Liu (

劉峻誠

) expressed in his commencement speech how his generation was referred to as the "strawberry generation" upon graduation 18 years ago. At the time, the society faced high housing prices and low birth-rate, and the generation was also defined as the "lost generation." However, 18 years later, Liu is proud to announce to the world that this generation still managed to live a spectacular life in their era.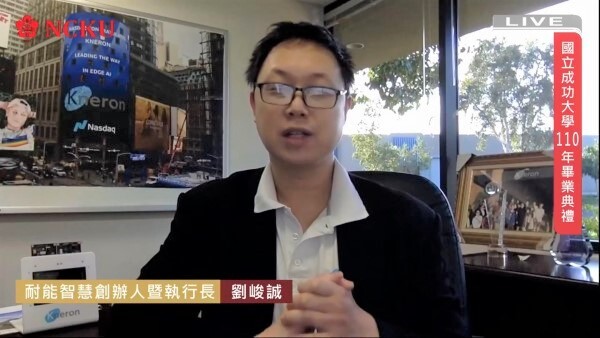 Albert Liu, Alumnus of NCKU Department of Electrical Engineering, was glad to experience a commencement with his juniors from NCKU
In 1999 when Albert Liu enrolled in NCKU, the 1999 Jiji Earthquake shattered their freshman orientation. Four years later, SARS took away their graduation commencement. In the beginning of his entrepreneurship, Artificial Intelligence was unpopular and the semi-conductor industry was deemed a sunset industry. Having gone through difficult periods of uncertainty, poverty, business negotiations, betrayal, and debt, Liu said "I still remain passionate. No matter what others think of me, I will carry on with my passion and paint my life the color I want."
Liu believes that one can refresh oneself going against the wind. He encourages graduates to face the uncertainty with courage, pointing out that one can understand themselves better when in solitary. "Remain firm and passionate, and one day you will pave your own way." Liu expressed that he was glad to experience a graduation commencement 18 years later with his juniors from NCKU.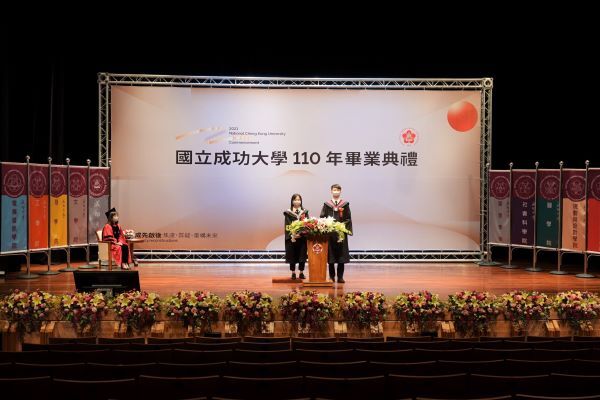 President Su encouraged students to look back on history warmly and to take on the future with integrity
Due to the COVID-19 pandemic, the campus was left with empty classrooms, quiet ball courts, and games that have disappeared without winners or losers. The commencement was switched online. "No one expected we would wave our college years goodbye in this way."
Undergraduates Ching-Yu Hu (

胡慶右

) and Ya-Wen Hu (

胡雅雯

) are siblings graduating from the Department of Political Science and the Department of Transportation and Communication Management Science, respectively. They expressed that the influence of the pandemic can be seen not only in the commencement, but also in everyone's daily life routines. Even so, the pandemic will not be able to erase the four years they spent in NCKU. They will always remember what they have experienced, accomplished, and created in NCKU.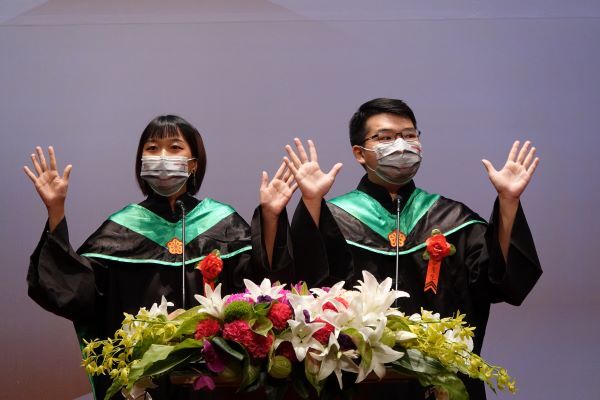 Class 2021 waved goodbye to their college years to take on the new challenges and pursue their own success
Graduates Wen-Zhen Chen (

陳玟蓁

) and Chiu-Jun Yang (

楊玖潤

), from the Institute of Gerontology, said that as the commencement came to an end, Class 2021 reaches their new beginning. They expressed gratitude to NCKU for nurturing them, and invited online viewers to like and share the live-stream video of the commencement. The viewers left wishes and applause in the comment section of the video. "Happy graduation!" Best wishes to all graduates of Class 2021. May they take on the new challenges and pursue their own success with courage.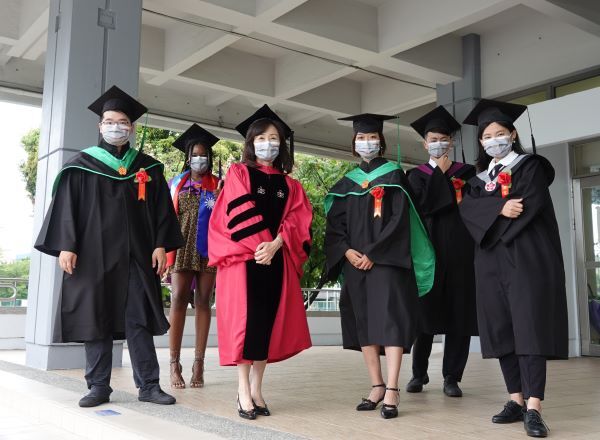 Representatives of Class 2021 took a photo with President Su outside the stadium after the commencement