NCKU Yen-Ting Cho's Design Studio Receives the Platinum Winner of MUSE Design Awards
Written by Amy Lin. Image credit to

Yen-Ting Cho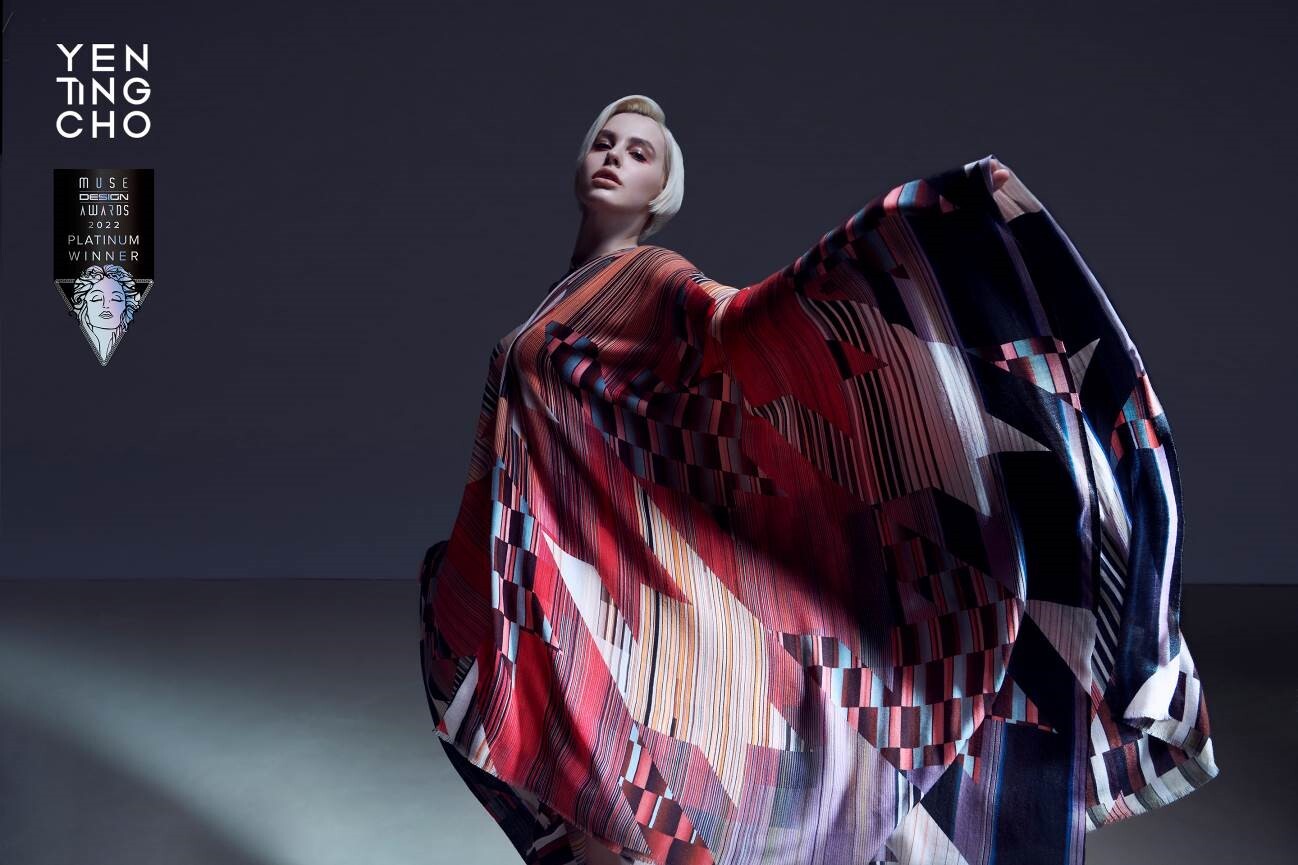 Yen-Ting Cho won the gold award of the MUSE Design in 2022

Yen-Ting Cho, Associate Professor of the Institute of the Creative Industries Design, NCKU, combined digital and liberal arts by innovative technology to re-present the fantastical world during the COVID-19 pandemic. Standing out from more than one hundred countries, 2022 Phantasm Collection is the platinum winner of 2022 MUSE Design Awards.
Demonstrating a great and spectacular sense of style, Yen-Ting Cho founded his eponymous brand "Yen-Ting Cho" in 2016. In 2021, Yen-Ting Cho won the gold award of the MUSE Design and gained the recognition again in 2022. Created by the International Awards Associate (IAA) in 2015, the MUSE Design Awards, the significant annual design event of IAA, aims to praise the genius and talent of innovation, to explore the muse of design and to shape the future design trends.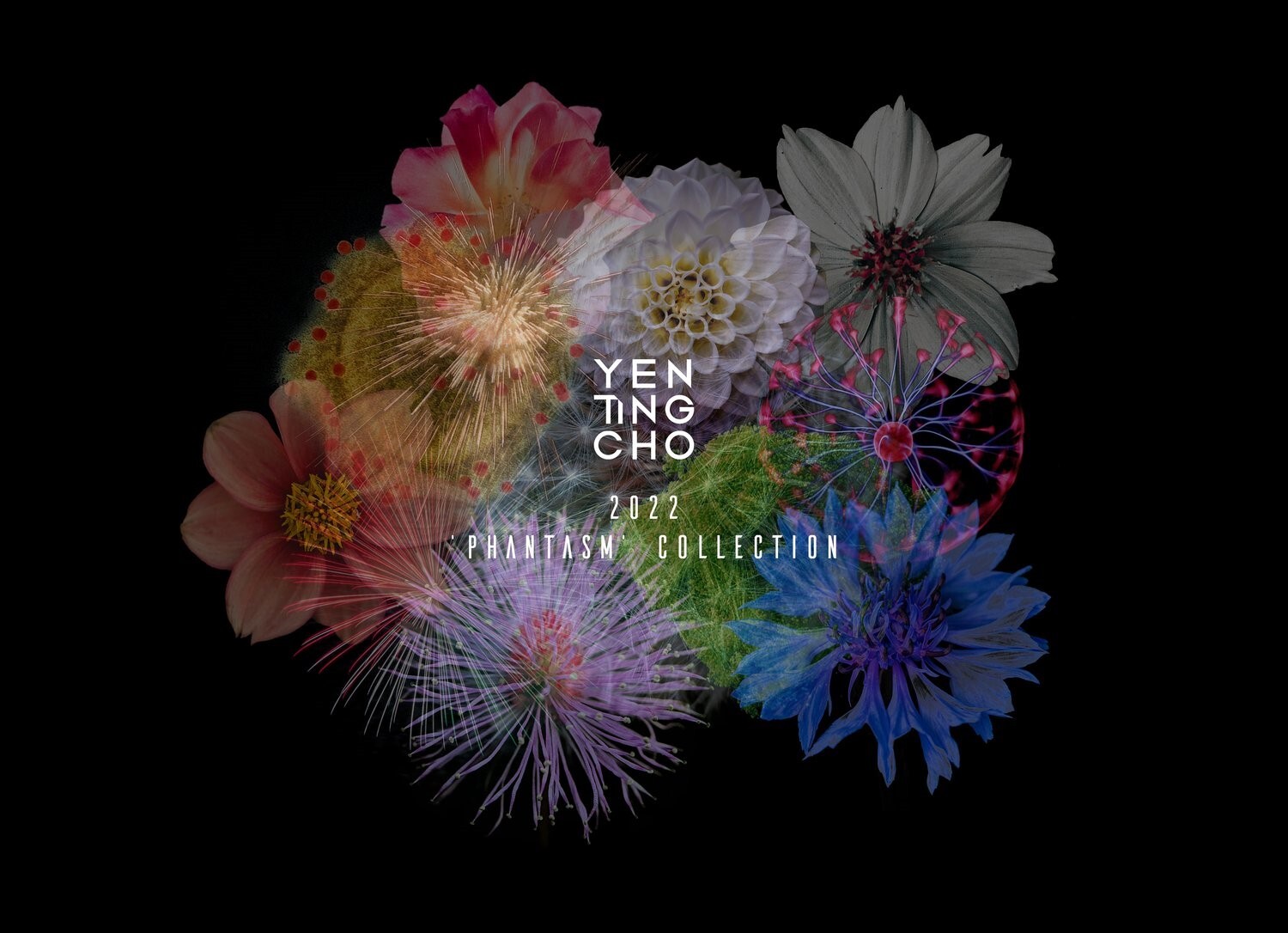 "2022 LOOKBOO Cover" by

Yen-Ting Cho
Theme of 2022 MUSE Design Award is to acclaim designers who devoted to their stimulated works with strong will in the uncertain and fearful pandemic era. Yen-Ting Cho's 2022 Phantasm Collection resonates with the theme and is the standout works in 2022 event.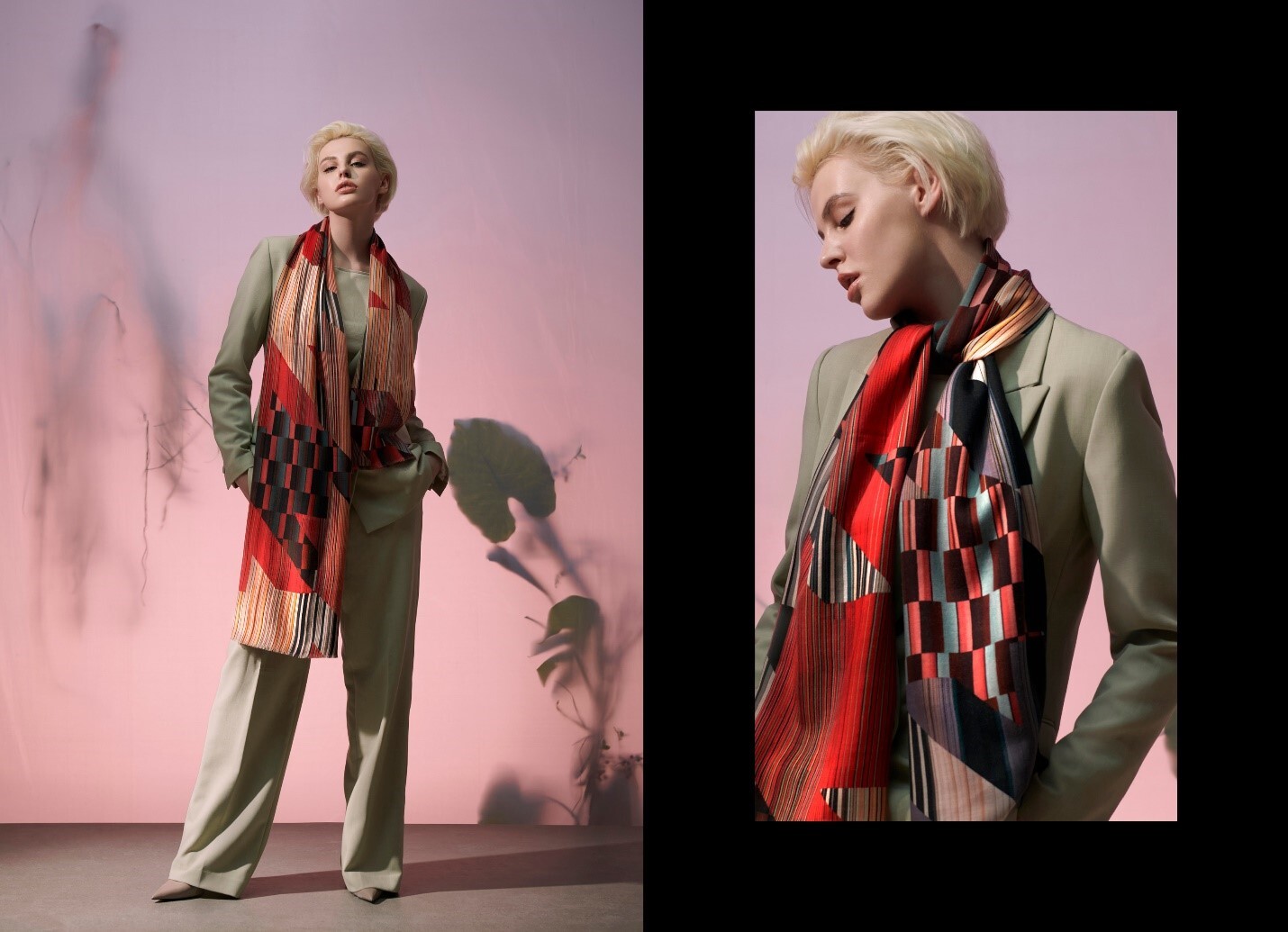 "Red Drift" by

Yen-Ting Cho
The design concept of 2022 Phantasm Collection is inspired by the lockdown experience during the COVID-19 pandemic. Cho mentioned, the world has suffered uncertainty and disturbance caused by the nightmare of COVID-19 for more than two years. "We longed to escape to a Utopian paradise, and envisaged a journey to a fantastical world. Icons of 2022 Phantasm Collection are desert, ocean, starry sky, and outer space, which represent moments of the imaginary journey to an alternative world by combining digital computing methods and imagination," said Cho. He points out that the design group attempted to create patterns by modern technology. Except organic details, the design group layered geometrical patterns to explore contradiction and harmony between art and technology, reason and sensibility. Layers and outer space journey indicate changes of people's pandemic life. Themes of 2022 Phantasm Collection showed the ambition to deal with the complicated information and story during COVID-19. By re-presenting visible data, invisible virus, and people's emotional expression into digital patterns, 2022 Phantasm Collection brings hope and energy of art in the pandemic era.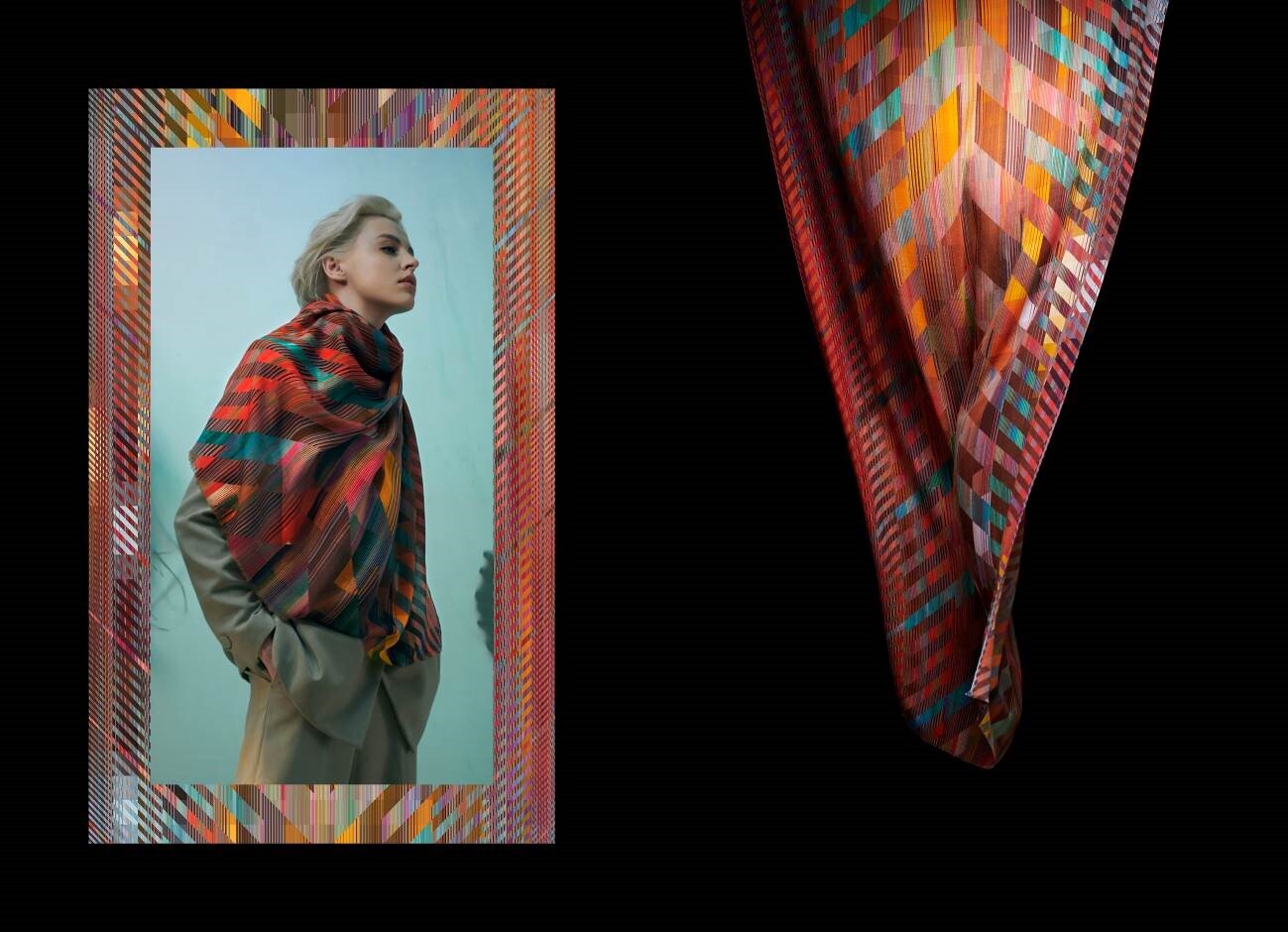 "Surge" by

Yen-Ting Cho
In 2022, Yen Ting Cho returned to
physical
business exhibition. From Feb. 27th to March 1st, Yen Ting Cho took part in Coterie New York, the biggest business exhibition of the United States. 2022 Phantasm Collection and other four new series, including double sided shawl, Fantasia T-Shirt Collection, silk scarf and wool scarf, are firstly exhibited in the United States. Yen tin Cho also showed his two other series, "Mist of Matsu," and "Seasons of Matsu," released in the opening ceremony of Matsu Biennial, in Coterie New York. Because of pandemics prevention policies, all exhibitions, sales and marketing are in online platform in 2021; therefore, returning to physical exhibition symbolizes a significant meaning and expectation.
Attracting more than 1400 contemporary and advanced women's apparel, footwear, and accessory brands, styles of Coterie New York exhibits are
avant-garde and experimental. More than 200,000 practitioners, including journalists, media, retailers, and other relevant professionals, visited this exhibition. Meeting new buyers, interior designers and representatives from department stores, art museums (such as Philadelphia Museum of Art), and concept stores, Yen Tin Cho successfully explored new markets in the United States in 2022's Coterie New York exhibition.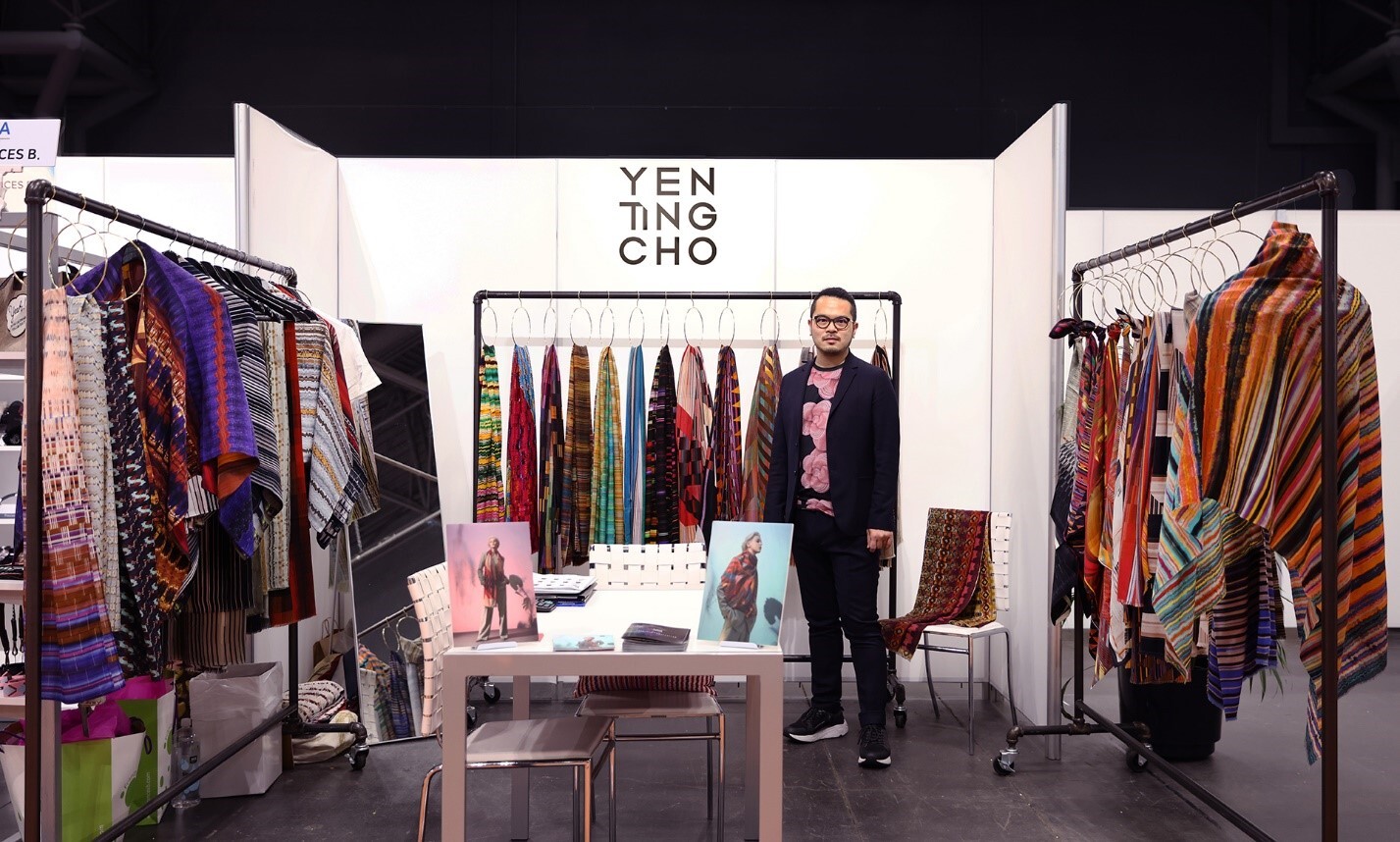 Yen Ting Cho debuted in Coterie New York, North America's premier trade event for the advanced contemporary women's fashion boutique
"Participating in international exhibition offers us an opportunity to keep up with global trend, which leads to a better arrangement and new development for future design. We also met Patti Carpenter, the former vice president of Ralph Lauren, and discussed the strategy of branching out interior design. In addition, some buyers mentioned that they would like to hang the products on the wall as an indoor highlight, which exactly echo the concept of our future creation," said Yen Tin Cho.
Students in Yen Tin Cho's design group are from college of planning and design of NCKU. Through competitive business environment and opportunity, students will participate in the front line of development, design, production, sales and marketing. By communicating and interacting with clients, students can get the feedback from business market directly. Regarded as an agile and practical course, Cho's course acquired agreements and support from NCKU and gained a high evaluation from students.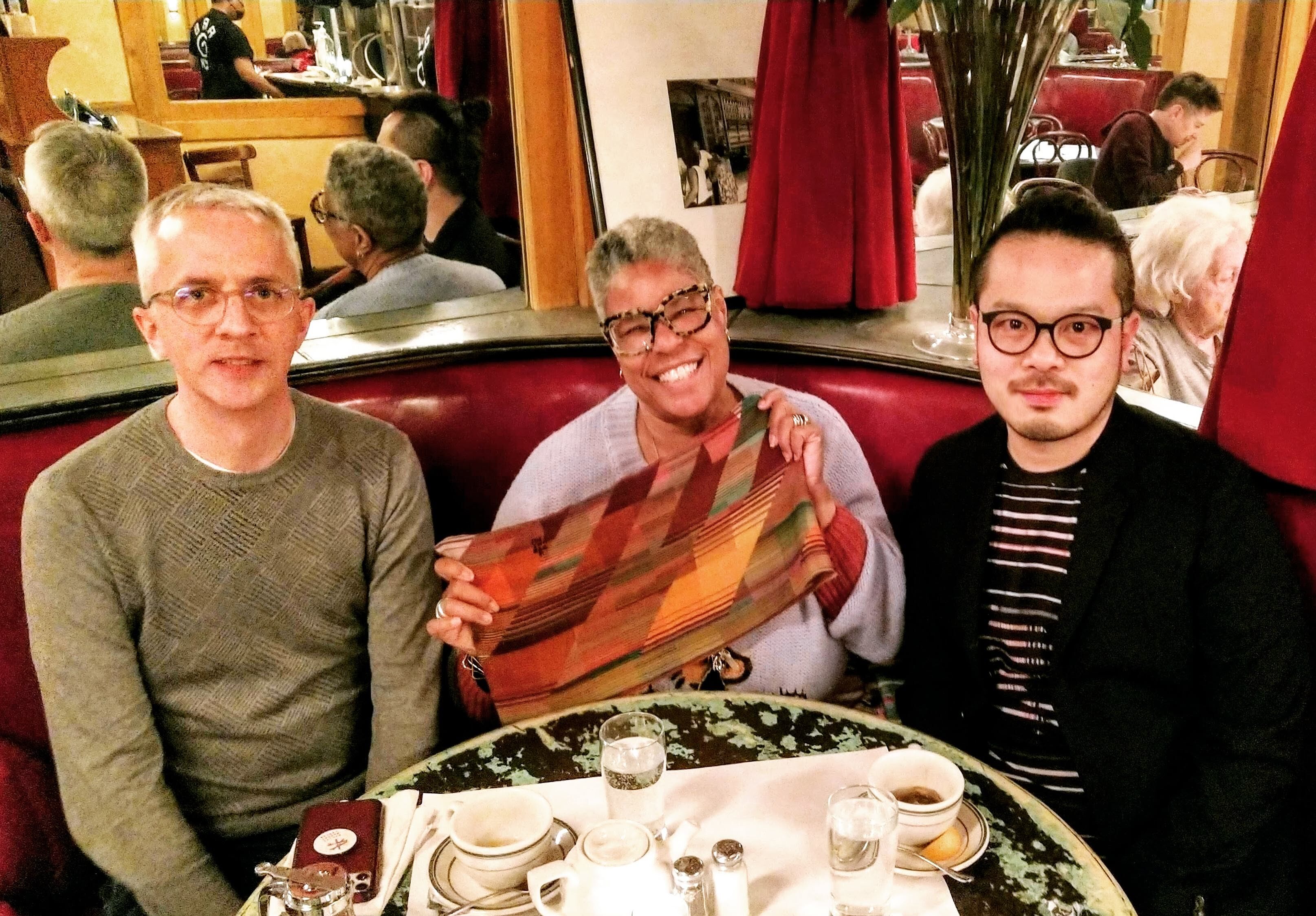 Yen-Ting Cho meeting with Patti Carpenter (middle)
Yen-Ting Cho believes that "interdisciplinary talents will accomplish a more far-reaching communication and expression, which will benefit more people." Dedicating to breaking boundaries and cultural barriers, Yen-Ting Cho's brand and design enhance Taiwan's international visibility and let the world see Taiwan's soft power of culture.
For further information about 2022 Phantasm Collection, please visit

the website

.