Bilingual Education Exhibition at NCKU: Diversified Bilingual Learning Environment Boosts Global Competence
Written by Hsu Tsu-Yueh. Image credit to News Center.
The Tainan Session of the NCKU Global Future Forum: Pathway to a New Global Competence and Bilingual Education Paradigm was held in NCKU Future Venue on June 28. The Bilingual Education Exhibition invited participation from the American Institute in Taiwan, Australian Office Taipei, Canadian Trade Office in Taipei, British Council in Taiwan, and TU Darmstadt, introducing global education resources. The event attracted around a hundred NCKU students and faculty members, and through the video call with Global Future Forum in Taipei, participants were eager to learn more about the trends in global education and were able to discuss various educational planning with professionals on site.
Hsiao-Wen Wang

thanked the participating institutions for their contributions
Hsiao-Wen Wang, Director of NCKU Office of International Affairs, thanked the participating institutions for their contributions, which provided students first-hand resources on global education. She pointed out that not only does learning foreign languages facilitate communication, but it also broadens one's horizons. In the face of the ever-changing future, NCKU offers students a diversified English educational environment for foreign students, and offers opportunities for local students to take on advanced studies or internships abroad. The university steadily push forward for educational resources, building an ecology of local globalization, aiming to cultivate talents with global competence.
"The most important thing is to set goals for yourself. I will begin my exchange program in Singapore next semester, and once I decided on my education progress, I have included related bilingual courses into my schedule for this semester. I'm pleasantly surprised that NCKU offers such abundant learning resources. Singapore is a globalized city. I am now more assured of my decision after attending the forum today," said Huang, a senior student from NCKU Department of Nursing.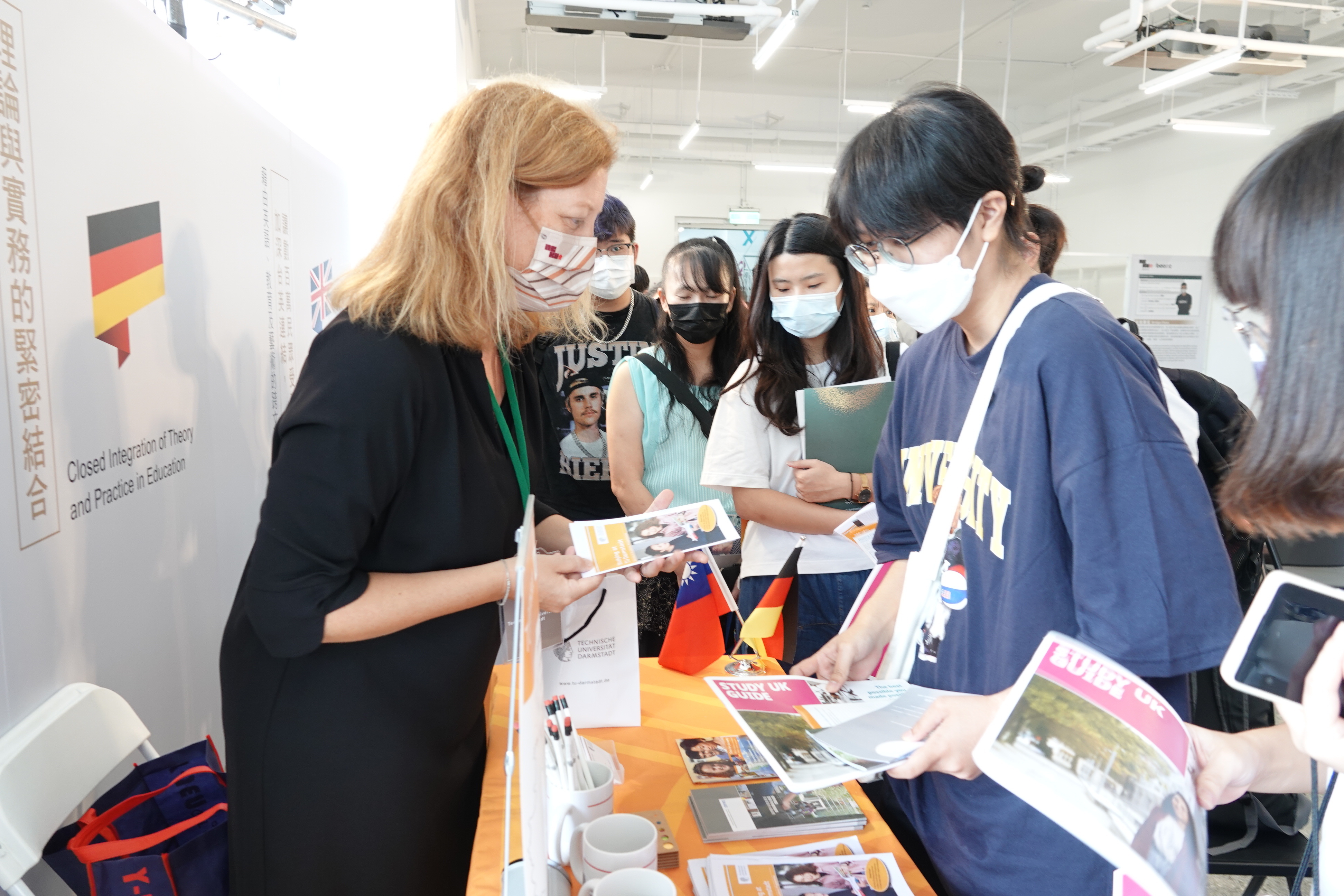 The officer from TU Darmstadt was intorducing transforming project to students
Ke, a PhD student in NCKU Department of Biotechnology and Bioindustry Sciences, who is considering studying abroad in Germany or the U.S., said, "The school offers plenty exchange programs for our department. I attended today seeking information on studying abroad."
Liu, a junior student from Department of Industrial Management and Information of Southern Taiwan University of Science and Technology, attended the forum. "I plan on studying abroad in the future. After attending the forum today, I recognize how important it is to improve my English skills. No matter what country in which I pursue my studie
s, I need to use English when learning or participating in public affairs. I've been especially inspired seeing the fluent speakers today, and I recognize that one must have good enough English skills in order to express one's ideas."
Chun-li Tsai

focused his speech on the Program on Bilingual Education for Students in College
Chun-li Tsai, Associate Vice President for Academic Affairs, focused his speech on the Program on Bilingual Education for Students in College (BEST) proposed by the Ministry of Education in September of 2021. He expressed that, in the setting of global competition, NCKU continues promoting EMI (non-English Speaking Institutions) courses, encouraging teachers to use English in their specialized courses. What students learn in their high school and university English classes is basic English training, but through EMI courses, the students will be able to learn specialized English. For example, once a student of Economics learns to incorporate English into their professional field, they would have a deeper understanding of global financial trends. By creating a natural learning environment, the university hopes to boost the specialized English ability of its students.
NCKU Office of International Affairs describes the university's policies on bilingual teaching. The core objective is to boost the global competence of the students through language, knowledge, comprehension, attitude, and value. In addition to promoting globalization on campus, NCKU hopes to encourage its students to connect with the world in various ways. The university's Learning Partner Program allows foreign students to adapt to local life. Integrating resources and activities in the school, NCKU allows students to track their self-growth through Global Competence Learning Passport. Moreover, NCKU students have great opportunities to connect with the world with the choice of international exchange student programs at 165 schools.
The Tainan Session of the NCKU Global Future Forum: Pathway to a New Global Competence and Bilingual Education Paradigm was held in NCKU Future Venue on June 28