Green Campus Attracts Wildlife Endangered Species Appear in NCKU
Edited by Elysee Chung. Image credit to Yi-Ting Chang & Ya-Fu Lee.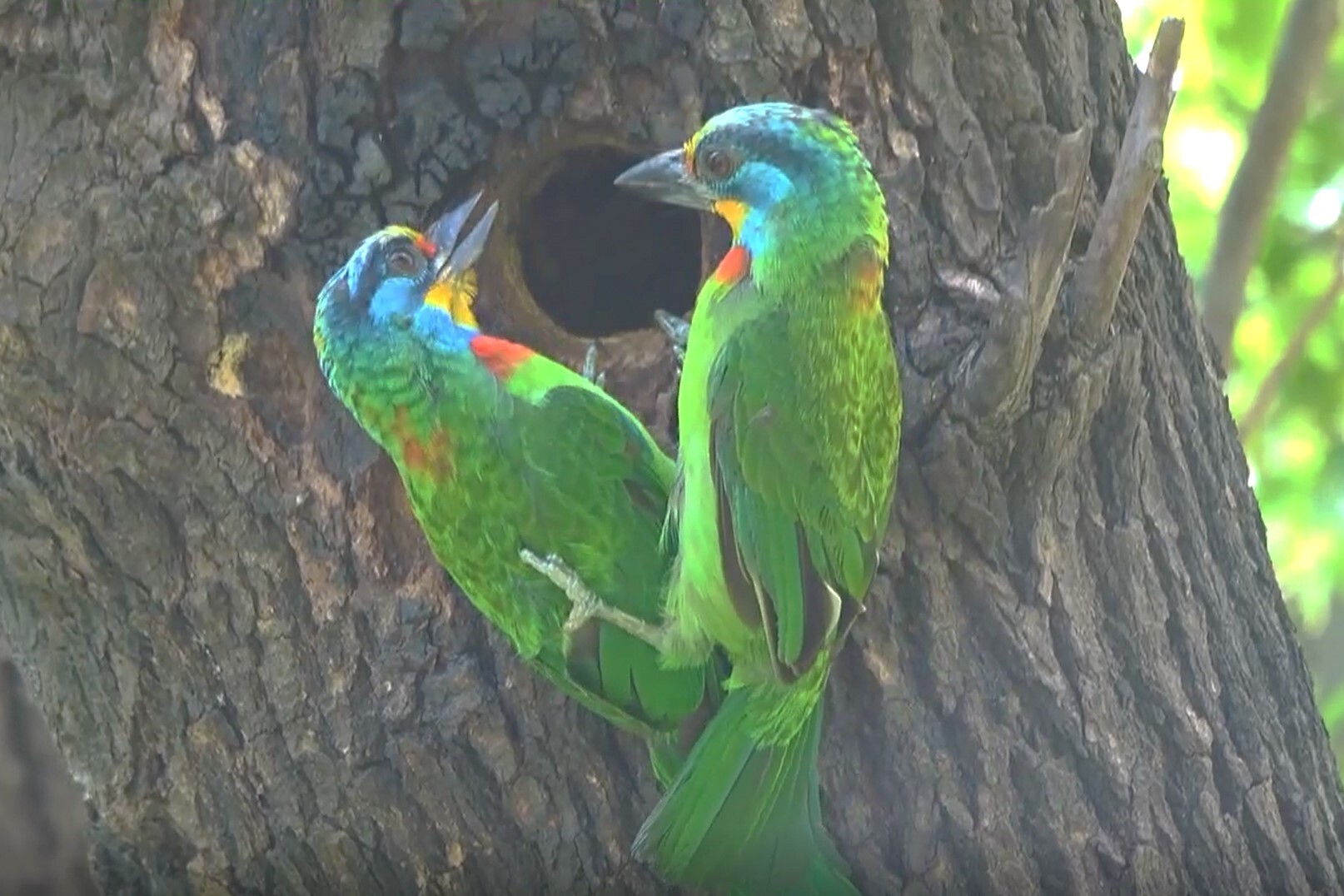 Birds on NCKU campus - Muller's Barbet. (Credit to Hui-Ching Hsu)
Thanks to the abundant green spaces in National Cheng Kung University (NCKU), nearly 40 species of birds can be found, ranging from the common Sparrows, Spotted Doves, Chinese Bulbul, to Taiwan's endemic bird Muller's Barbet, and the endangered raptor – Crested Goshawks, which have been nesting at NCKU for many years.

Birds on NCKU campus - Tiger Bittern ( Credit to Yi-Jun Huang)
Crested Goshawks are categorized as Rare and Valuable Species in Taiwan. They feed on small animals such as birds, rodents, frogs, and lizards, and are common raptors in the city. Ya-Fu Lee (
李亞夫
), Professor of the Department of Life Sciences at NCKU, stated that according to the long-term observation of the Office of General Affairs and birders, once the Crested Goshawks have successfully built their nests, hatched and raised their chicks, they return to NCKU every year. Recently, they have been seen on the Kuang-Fu campus and the Cheng-Kung campus of NCKU.
The breeding season of the Crested Goshawks starts from spring to late summer. It is possible to see them nest in trees between April to September. This July, The Office of General Affairs found the Crested Goshawks' nest on a large banyan tree, which is located on the right-hand side of the Yun-Ping Building on Kuang-Fu campus. The faculties set up a camera nearby to capture the scenes of the bird parents feeding their chicks. Both the chicks have successfully grown into adults and left the nest.
Ya-Fu Lee leads students to observe the ecology and behavior of birds in the field for a long time.
Ya-Fu Lee (
李亞夫
), Professor of the Department of Life Sciences at NCKU, has been leading students to observe the ecology and behavior of birds in the field for a long time. Witnessing the small ecosystem NCKU nurtured, he hopes to convey that as long as green spaces are well-maintained, many creatures can coexist with humans.
Lee said, in the early days, there were many old, large trees suitable for the habitat of the Crested Goshawks in NCKU campus and the surrounding parks – Tainan Park and Dung Ning Park. Compared to parks, school campuses are less disturbed and are relatively safe. The green environment of NCKU creates wonderful habitats for insects, birds, and squirrels.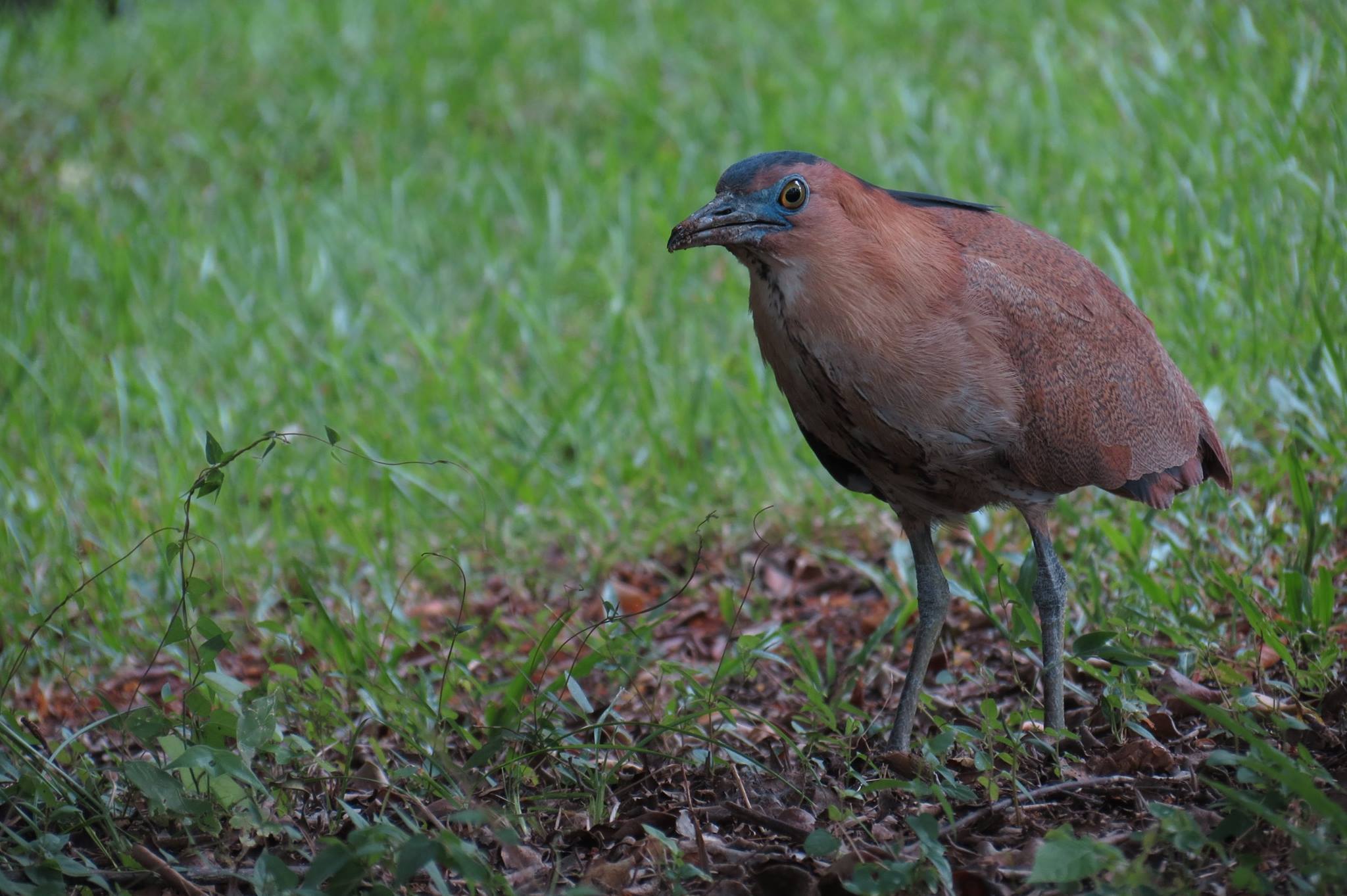 Birds on NCKU campus - Tiger Bittern ( Credit to Yi-Jun Huang)
The abundant food sources and clean environment attracts not only Crested Goshawks but nearly 40 species of birds in NCKU, including sparrows, Chinese Bulbul , Spotted Doves, Pigeons, Crested Myna, Gray Treepie, Muller's Barbet, Tiger Bittern, Copsychus Malabaricus, Black-naped Blue Monarch, Black-crowned Night-Heron, Egret, and Gray-headed Pygmy Woodpecker.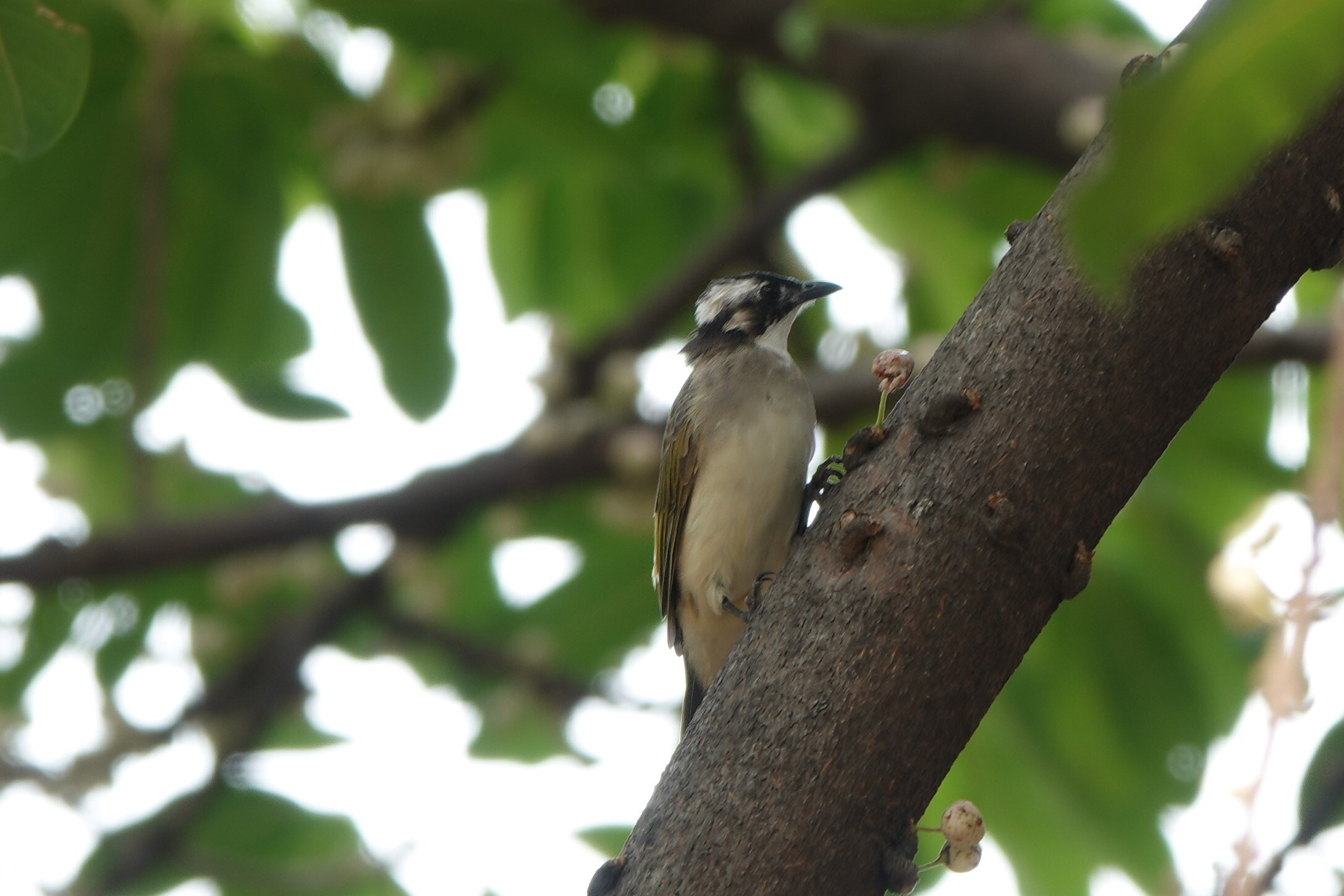 Birds on NCKU campus - Chinese Bulbul.
During the breeding season, it is normal to discover injured young birds which are learning to fly on campus. Lee suggests that people who encounter injured young birds should observe whether there are adult birds wandering around and pay attention to any urgent bird calls instantly, if so, people should leave the young birds for their parents to lead them back to their nest. However, if there wasn't a nest nor adult birds nearby, or the young birds' life were in immediate danger, such as it's raining heavily, or dogs or cats are appearing around, people are suggested to send the injured young birds to animal protection units or local bird clubs and look for assistance from professionals.
Lee's students have been observing Muller's Barbets in the campus since this April.
Since this April, Lee started to lead students to make systematic observations of Muller's Barbet and its reaction with related animals on NCKU campus and nearby parks.To observe the Muller's Barbet's behavior, Lee's team will first look for its nest, or listen to its sound to track its location. After the trail is confirmed, they will do regular observations at a distance of more than 20 meters near the nest.
"We discovered an interesting behavior of the bird parents," stated Lee, "We often see the bird parents bring back different foods. The father brings insects, while the mother fruits. By sharing the feeding responsibility, the young birds can take in different nutrients."
Students listen to birdsong and use binoculars to observe campus' birds.
By launching ecological bird-watching activities on campus, Lee aims to convey "as long as people are willing to maintain the natural environment, many creatures will call this place home." No matter if it's insects, squirrels, Muller's Barbet, or Crested Goshawk, they are all important parts of nature, and they can coexist with humans peacefully for a long time.