Pioneer in Harm Reduction Therapy for Chemsex: A Research Team Lead by NCKU Associate Professor Carol Strong Gains Global Attention
Written by Amber Tyan. Image credit to News Center.
Carol Strong, Associate Professor of NCKU College of Medicine, Department of Public Health, has long been involved in chemsex behavioral research and HIV/AIDS multi-prevention. Recently, she was invited by the international journal, The Lancet HIV, to publish a review of related research in hopes of letting more people understand that chemsex and the risk of AIDS infection are not purely causational, while proposing a new direction for harm reduction strategy. After the study was published, it was affirmed by Medscape, an organization providing access to medical information for global clinicians, and also featured on The Lancet HIV Podcast's September interview.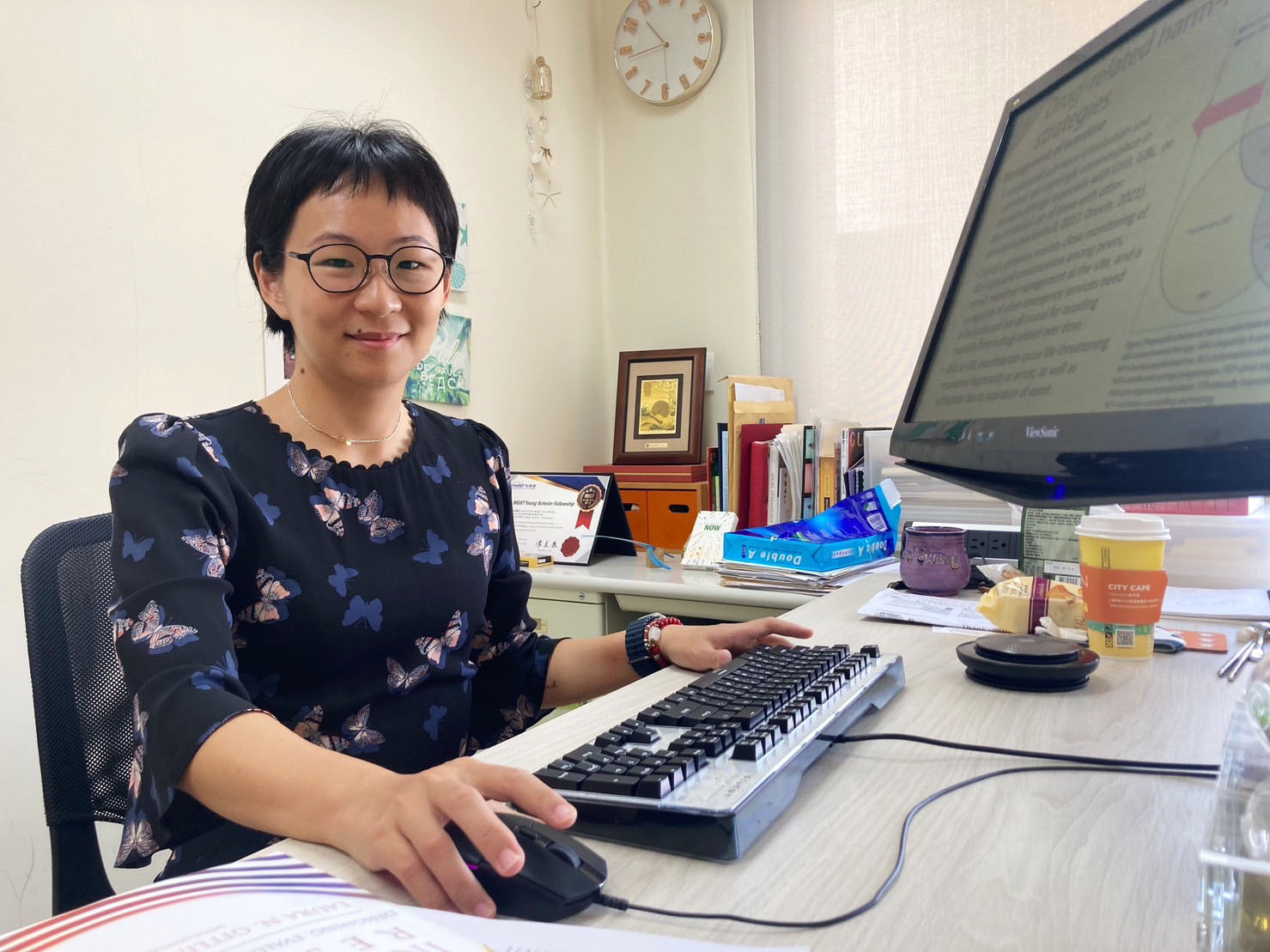 Carol Strong, Associate Professor of NCKU College of Medicine, Department of Public Health, has been recognized internationally for her research on chemsex behavior.
Associate Professor Carol Strong stated that chemsex, a heated topic in Europe, America, and Taiwan in recent years, refers to the use of methamphetamine, GHB (gamma-Hydroxybutyric acid), and other substances to enhance sexual experience, has been stigmatized as it occurs in the gay community. In reality, chemsex behavior also takes place in different cultures and ethnic groups, including heterosexual couples who engage in the use of alcohol and aphrodisiacs to aid their sexual experiences. However, when "loss of control"occurs in chemsex , not only does it increase the risk of AIDS and other sexually transmitted diseases, but might also be by accompained by substance overdose, addiction, and negative influence on both physical and mental health. When seen from the perspective of the cause, chemsex is not a problem that exists solely in the gay community, as any engagement in substance during sex would induce increased risks in infection and addiction.

Associate Professor Carol Strong further explained that chemsex has always been a taboo subject in the past, especially when the media associated chemsex with the risk of AIDS, which made the issue even more difficult to breach. In fact, in contrast to the stereotypical drug user, many of those engaged in chemsex have a high socioeconomic status, where most of them are in need of psychological support and long to create intimate relationships. In 2017, on the foundation of a lack of comprehensive local statistics and research in the field of public health, researchers began actively making contact with several drug users and front-line social workers to understand the cause behind chemsex, further establishing harm reduction therapy. Since then, the team has published several studies which have earned them global recognition in addition to an invitation from The Lancet HIV to propose a more appropriate therapy strategy for those engaged in chemsex. After the study was published, the research team was also interviewed by Medscape, an organization providing access to medical information for global clinicians, which was accredited by the Accreditation Council for Continuing Medical Education.

"Integrated resources for harm reduction therapy and support systems can provide various choices for people in need."
Associate Professor Carol Strong emphasized the relationship between chemsex and HIV has not been proven to be directly causal. In fact, according to statistics from the Center for Disease Control and Prevention of the Ministry of Health and Welfare, as of August 31, 2022, the reported number of HIV cases in Taiwan was 44,494, the main cause of infection being unprotected sex. Although chemsex might increase the risk of testing positive for HIV, complications lay behind the reasons for such results. Furthermore, due to the development of mobile dating apps and social media, seeking intimacy online may also increase chances of people engaging in chemsex, which are situations that we must face, as medical help alone cannot tackle all problems.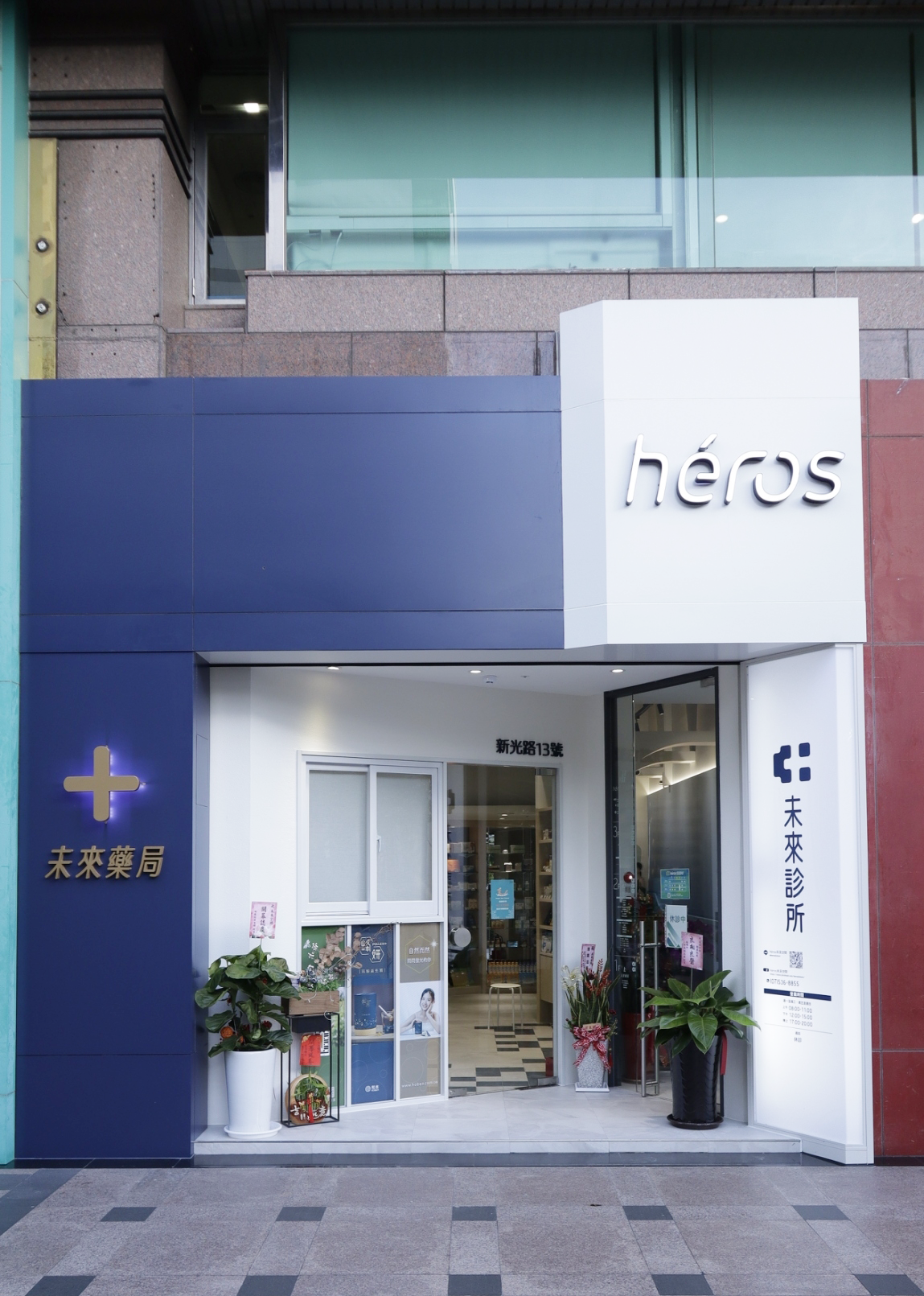 Healing, Empowerment, Recovery of Chemsex, a.k.a the HERO Center (Photo courtesy of Carol Strong)
Associate Professor Carol Strong proudly states: "Taiwan is independently ahead of its time."
In 2017, under the leadership of Distinguished Professor Nai-ying Ko of NCKU College of Medicine, the Taiwan Love Hope Organization integrated different ideas of AIDS prevention and treatment from the industry, officials, academia, and the people to establish the Healing, Empowerment, Recovery of Chemsex Center, also known as the HERO Center. The center is powered by the core functions of healing, empowerment and recovery, and has established a one-stop "Infectious Disease Clinic" and "Chemsex Psychology Clinic" to provide AIDS screening tests, prevention, and treatment for chemsex users. In addition, physical and mental support, addiction treatment, and support groups are also provided. The HERO Center provides effective treatment plans for chemsex users through the intervention of sexual health, HIV prevention and treatments, and drug addiction counseling. More than 2,000 cases have received assistance since then. The center has further taken the initiative to offer integrated health services to the community, and many international organizations have expressed their admiration for such achievements.
Associate Professor Carol Strong said that in the past, the stigma towards chemsex users has greatly reduced their willingness to seek help. Now, through thorough research, she hopes to help the chemsex community by calling on the public to procure a basic understanding of chemsex from a different angle than provocative headlines from media outlets. Henceforward, with the assistance of NCKU, the team wishes to design mobile APPs through interdisciplinary cooperation to provide knowledge of the correct usage of pre-exposure prophylaxis for the prevention of HIV infection, guidelines and advice for substance use, AIDS, and harm reduction methods related to sexual acts. Through harm reduction therapy, they do not wish to suppress discussion on chemsex, but instead to properly face those who need assistance, and to reduce the risk of infection of HIV for chemsex users.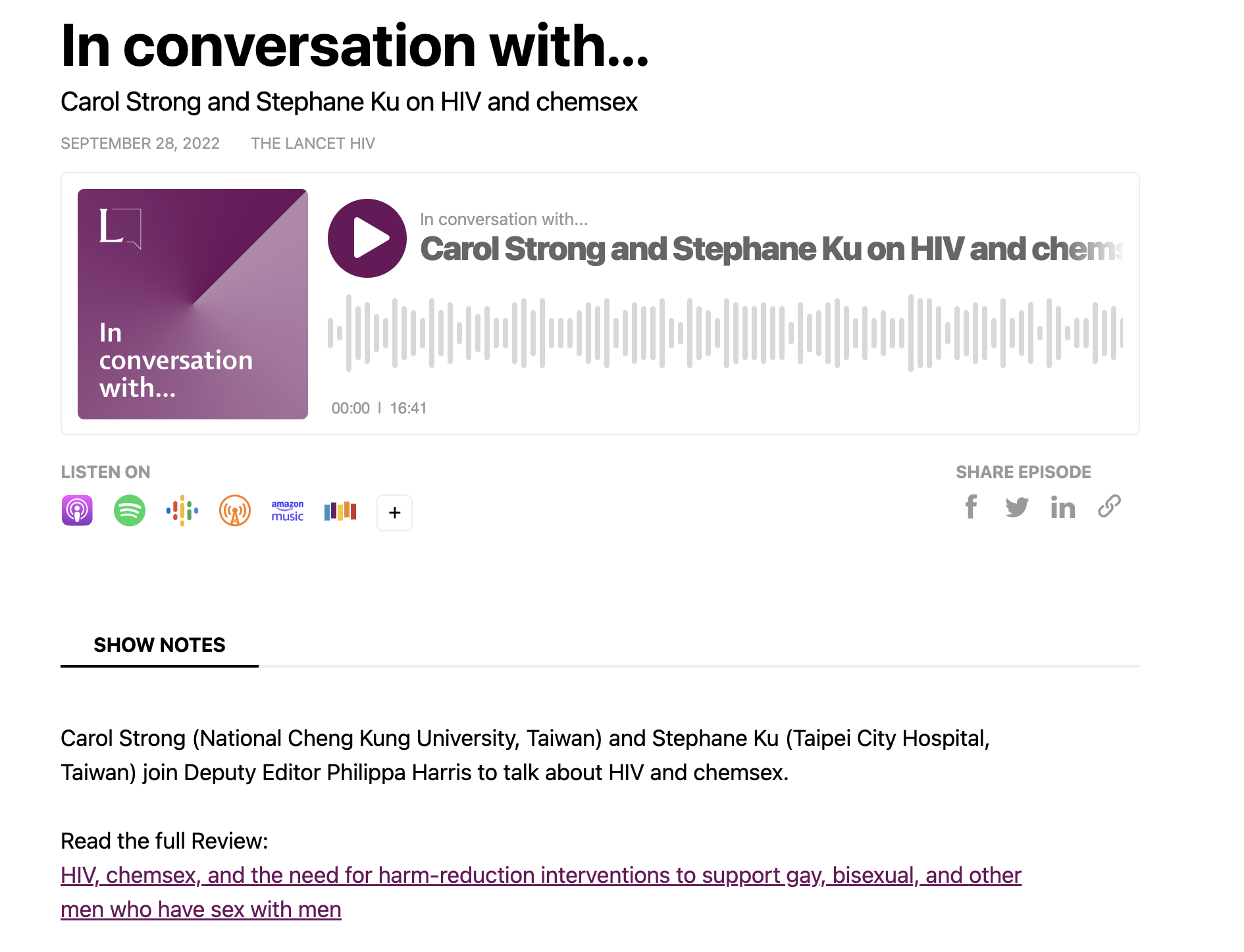 The Lancet HIV Podcast interview with Associate Professor Carol Strong on chemsex, posted on September 28th

【More Information】