Education Braving Through War: NCKU Signs MOU With Ukraine National Aviation University
Written by Hsu Tsu-Yueh. Image credit to News Center.

On July 26, NCKU and National Aviation University (NAU) in Ukraine signed a memorandum of understanding online
"National Cheng Kung University sets the goal to build a resilient strategic alliance with like-minded partners, becoming a stable joint force in education and scientific research in times of uncertainty." In the face of ongoing conflict between Russia and Ukraine, NCKU utilizes its academic power to support its international partner. On July 26, NCKU and National Aviation University (NAU) in Ukraine signed a memorandum of understanding online. Facilitated by the help of Hong-Wei Yan, leader of Information Division of Taipei Economic and Cultural Office, Prague, the collaboration is the first between NCKU and Ukrainian university. In the future, the two parties plan to collaborate in fields such as social security, aviation, and electrical engineering and computer science, hoping to foster the development of higher education and cutting-edge technology, boosting international connection and academic energy.
Huey-Jen Jenny Su, President of NCKU, and Maxim Lutsky, rector of NAU, signed the MOU online. Attendees to the ceremony witnessing the historical beginning of the collaboration include NCKU faculty, Charles Lin, Associate Vice President for International Affairs, Shin-Mei Kao, Dean of the College of Liberal Arts, Shen-Haw Ju, Vice Dean of College of Engineering, Hung-Yu Kao, Vice Dean of the College of Electrical Engineering and Computer Science, and Chin-Fu Hung, Chairman of the Department of Political Science, and NAU faculty, Iryna Zarubinska, Vice-rector for international cooperation and training, Yuriy Voloshyn, Dean of the Faculty of International Relations, Serhiy Zavhorodniy, Dean of the Faculty of Air Navigation, Electronics and Telecommunications, Mykola Kulyk, Dean of Aerospace faculty, Kateryna Nesterenko, Dean of the Faculty of Cybersecurity, Computer and Software Engineering, and Hong-Wei Yan, leader of Information Division of TECO, Prague.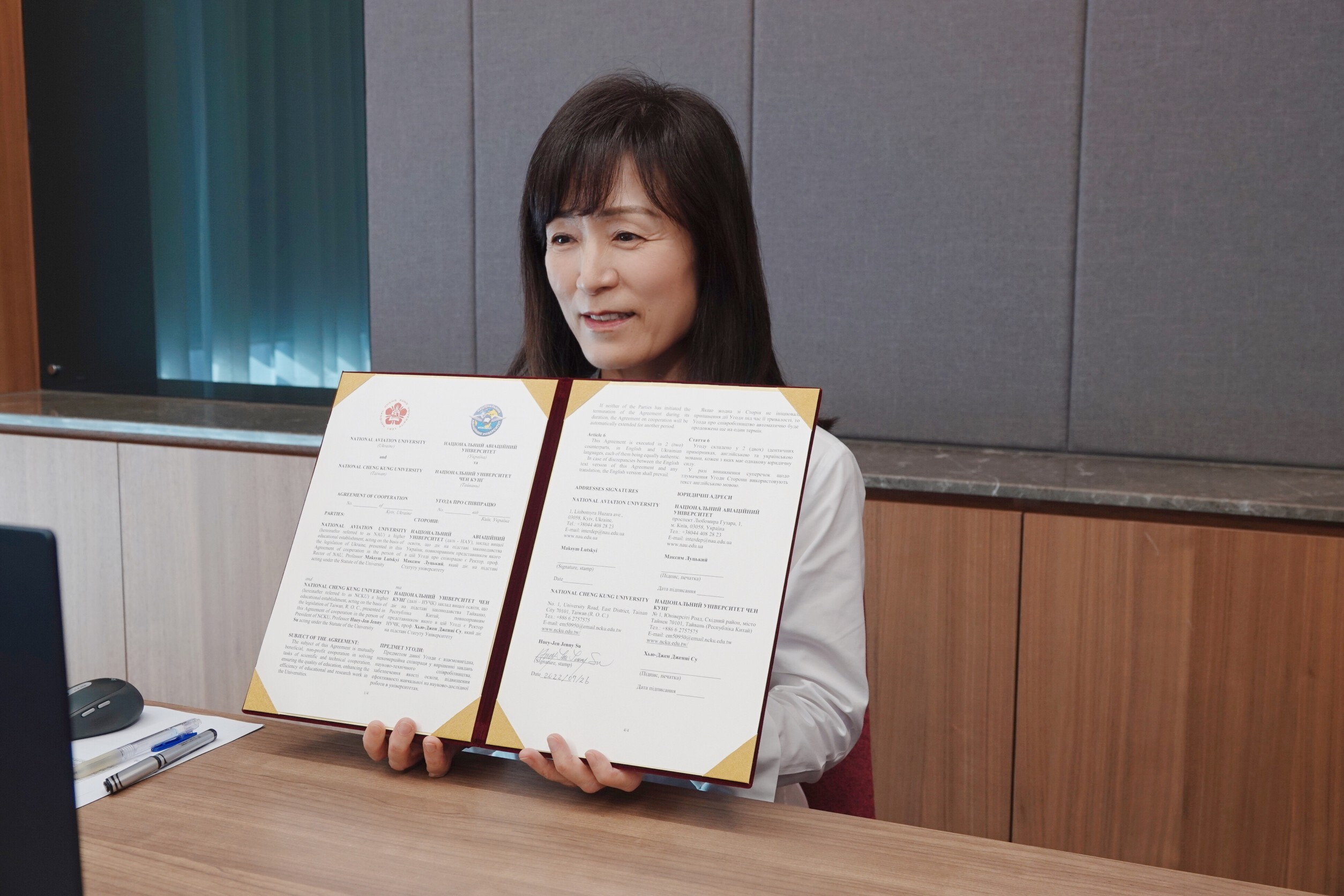 NCKU President Huey-Jen Su wishes the best to Ukrainian faculty and students, hoping to meet one another someday
Huey-Jen Su expressed that during the trialing times, the academic collaboration between NCKU and NAU aim to use education as a reliable strength to bring stability to people's minds. NCKU is reaching its 100th anniversary, and in recent years its devotion to industrial and cross-disciplinary collaborations has cultivated many outstanding international talents. In the meanwhile, the university supports Ukrainian teachers and students to continue their academic pursuit in the midst of the Russian-Ukraine conflict. Following the MOU signing with the Polish Academy of Sciences (PAS) in May this year, NCKU signs its first collaboration agreement with a Ukrainian higher education institution. The collaboration is hoped to provide practical support to Ukrainian scholars and researchers.
Huey-Jen Su referred to the recent interview of Jerzy Duszyński, president of the Polish Academy of Sciences, where he mentioned that NCKU, though not an institution of the government, has put a lot of effort into supporting Ukrainian scholars who have been affected by the war. NCKU launched the program Light the Dark, which, with a 200-thousand-dollar donation from the PAS, helps Ukrainian scholars to continue their research and assists local students to receive continuous education, contributing to the stability of international society. Following the MOU signing between NCKU and NAU, the collaboration will open up more opportunities for cultural exchange. "We wish all the Ukrainian teachers and students the best. Hopefully, we will be healthy and safe and meet one another someday in the future."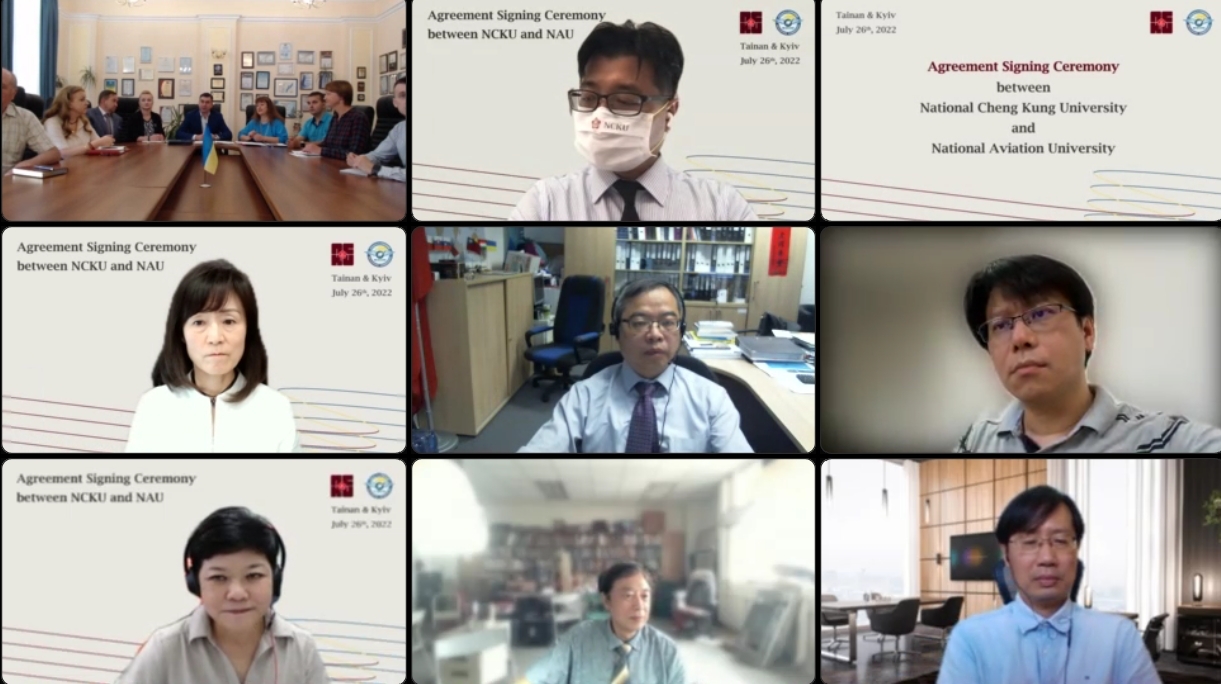 In the future, NCKU and NAU plan to collaborate in fields including social security, aviation, and electrical engineering
"We are thankful for NCKU faculty and students for showing care for Ukraine ever since the conflict broke out. Through practical collaboration programs, they have supported local education and scientific research." Maxi Lutsky, rector of the NAU, expressed the honor to witness the beginning of the academic collaboration with NCKU. Aviation research has always been a focus for the NAU, and as NCKU began its collaboration with Taiwan's AIDC this year to boost the nation's aviation industry, the collaboration between the two universities is hoped to accelerate related research and strengthen the bond.
The NAU is located in Kyiv, the capital of Ukraine. It is one of the most prestigious higher education institutions in terms of aviation research. Following the MOU signing by NCKU and NAU, both sides will carry out discussions regarding multiple collaborative scientific research projects, including topics of social security, electrical engineering, and aviation. Moreover, conducting academic exchange programs, holding seminars, developing dual-degree programs, and training professional talents are additional ways to enhance international academic partnership power and to improve the education resilience in the face of global or regional crises.