Research Group from NCKU Accelerates 3D Printing Speed with Green Solvent
Edited by News Center. Image credit to Yi Ting Chung.
Research group from NCKU discovers that deep-eutectic solvents can accelerate RAFT polymerization
A team led by Assistant Professor Sheng-Sheng Yu from National Cheng-Kung University discovered that employing deep-eutectic solvents in Reversible Addition
-
Fragmentation Chain-Transfer (RAFT) polymerization not only accelerates the process three to fourfold, but also allows reactions to take place under visible light. These solvents can effectively increase the oxygen tolerance of the polymer, allowing reactions to proceed even when exposed to the atmosphere. This ground-breaking discovery not only saves on energy costs, but also helps to simplify the polymerization reaction. The resulting application value for the subsequent synthesis of polymer materials and 3D printing is extremely high.
Professor Sheng-Sheng Yu of the Chemical Engineering Department, NCKU
"It was quite unexpected," said Sheng-Sheng Yu. In 2020, his group was conducting RAFT polymerization with deep-eutectic solvents to capitalize on their low costs and eco-friendliness, when they realized that the reaction was already complete, before the addition of heat and ultra-violet light. They attempted to repeat this surprising result under different conditions, and eventually concluded that deep-eutectic solvents could increase polymerization speed.
This finding was published in the top polymer journal Macromolecules last October. Macromolecules is a journal under the American Chemical Society (ACS) and is the most well-known and influential polymer journal in the world. "We were proud to appear in a journal which only publishes research of sufficient depth and novelty," said
Sheng-Sheng Yu
.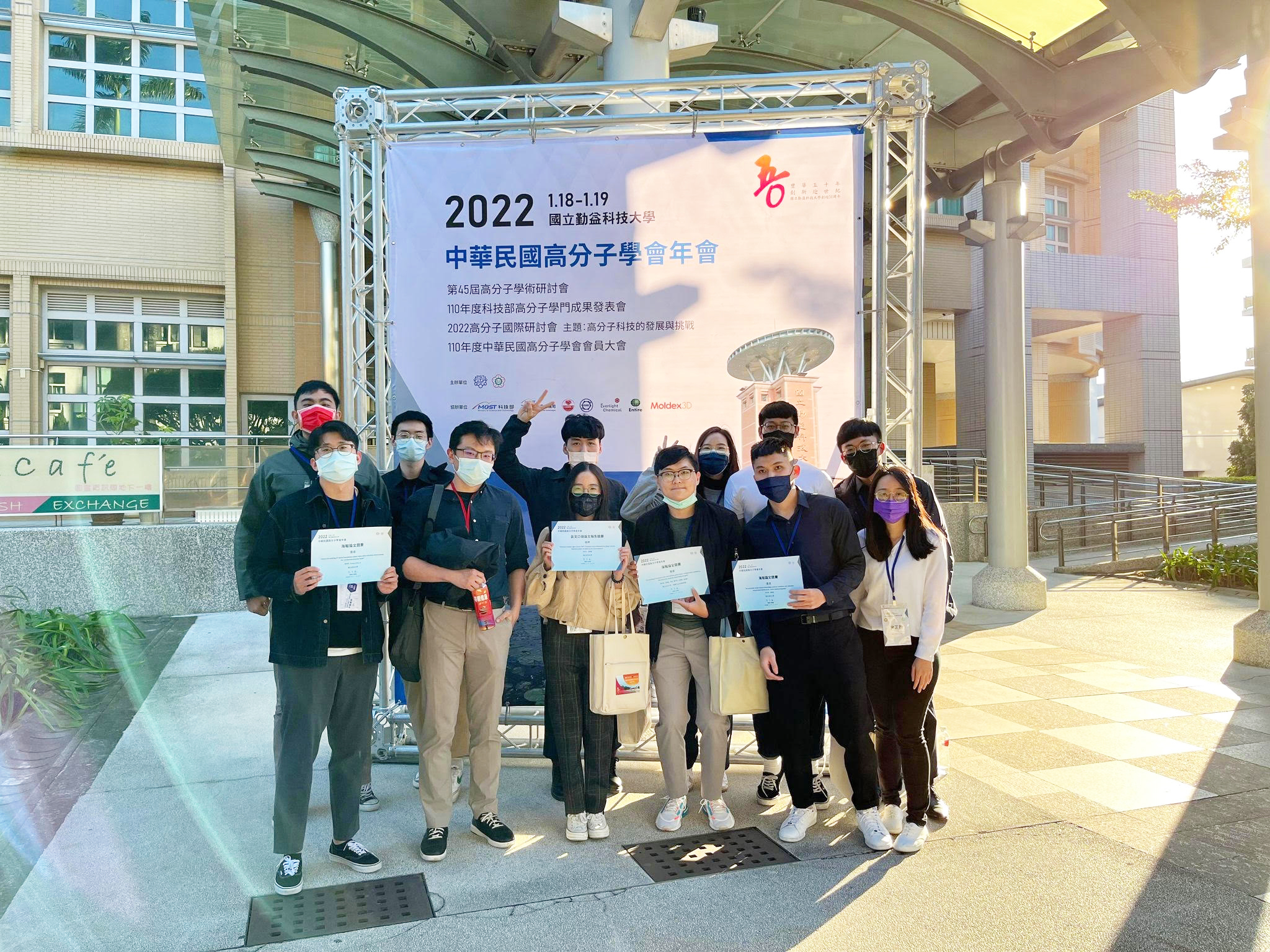 Professor Yu (second from left in front) and his students
The main function of the solvent is to dissolve the reaction reagent and improve the fluidity of the reaction system.
Traditionally, highly-toxic organic solvents such as dimethylformamide, and dimethylsulfoxide are used for RAFT polymerization. Significant formation of products only occurs after 20 hours under ultraviolet exposure and hypoxic environments.
Deep-eutectic solvents are ionic solvents formed by mixing different eutectic salts. Yu's group mainly uses tetrabutylammonium chloride (TBACI) and ethylene glycol (ethylene glycol) for synthesis. Deep-eutectic salts have high electrical conductivity; compared with organic solvents, they are more easily synthesized, have lower volatility, and are mostly non-flammable. Not only are they low-cost and non-toxic, but they are also biodegradable and less polluting.
Deep-eutectic solvents
can be composed of different starting materials, many which are more diverse than traditional organic solvents in terms of functionality.
As pointed out by Yu: "To accelerate a given chemical reaction, one would usually change the
experimental

monomer itself or the chemical pathway; few are aware of how the solvent affects the overall reaction. Our discovery may offer scientists a new way of thinking; perhaps the once modest 'medium' will become a mainstay of laboratory research."
Yu's discovery will effectively increase the speed of 3D printing
By further increasing the reaction rate, such solvents can subsequently be applied to light-curing 3D printing technology. This type of technology mainly uses liquid resin as a raw material, and irradiates the panel or laser beam with a specific shape of light on the printing platform. The irradiated resin hardens layer by layer before it is stacked to realize the final product.
Traditional light-curing technology has failed to increase the speed of 3D printing due to slow polymerization rates. By accelerating these reactions, we can further improve printing efficiency.
Yu's group attempted to employ the conductive properties of DESs to fabricate wearable devices using 3D printing. The resulting product was shaped like a Band-Aid; when worn on the body it deforms to generate different current signals. Yu describes the product's application as follows: "Suppose you want to test whether an athlete's posture is the same compared with yesterday. You can directly attach our device to the athlete's wrist or other joint to see whether his or her movements are consistent. It is much less labor-intensive and more accurate than naked eye detection."
The group led by Professor Yu mainly conducts research on polymerization and the application and development of various 3D printing inks. This includes chemical experiments, material design, 3D printing technology, and even cross-domain investigations on mechanical strength and structural design. It is expected that a simplified, non-toxic, environmentally-friendly and sustainable polymerization process can be developed with applicability to 3D printing to create products such as wearable sensing devices and thermal insulation materials.