NCKU President Meng-Ru Shen Inauguration Ceremony: Building the Most Valuable Academic Brand in the World
Written by Hsu Tsu-Yueh. Image credit to News Center.

18th President of NCKU Meng-Ru Shen (right) receiving the official seals from his predecessor President Huey-Jen Su (left).
National Cheng Kung University on February 1st held the handover and inauguration ceremony of the President, witnessed by Mon-Chi Lio, Political Deputy Minister of Education. In the Cheng-Kung Auditorium, the now 18th NCKU President Meng-Ru Shen accepted the official seal from Huey-Jen Su, the predecessor of the position, swearing in as the university's new President. President Shen pointed out that NCKU is entering a critical era in full sail and welcoming its 100th anniversary, and vowed to lead the university and build connections for international alumni, establishing NCKU globally as the most valuable academic brand and to represent its historical roots in the Tainan City as the academic pioneer of Taiwan.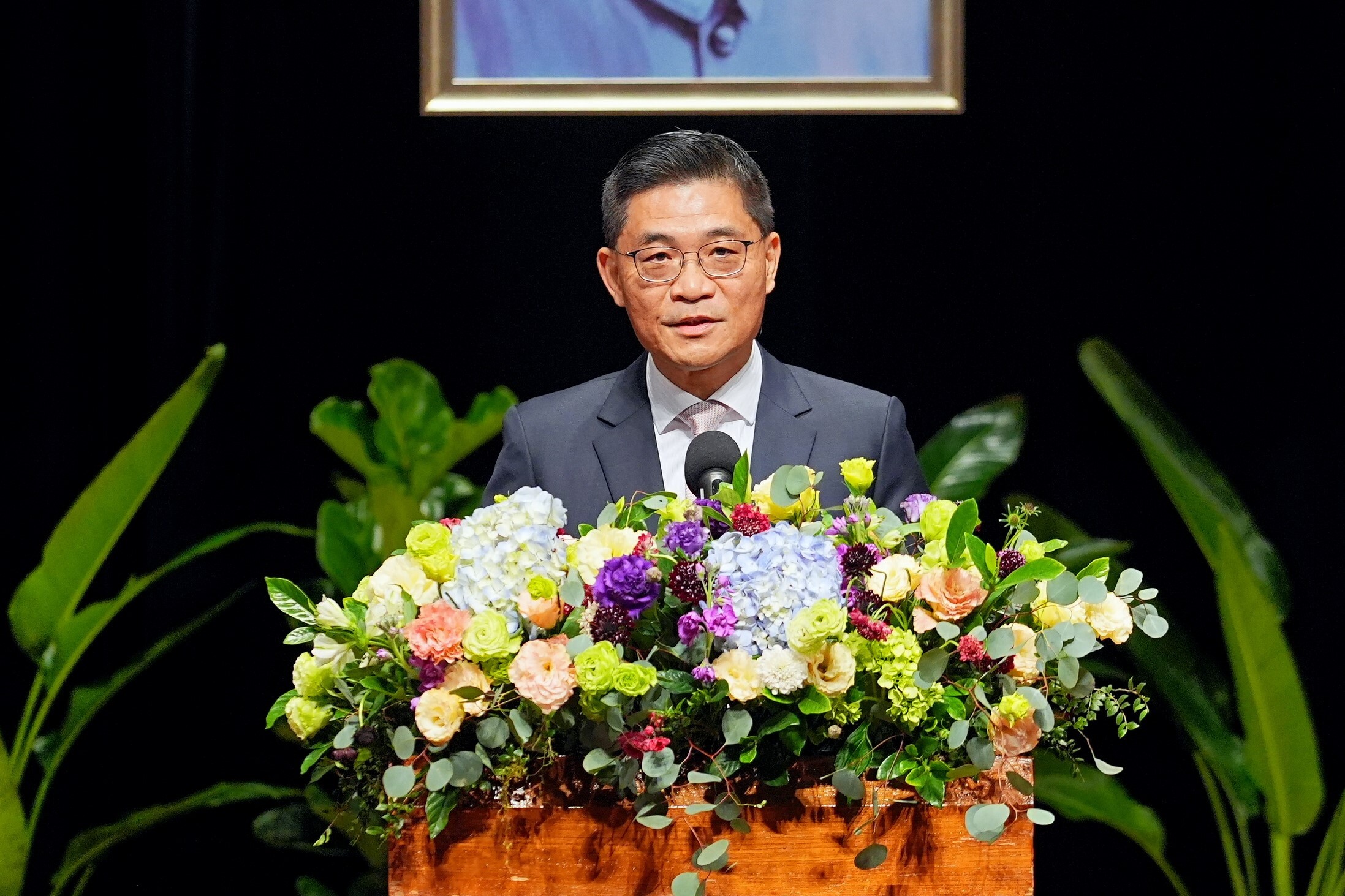 Meng-Ru Shen elected the 18th President of NCKU, vows to create a fulfilling environment in NCKU with four advancement programs and three basis programs.
In his inauguration speech, President Shen put into words his beliefs and prospects in leading NCKU as "brilliance in rise, century in stride," emphasizing on four advancement programs and three heartwarming basis programs. The four advancement programs include education advancement and industry connection advancement, which would broaden NCKU's contribution to the society, and research advancement and international advancement, which would increase NCKU's global influence. The three basis programs include supporting the wellbeing of faculty and students, expanding learning resources, and establishing an educational base for humanities and aesthetics. These programs actively create a happy and fulfilling environment for NCKU as one of the top universities in the world.
Recalling the school's beginning in 1931, President Shen pointed out that social engagement has long been its goal that propels its special mission to nurture its students. The school has accumulated rich resources through the administrations of each President, and is now an outstanding model in many aspects such as industrial foundations, construction cooperation, common prosperity with cities, national defense advancements, and epidemic prevention. "NCKU possesses the power of innovation, knowledge, and industrial connections. The new administration team will put its utmost efforts into providing the faculty, students, and staff of this university opportunities to give back to the world, making NCKU a borderless university that makes its nation proud."

Mon-Chi Lio, Political Deputy Minister of Education, expects President Shen to keep true to his beliefs, leading NCKU taking great steps forward.
Mon-Chi Lio, Political Deputy Minister of Education, expressed his sentiments towards President Su. "NCKU is an important partner of the MOE, and President Su has been a core partner of the MOE." He recounted President Su's achievements in the past eight years in office, highlighting the establishment of the Exploring Tainan Course, founding of the interdisciplinary College X, founding of the Miin Wu School of Computing and the Academy of Innovative Semiconductor and Sustainable Manufacturing in response to national policies. In addition, boosting infrastructure in Shalun, Tainan, and great contributions during COVID-19 pandemic are more proof that the MOE would benefit from her competency in the future.
Mon-Chi Lio described President Su's character with the Taiwanese phrase "tíng-tsin" that depicts her seriousness and attention to detail. When faced with challenges such as the COVID-19 pandemic and the devastation of Tainan after an earthquake in 2016, NCKU stepped up and utilized its strengths as a university to help the nation and the society, and laying down foundations for developments in Tainan. Mon-Chi Lio expressed his confidence in President Shen to carry on the grand mission after the inauguration, as President Shen is believed to recognize clearly what NCKU needs and is the most suitable candidate to lead NCKU into the next stage by the Presidential Election Committee. "Being practical is the trait of NCKU, and innovation marks the future of NCKU. President Shen shows us that he has a full prospect through education, research, international, and industrial advancements. I expect that President Shen keeps true to the beliefs and protect both the physical and mental health of all faculty, students, and staff, leading NCKU taking great steps forward."

Superintendent Liang-Cheng Han expressed his confidence in President Shen in leading NCKU to reach even higher advancements
Atmosphere at the ceremony was lively, witnessing a gathering of academia, industry, and government. Before the ceremony, Tainan City Mayor Wei-Che Huang came to pay regards to the Presidents in person. On behave of guests, Liang-Cheng Han, Superintendent of the Han Internal Medicine and Pediatric Clinic, expressed that President Su served as an excellent professor back in Harvard University, and NCKU has been much blessed by the fact that Kun-Yen Huang, founding superintendent of NCKU Hospital, invited President Su with great enthusiasm to come back to Taiwan. As the achievements of President Su are gaining recognition, they stand as testament to how broad and farsighted her aspirations are. Han emphasized on the importance of the establishment of the Shalun Medicine Innovation Park in Tainan.
In the process of planning the NCKU Geriatric Hospital, Han observed that President Meng-Ru Shen is empathetic, attentive and accepting of others' opinions, and does not shy away from responsibilities. These traits earned President Shen respect and approval from Han. Han further shared a quote from President Shen that was exceptionally memorable to him, "Everyone says we have to learn from others to become internationalized, then why don't we make it that others have to learn from us?" Han expressed his confidence in seeing President Shen lead NCKU to even higher advancements, and expects him to carry on with his strength and ambitions to arrive at great excellence as the university marches into its 100th year of history.

President Huey-Jen Su expressed her anticipation to seeing President Shen lead NCKU into a new chapter with integrity, determination, and the kind heart of a doctor
President Su expressed her gratitude for all faculty, students, and staff for their collective effort in the past eight years that helped push forward NCKU in terms of innovation of practical education and research and sustainable common prosperity. NCKU received high global rankings for its education and research mode and "the inclusive sustainable industrialization and innovation" through the collective work of many. "We proved that NCKU is a university that firmly defends the ideals and visions of higher education even in tough situations. Challenges can come from the outside as well as from the inside, however, as long as we keep a clear vision and hold firm beliefs, we will always brave through the dark times and see the sun rise again."
President Su pointed out that NCKU is now highly valued by the industry, government, and academia at home and abroad, this is attributable to not only the trust and cooperation from all walks of life with NCKU, but also is the product of the 90-year long endeavors of over 200 thousand alumni around the world. In her speech, President Su took from Plato and Churchill as models, expressing that NCKU as a world citizen must cultivate responsible global citizens who are able to attend to global issues. Her firm beliefs accompanied her on the journey of understanding the rich history behind NCKU and learning of different future alongside comrades in her 16 years of experience in administration positions. President Su prepared a new keychain for the handover of the keys to the President's Office, and gave her most sincere blessings to the succeeding President Shen, anticipating him to lead NCKU into a new chapter with integrity, determination, and the kind heart of a doctor.

President Meng-Ru Shen (left) presented a medal to President Huey-Jen Su (right), with inscriptions signifying her contributions to NCKU
President Shen presented a medal and gifts to President Su to thank her for the eight years in leading NCKU to become a university that moves the city and brings honor to the nation. The inscription on the medal signifies President Su's contributions to NCKU. Subsequently, Peter Chen, Chair of NCKU Global Alumni Association, Ming-Jhih Chen, Secretary General of the Association, and Han-Taw Chen, CEO of NCKU Alumni Association Center, on behave of the Global Alumni Association, and Fan-Sen Wang, President of Taiwan Comprehensive University System, respectively presented gifts to President Su to express deep gratitude.

President Shen appointed the new Chief Officers
On the ceremony, President Meng-Ru Shen appointed Chief Officers and introduced the new administration team: Executive Vice President Yau-Hwang Kuo (Director of NCKU AAC), Executive Vice President Woei-Jer Chuang (Director General of NCKU Innovation Headquarters), Executive Vice President Yuh-Neu Chen, Executive Vice President Ching-Chang Lee (Consultant general and Spokesman of NCKU, and Director of Office of Academic Integrity), Senior Vice President Ping-Sheng Wu (Director of NCKU Musuem), Secretary General Wei-Cheng Lo (Director of Office of Strategic Planning), Vice President for Academic Affairs Sheng-Chih Shen, Vice President for Student Affairs Liang-Yi Hung, Vice President for General Affairs Jian-Hong Wu, University Librarian Han-Ching Wang, Vice President for Research and Development Chuan-Pu Liu, Vice President for International Affairs Charles Lin, Vice President for Finance Yu-Hong Liu, Computer and Network Center Director Pei-Yin Chen, Head of Art Center Min-Yuan Ma, NCKU Bioscience and Biotechnology Center Director Tzong-Yueh Chen, Core Facility Center President Chao-Yu Chen, Center for General Education Director Yueh-Heng Li, Research Center for Humanities and Social Sciences Director Chun-Li Tsai, Center for Occupational Safety and Health and Environmental Protection Director Liang-Ming Whang, and Director of the Affiliated Senior Industrial Vocational Continuing Education High School of NCKU Teh-Lu Liao.
Meng-Ru Shen, the 18th President of NCKU, was born in 1966. He received his M.D. from Kaohsiung Medical University, Taiwan, in 1993, and Ph.D. from the University of Oxford, U.K., in 2002. He is currently a Distinguished Professor in the Department of Pharmacology, College of Medicine, NCKU. His previous positions include the Superintendent of NCKU Hospital, member of the NCKU Endowment Fund Management Committee, the Coordinator of the Pharmacology, Toxicology, Medicinal Biochemistry & Molecular Biology, National Science and Technology Council, the Chair of Pharmacology of College of Medicine, NCKU, and the Associate Dean for Research of College of Medicine, NCKU.