President of University of Tsukuba Visits NCKU and Signs JV Campus Program to Accelerate the Sharing of Higher Education Online Resources
Written by Amy Lin. Image credit to News Center.
University of Tsukuba (UT), the significant partner institution, visited National Cheng Kung University (NCKU) on Feb 17th, the reception meeting invited both research groups of medicine and biology and the administrative team of international affairs to present the achievements of cooperation and following plans. UT and NCKU also singed the "JV-Campus Individual Institution Box Usage Agreement" mutually. In the future, NCKU will offer online courses to global learners to enhance the sharing of higher education resources and extend the influences of scientific knowledge with partner universities.
UT and NCKU representitives singed the "JV-Campus Individual Institution Box Usage Agreement" on Feb 17th, 2023.
Japan Virtual Campus (JV Campus) has been subsidized by Japan Ministry of Education, Culture, Sports, Science and Technology since 2021, and UT is responsible for coordinating this program. Aiming to be the stronghold of global higher education, UT has created multiple and fascinated strategic subjects (lectured in English) to spread all over the world. Participating universities of JV Campus can introduce their history, courses, and research achievements through the platform. To date, 45 universities and organizations have participated in JV Campus to construct a boundless campus in the post pandemic era.
UT President
Kyosuke Nagata (the right) visited NCKU in person after President
Meng-Ru Shen's
(the left) inauguration.
Dr.
Kyosuke Nagata, president of UT, met Dr. Huey-Jen Jenny Su, the former president of NCKU and then sent congratulation to the incumbent president of NCKU, Dr.
Meng-Ru Shen. Both shared their exchange experiences of NCKU and UT. President
Kyosuke Nagata
expected to stimulate mutual aspirations of studying abroad, and mentioned that JV Campus aims to be a platform which leads higher education in Japan to the international stage. Besides, NCKU is the first international participating university of JV Campus; therefore, "NCKU and UT will have more academic collaborations to consolidate the bilateral relationship and to extend broader research areas," said
President Nagata.
NCKU President
Meng-Ru Shen (the left third) received the UT delegation.
During the meeting, President Shen shared anecdotes about his interaction with Japanese patients. He also referred to the upcoming 5-year expansion of NCKU hospital (from two to five branches), which will enrich the local medical service energies. Later, President Shen and President Nagata discussed the future cooperation between two universities. President Shen regarded "JV Campus" as an outstanding network which not only benefits students but also symbolizes a significant milestone, especially in the post pandemic era. President Shen said he felt excited when he learned the information of JV Campus, and he believed that joining JV Campus is an honor for NCKU.
At the end of networking session, President Nagata invited President Shen to attend the 50th anniversary of UT in this September and exchanged souvenirs. Both presidents expected the two universities will keep the positive partnership and looked forward to a sustainable development.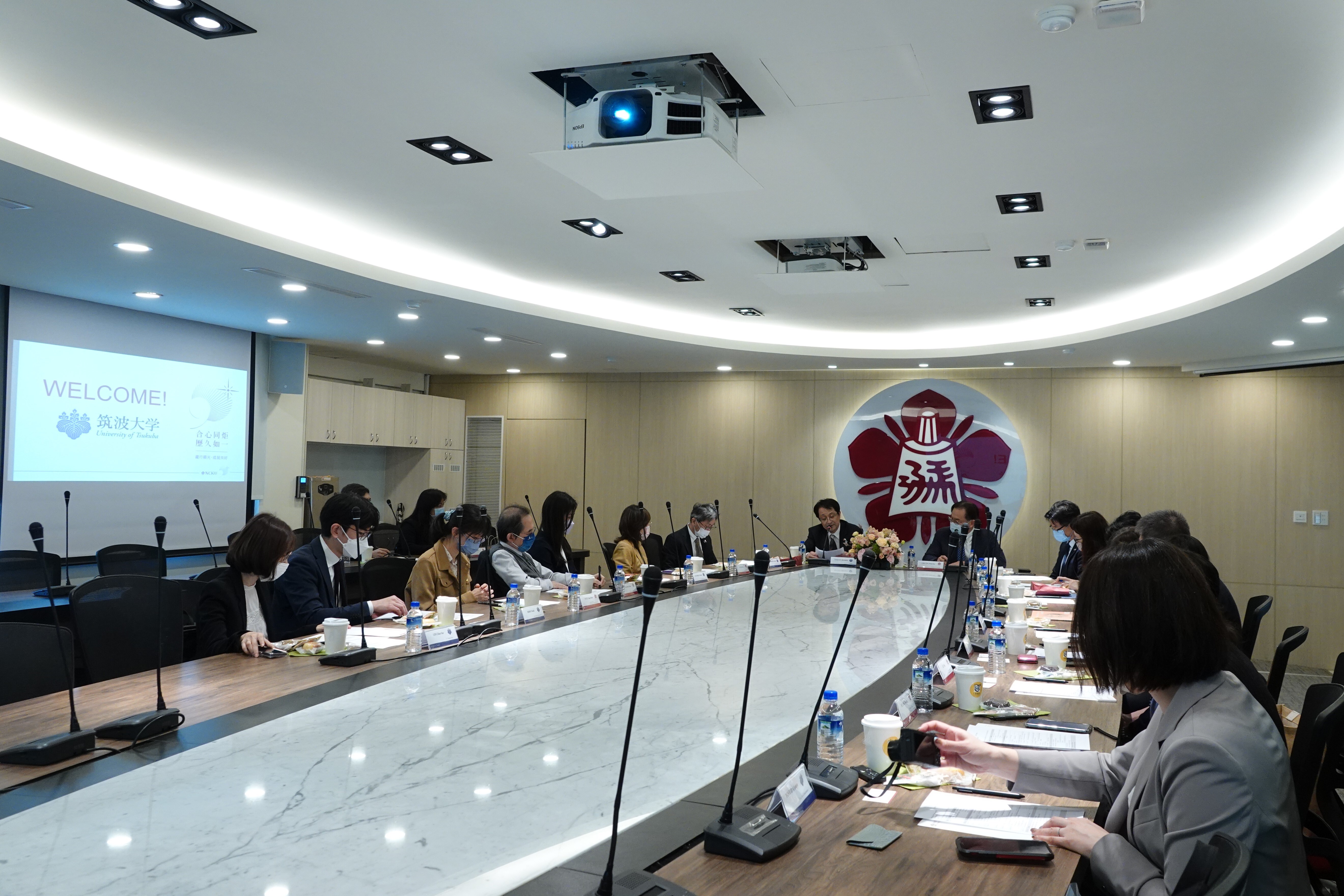 Scholars of NCKU and UT shared research achievements and status of development.
Focusing on the close link between UT and NCKU, NCKU Executive Vice President, Dr. Woei-Jer Chuang, Office of International Affairs Director, Dr. Charles Lin, Vice Dean for International Affairs of Medical College, Dr. Nai-Ying Ko, Vice Dean of College of Bioscience and Biotechnology, Dr. I-Ching Chen, Director of Society, Technology and Medicine Program, Dr. Hsiuyun Wang, Vice President of NCKU Hospital, Dr. Wen-Chien Ko, and doctor of Department of Internal Medicine of NCKU Hospital, Dr. Ling-Shan Syue, also attended the meeting to share achievements of research and to discuss the coming collaborations and dual degree programs.
NCKU President
Meng-Ru Shen (the left first) and the faculty members of UT discussed the status of development and coming collaborations and plans.
Integrating Tokyo University of Education, University of Tsukuba was founded in 1973. UT's main campus nears "Tsukuba Science City", and UT demonstrates its considerable accomplishments of industry–academia collaboration in Japan. In 2023, UT is ranked 312th in QS World University Rankings and 11th among Japanese universities. Since 2014, UT and NCKU has begun school partnership to promote interaction through strategic alliance, scholars and students' exchange and research cooperation. Within 5 years, scholars of both universities have completed 128 academic papers which generally related to physics and astronomy.
In addition to collaborating with international partners to foster
lifelong learning, NCKU has launched "N3learning: New, Next and Novelty," an online learning platform, since 2021. Lecturing in Mandarin, this platform contains 17 academic fields which include NCKU continuing education, USR-related courses (such as Labour Leaders University and University for Seniors), various substitute training courses for public and private sector or business organizations and is going to offer students and the public multiple and cross-field courses to explore learning vision, diverse knowledge, and essential skills.