New Chapter in Technical Education: The Affiliated Tainan Industrial Senior High School of NCKU Holds Plaque Unveiling Ceremony
Written by Hsu Tsu-Yueh. Image credit to NCKU News Center
The new school flag of the NCKU ATIHS symbolizes carrying on the past, braving ahead together, and creating a brilliant future.
After 10 years of negotiation, on August 1st, the former National Tainan Industrial Vocational School (NTIVS) officially became affiliated under National Cheng Kung University. A plaque unveiling ceremony was held, and the school was renamed "the Affiliated Tainan Industrial Senior High School of National Cheng Kung University," abbreviated NCKU ATIHS. NTIVS principal, original principal of the former National Tainan Industrial Vocational School, Qi-Chong Chen, took office as the first principal of NCKU ATIHS.
NCKU ATIHS honor guard performed at the plaque unveiling ceremony.
The existing Affiliated Senior Industrial Vocational Continuing Education High School (ASIVCEHS) of NCKU, with 85 years of history, now is merged into the NCKU ATIHS. With resource integration and sharing, the overall competitiveness of the two schools will greatly improve, further flourishing and becoming a paradigm of integration between university and technical education.
The plaque unveiling ceremony took place with a lively and joyful performance of the NCKU ATIHS honor guard and YongRen High School lion dance performance.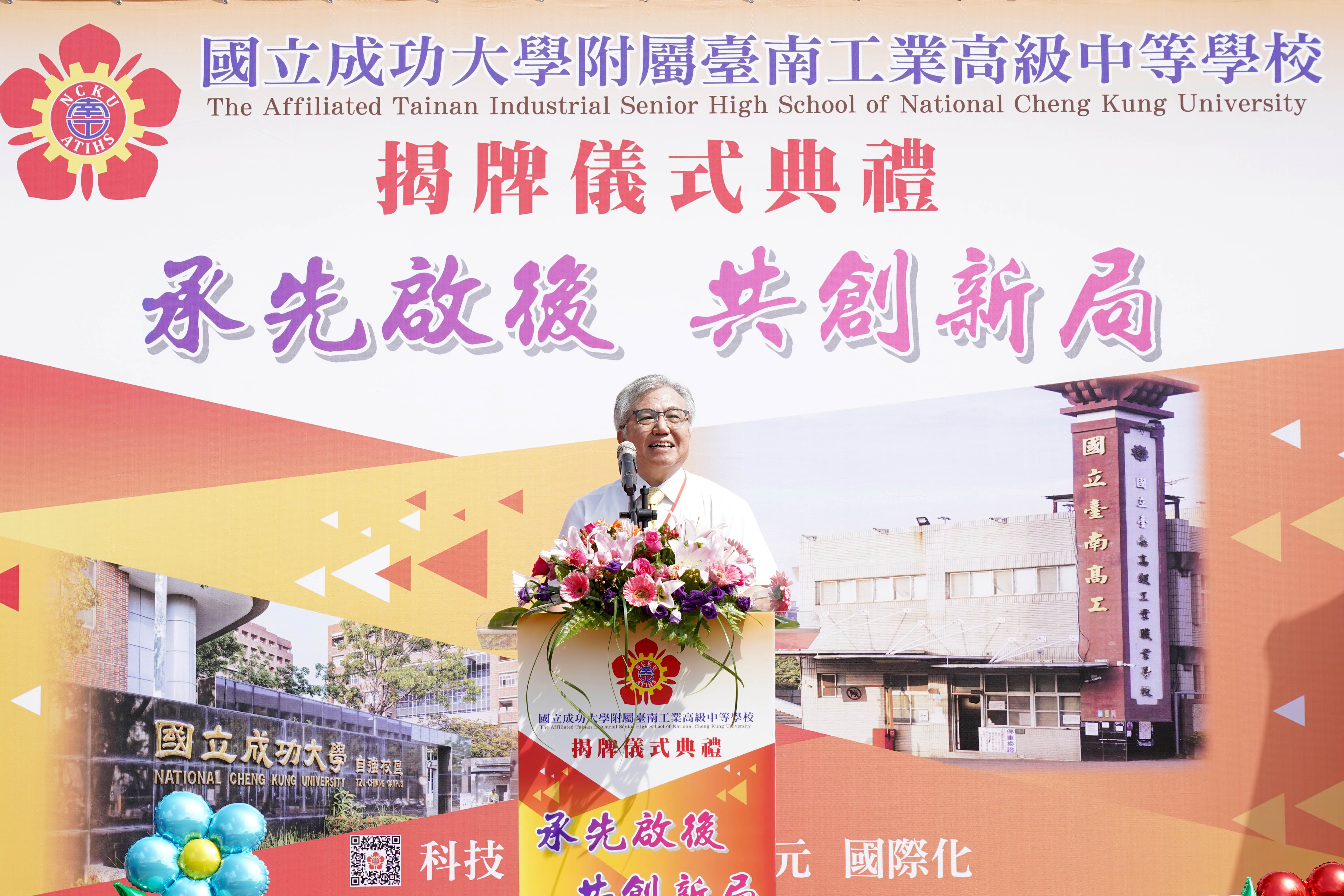 Executive Vice President of NCKU, Ching-Chang Lee, attended the NCKU ATIHS plaque unveiling ceremony on behalf of President Meng-Ru Shen
Executive Vice President of NCKU, Ching-Chang Lee, attended on behalf of President Meng-Ru Shen, and together with Principal Qi-Chong Chen and other honored guests, they unveiled the plaque, marking a new chapter. Subsequently, Executive Vice President Ching-Chang Lee and Principal Qi-Chong Chen jointly displayed the new school flag, symbolizing carrying on the past, braving ahead together, and creating a brilliant future.
Qi-Chong Chen, the former NTIVS principal, took office as the first principal of NCKU ATIHS
Taiwan Vice President Lai Ching-te sent his congratulations, stating, "Looking forward to leveraging the reorganization of school affiliations, harnessing the benefits of resource integration, innovating prospective and diverse teaching methods, nurturing outstanding technical talents, benefiting students, and embarking on a new journey."
Executive Vice President of NCKU, Ching-Chang Lee, stated in his speech that with six preliminary review meetings throughout the span of 10 years, the Ministry of Education finally officially approved the merger project on March 13, 2023. The decade-long effort has finally borne fruit. The merger project will establish an educational system that employs vertical integration, assists in the comprehensive development of southern Taiwan, continues advancing NCKU's state-of-the-art power in academics, boosts outstanding research and industry-academia innovations, enhances the cultivation of specialized technical talents, and fulfills social responsibilities in the field of lifelong learning, to lead to a win-win situation on all six fronts.
Shu-Fen Tai, Deputy Director-General of the

MOE K-12 Education

Administration (K12EA) expressed her gratitude for the successful merge. The anticipated benefits after the merge are promising and NCKU will lead ATIHS towards a better future with the continuous support from K12EA.
Huey-Jen Jenny Su, former President of NCKU, who has been supporting the merge project process, emotionally thanked everyone who contributed to the merger. She especially expressed gratitude to K12EA Deputy Director-General Shu-Fen Tai for her unwavering support and commitment. Professor Su pointed out that Tainan Industrial Senior High School's science and technology power have long been well recognized, and in the next stage, NCKU will focus on enhancing students' education in humanities, innovation, diversity, and internationalization, providing them with more opportunities and development prospects in the future.
Distinguished guests at the plaque unveiling ceremony.
Distinguished guests gathered at the plaque unveiling ceremony. The former Vice Premier of the Executive Yuan and a notable NTIVS alumnus and, Jong-Chin Shen, attended the ceremony. Deputy Mayor of Tainan City, Tse-Shan Yeh, Deputy Director of the Tainan City Bureau of Education, Kun-Yuan Wang, legislator I-Chin Lin, city council members Cheng-Hsuan Chu, Chao-Hui Huang, and Chung-Cheng Yang, as well as NCKU Senior Vice President, Ping-Sheng Wu, were also present. The event was attended by over a hundred distinguished guests, including principals from various high schools in Tainan, alumni of the National Tainan Industrial Vocational School.
Ching-Chang Lee stated that NCKU will provide NCKU ATIHS students with advanced anddiversified learning opportunities. This includes assisting in the development of feature curriculum that integrate emerging technologies into professional curriculum. University professors will lead projects and support to take part in science exhibitions. This approach aims to promote industry-academia collaborative innovation, and establish international connections. Through strengthening the connection of practical skills with theoretical knowledge, the school will expand the scope of professional learning, and in turn broadens international perspectives and enhances industry-academia collaboration, and transforms the school into one with distinctive teaching and first-rate standards in technical education. In the future, both schools will apply for research projects from national research institutions, government agencies, and the industry. There will be opportunities for industry-academia partnerships to maximize the effectiveness of education for the benefit of both industry and society.
NCKU will allocate an annual budget of 25 million NT dollars to NCKU ATIHS, including 5 million dollars designated for scholarships and campus development, and anotherwhile 20 million dollars purchasing teaching equipment, developing industry-academia partnerships, and enhancing academic affairs.
Sheng-Chih Shen, Vice President of Office of Academic Affairs pointed out that, following the ideal of cultivating talents at the grassroots level, starting from the fall semester of 2023, NCKU ATIHS students will have the opportunity to take NCKU module courses. These intensive and theme-focused curriculum will allow students to acquire essential fundamental knowledge, experimental design, and operational skills in a short period of time, thereby enhancing their interdisciplinary competitiveness.
NCKU will also support NCKU ATIHS to establish an experimental education program, adding tothe current "Program Design and Chip Development Applications" Plan. NCKU will provide full support with faculty and curriculum planning to effectively enhance students' learning outcomes and cultivate practical and innovative technical talents. Faculties from the NCKU ATIHS will be able to collaborate with NCKU professors in applying for research projects and publishing joint research papers.
As internationalization is now a global trend, the MOE begins promoting English-Medium Instruction (EMI). NCKU is currently actively training teachers to equip them with EMI capabilities. In the future, NCKU will also invite teachers from NCKU ATIHS to join the training program. NCKU has extensive experience in international exchanges and will welcome teachers and students from NCKU ATIHS to participate in international academic conferences or exchange events, offering the students opportunities to engage in relevant conference affairs at international conferences.
NCKU emphasizes that outstanding students from NCKU ATIHS can apply to universities in the nation, including NCKU, through the "special talent selection" admission process. In the future, NCKU will strive to secure slots for students taking the Joint College Entrance Examination, ensuring a transparent, fair, and open opportunity for technical high school students nationwide to enroll in NCKU.
Former NTIVS's application for merger with NCKU was agreed by board members of both schools in 2013. After more than a decade of negotiations and procedures, it was finally approved by the Ministry of Education in 2023.
Starting from August 1, 2023, ASIVCEHS will no longer accept new admissions. The existing faculty and students will gradually integrate into NCKU ATIHS. The current 24 teachers will be transferred to NCKU ATIHS in three years. The 26 administrators will be reassigned to relevant departments at NCKU within a three-year period. The first and second year students will continue their studies for ASIVCEHS graduation certificate. second or first year at the Affiliated Senior Industrial Vocational Continuing Education High School of NCKU will continue their studies at the original school until graduation.
Provider:
NCKU News Center