Ultrafast Laser Technology Applications Presented by NCKU, TSRI and Lithuanian Laser Association
Written by Mingchun Wu. Image credit to NCKU News Center
NCKU Executive Vice President Hong-Chen Chen at the International Conference for the future trend and application of ultrafast laser technology on September 12
"Having seen the global booming trends of application of ultrafast laser, Taiwan has jointed forced with Lithuania to establish the Ultrafast Laser Technology Research and Innovation Center, offering an opportunity for collaboration for researchers and industry in Taiwan," noted NCKU Executive Vice President Hong-Chen Chen (
陳鴻震
), at the International Conference of The Future Trend and Application of Ultrafast Laser Technology, organized by NCKU College of Science,
Taiwan Semiconductor Research Institute (TSRI)
, and Lithuanian Laser Association with its 14 corporate members, including Light Conversion, Ekspla, DMC, FTMC, etc. The international speakers were welcomed by NCKU College of Science Dean
Chin-Chun Tsai
(
蔡錦俊
), with hundreds of Taiwanese researchers.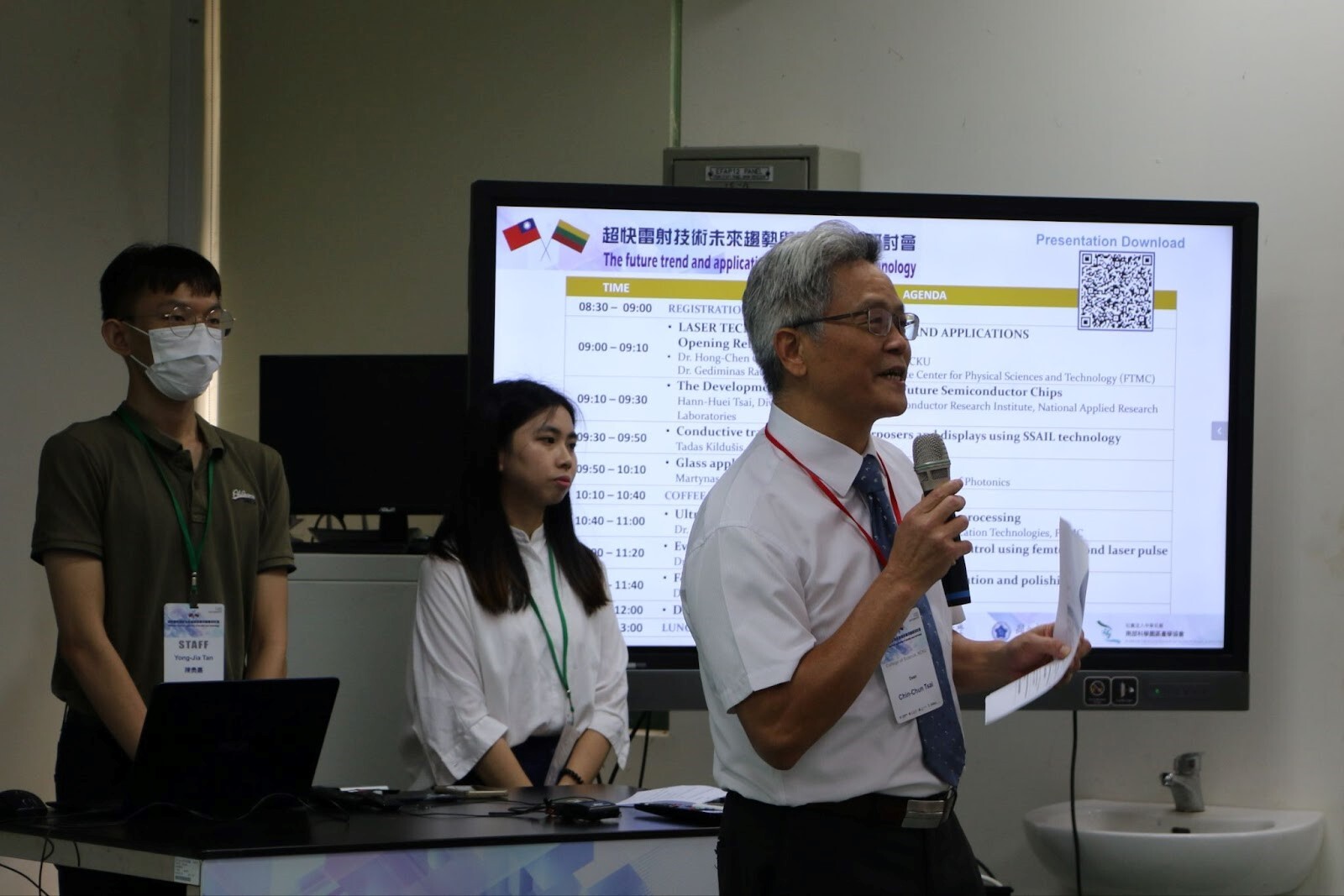 Welcome remark by NCKU College of Science Dean Chin-Chun Tsai (
蔡錦俊
)
"Lithuania is the world leader in ultrafast laser technology. Lithuania's laser technology and related products currently command a global market share of up to 80%," noted Dr.
Gediminas Raciukaitis
from State Research Institute Center for Physical Sciences and Technology (FTMC), and the head of the Lithuanian Laser Association. "The government and relevant enterprises have already invested 15 billion (Euros) in laser technology research and product development. This collaboration with Taiwan, specifically the establishment of the Ultrafast Laser Technology Research & Innovation Center in the South Campus of the ITRI, represents just one step in the partnership between Lithuania and Taiwan. In the future, there is a belief that more opportunities for sharing information and knowledge will arise, leading to mutually beneficial outcomes. National Cheng Kung University (NCKU), being the university closest to the Ultrafast Laser Technology Research & Innovation Center, is expected to serve as an excellent platform for facilitating interactions between both parties."
"An ultrafast laser operates by emitting extremely short pulses of laser light, and has a broad spectrum of applications in many fields,"
explained NCKU Associate Professor and deputy director of NCKU Meta-nanoPhotonics Center,
Pin-Chieh Wu
(
吳品頡
), referring to the definition of ultrafast laser by the journal of Ultrafast Lasers Technology and Applications. "The applications include materials science for studying optical properties and phase transitions, contributing to the development of innovative materials. In the biomedical realm, these lasers find utility in tasks such as cell imaging, optical microscopy, and the analysis of biomolecules, thereby assisting in medical diagnostics and treatments. The ultrafast lasers also have practical uses in high-speed communication and data storage, facilitating faster data transmission rates." Wu also presented the application of Nanophotonic Metasurfaces at the conference.
With laser applications as the focus, the presentations range from laser for semiconductor assembly process, ultrashort pulsed lasers in glass processing, to femtosecond laser for surface morphology, material ablation and advanced material processing. To download the presentation slides, please visit the event webpage by
NCKU College of Science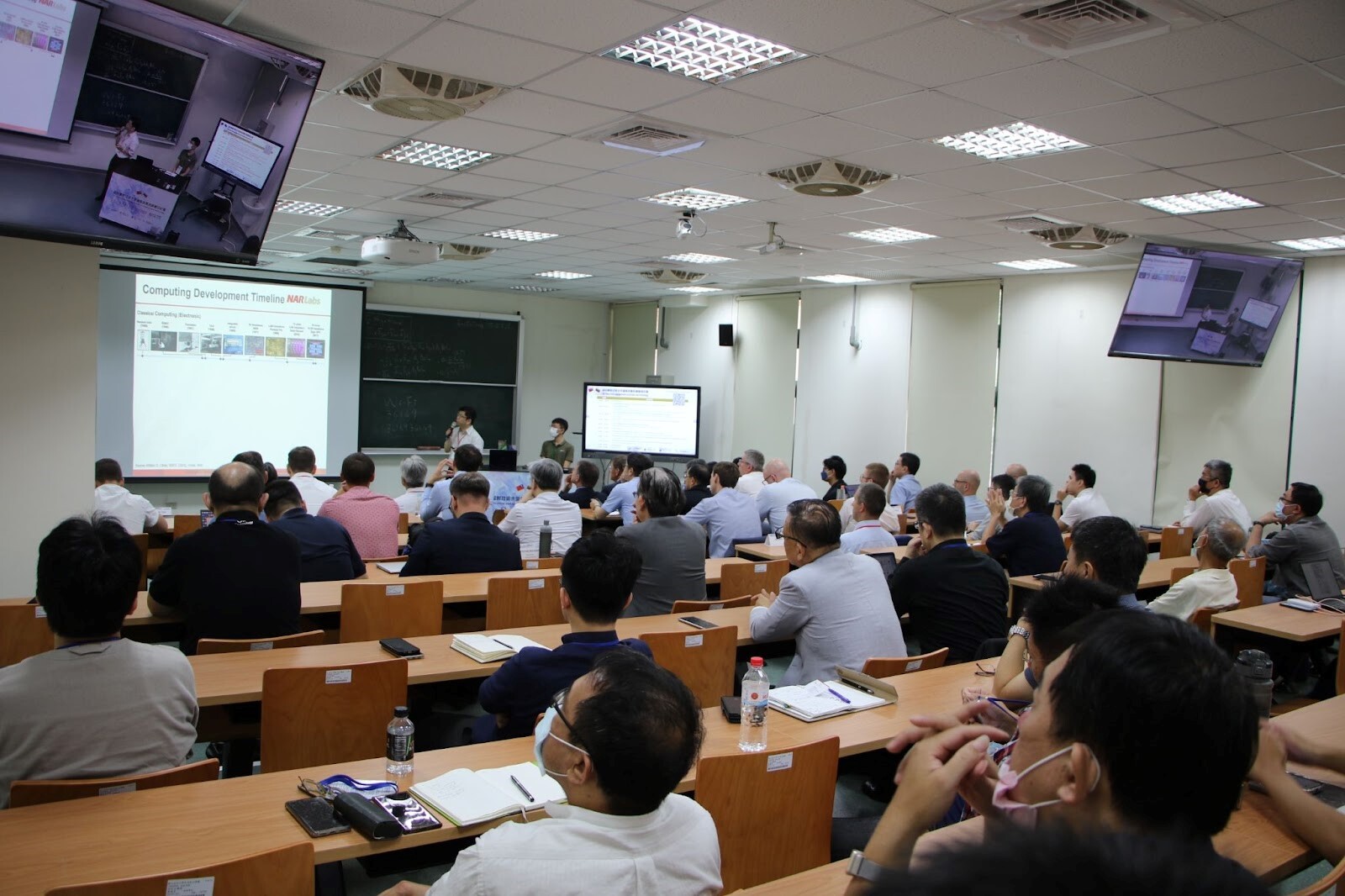 The development and challenges for future semiconductor chips was presented by TSRI director Hann-Huei Tsai (
蔡瀚輝
)
Provider:
NCKU News Center