NCKU Awards Honorary Doctorate to Renowned Expert in Alzheimer's and Anti-aging Dr. Gary W. Small
Written by Amber Tyan. Image credit to

NCKU News Center.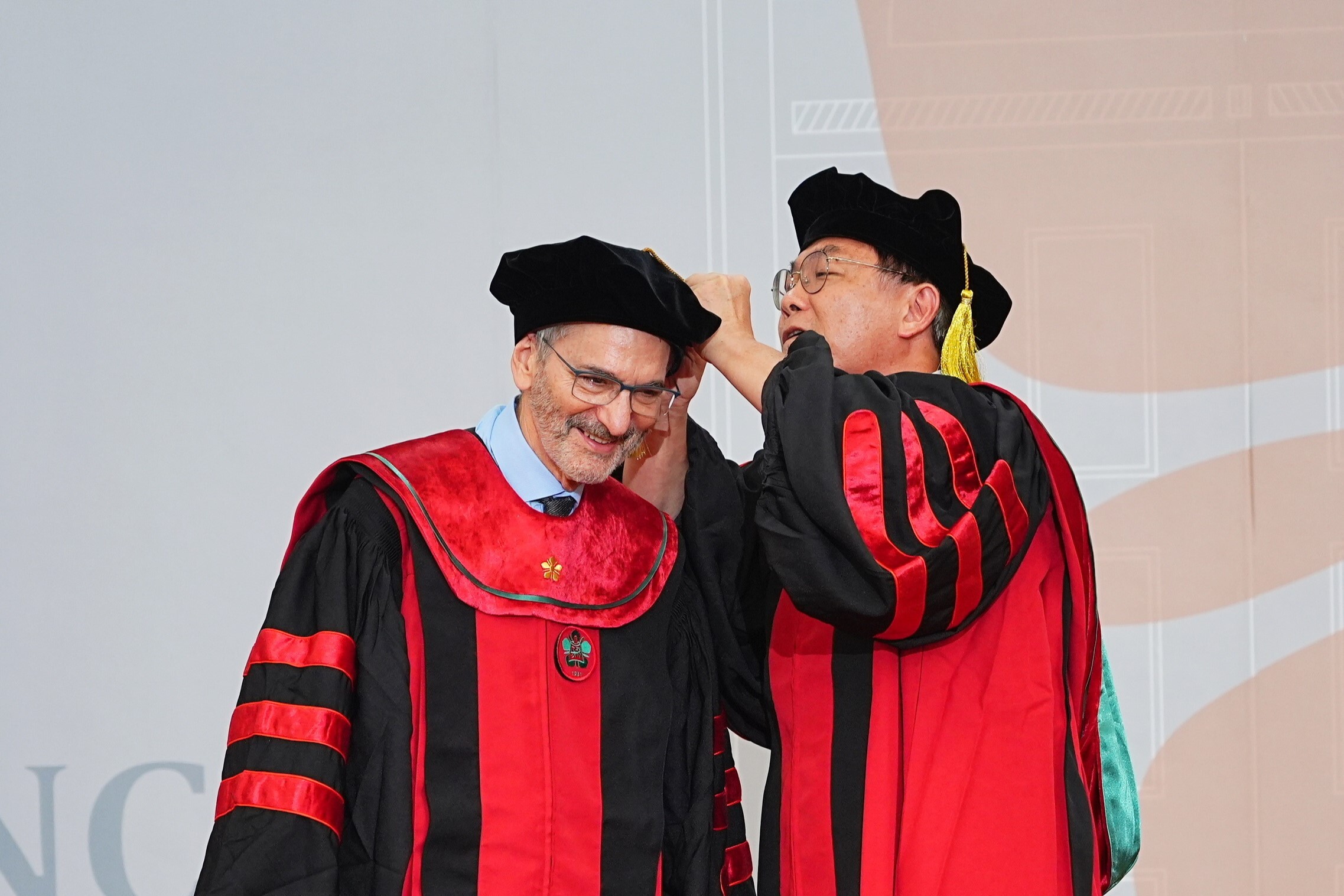 NCKU Executive Vice President Dr. Woei-Jer Chuang (right) awarded the honorary doctoral degree certificate to Dr. Gary W. Small (left)
On September 15th, NCKU held an
Honorary Doctorate Conferment Ceremony
at the Ge-Chi Hall of NCKU. NCKU Executive Vice President Dr. Woei-Jer Chuang presented and awarded the certificate to Dr. Gary W. Small, an internationally renowned expert in dementia and anti-aging. Dr. Gary W. Small has long been dedicated to research in the fields of brain function, memory, and dementia, authoring numerous books on brain health, memory improvement, and dementia prevention. In recognition of his outstanding contributions and impact in this field, he was awarded an honorary doctoral degree.
Following the ceremony, Dr. Gary W. Small delivered a special lecture and discussion session titled Detection and Treatment of Alzheimer's Disease. Several distinguished guests, such as Vice President of the Office of Academic Affairs Dr. Sheng-Chih Shen, Dean of the College of Medicine Dr. Yan-Shen Shan,

Director

of the Institute of Gerontology Dr. Ming-Chyi Pai, Chair Professor Dr. I-Jhen Su, and more attended the ceremony.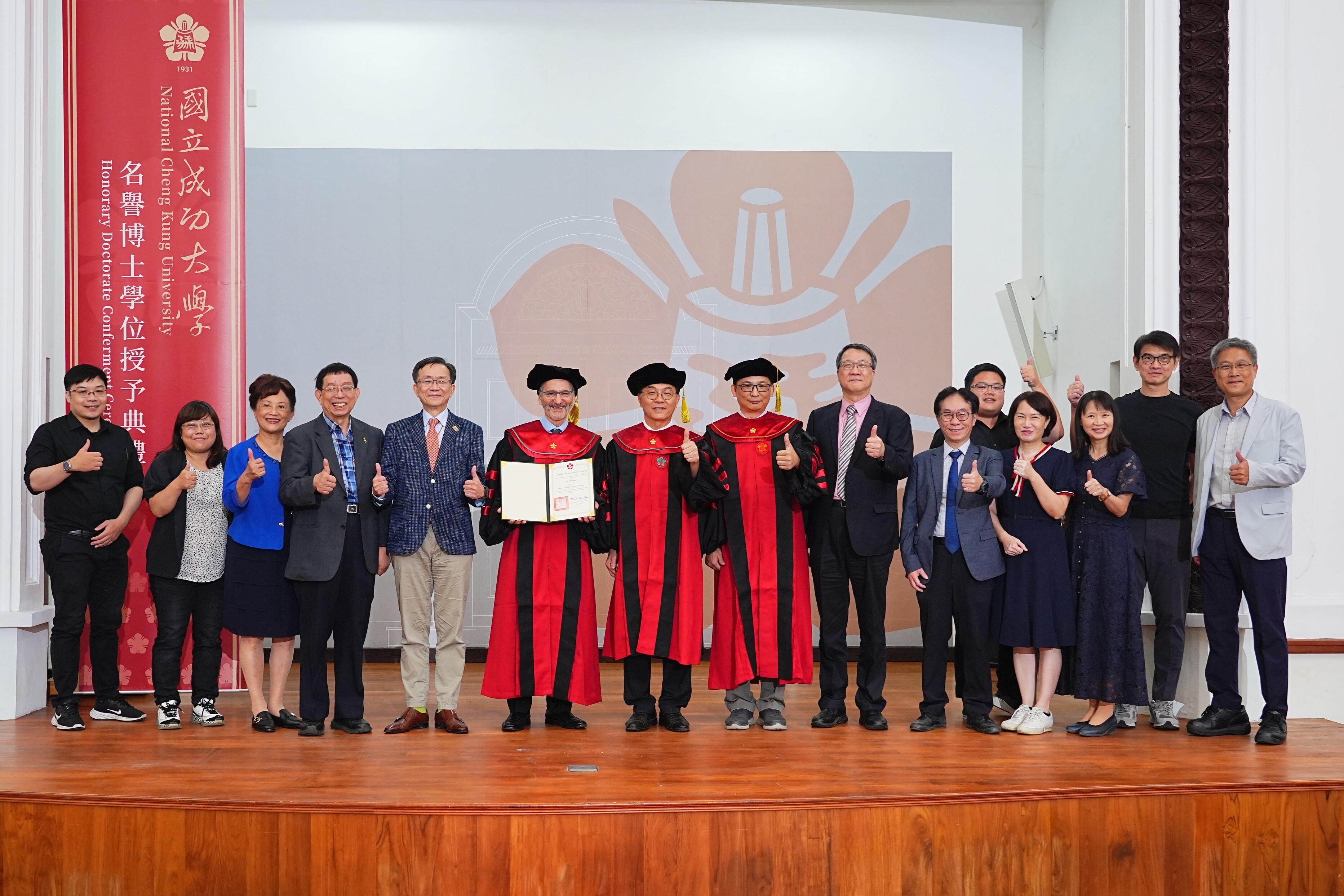 Group photos of guests at the

Honorary Doctorate Conferment Ceremony

for Dr. Gary W. Small
Dr. Gary W. Small has been a world-leading medical expert in exploring the mechanisms and treatment of Alzheimer's disease since 1990. He was the first physician to conduct Phase 2 trials confirming the effects of bioavailable curcumin on mild cognitive impairment and Alzheimer's disease (MCI AD), making significant contributions to the research and treatment of Alzheimer's disease in Taiwan's Merry Life TML-6. Small currently serves as a professor and Chair of Psychiatry & Behavioral Medicine at Hackensack Meridian School of Medicine and Chair of Psychiatry at Hackensack University Medical Center. He is one of the co-inventors of positron emission tomography (PET) technology, which allows the study of brain activity in different conditions and the effects of Alzheimer's disease on the brain, providing early differential diagnosis of Alzheimer's disease and other forms of dementia. In addition to testing compounds that may benefit cognitive abilities and potentially delay the onset of Alzheimer's symptoms, Small has also developed and promoted lifestyle interventions and memory training programs that improve cognition and promote healthy aging in clinics and senior centers throughout the world. These contributions have had a significant impact on research and treatment in the fields of brain health and dementia.
Dr. Gary W. Small has achieved remarkable academic success, having authored over 500 scientific papers and receiving numerous awards and honors, including the Jack Weinberg Memorial Award for Excellence in Geriatric Psychiatry from the American Psychiatric Association. Furthermore, he has been named as one of the world's top 50 innovative scientists by the Scientific American magazine, acknowledging his influence in the fields of science and medicine. Small is also the author of several bestselling books, including The Memory Bible: An Innovative Strategy for Keeping Your Brain Young, which was featured in The New York Times bestsellers list. His research and publications have contributed significantly to the public's understanding of brain function and Alzheimer's, benefiting public health and the quality of life.
Small delivering his special lecture Detection and treatment of Alzheimer's disease; presenting his research on brain health and treatment for Alzheimer's
"It is truly an honor for me to be recognized by the Honorary Doctorate Review Committee of the National Cheng Kung University (NCKU) to receive the Honorary Doctor of Medicine," Small said. "In my research over the years, I have found that the most significant scientific advances have come from team efforts, wherein scientists with a range of expertise and backgrounds bring their own perspectives to addressing specific research questions. For complex conditions like Alzheimer's disease, which affect many different aspects of brain structure and function, such collaborative efforts are particularly important."
"Throughout my career, I have been fortunate to engage in scientific collaborations with colleagues throughout the world and have very much valued these interactions. I look forward to future collaborations with NCKU to encourage international partnerships to advance studies of healthy aging and treatment of age-related cognitive decline."
After the conferment ceremony, Small held a special lecture titled Detection and Treatment of Alzheimer's Disease as an opportunity for further exchange and sharing of insights at the International Conference Hall on the Kuang-fu Campus, followed by an international scholar symposium hosted by Dr. Ming-Chyi Pai,

Director

of the Institute of Gerontology, Dr. I-Jhen Su, Chair Professor and founder of Merry Life Biomedical Company.,Ltd., featuring discussions with Dr. Yu-Min Kuo of the Department of Cell Biology and Anatomy and Dr. Jing-Jy Wang of the Department of Nursing.
Provider:
NCKU News Center