Circuits and Systems Technology Feast in Taipei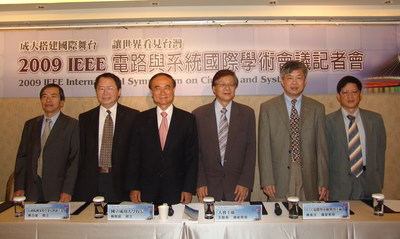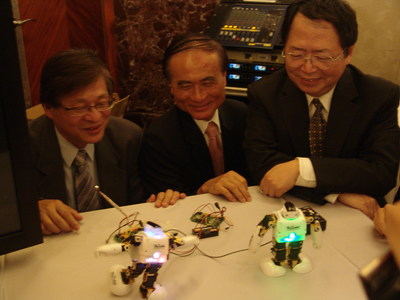 Taipei, TAIWAN, May 22, 2009 --- Sponsored by the IEEE Circuits and Systems Society and hosted by the National Cheng Kung University (NCKU), the IEEE International Symposium on Circuits and Systems 2009 (ISCAS 2009) focusing on "Human Centric Smart Living Technologies " will be held in Taipei International Convention Center from May 24 to 27, 2009. ISCAS 2009 is deemed as the world's premier networking forum of leading researchers and engineers from the highly active fields of circuits and systems. Through organizing this most eminent symposium and introducing it into Taiwan for the first time, NCKU has not only revealed the university's research momenta and international leading position in academia, but has also tremendously boosted Taiwan's visibility worldwide.

The Institute of Electrical and Electronics Engineers (IEEE) is the world's largest technical professional society, especially in electrical and electronics engineering and computer science. The IEEE Circuits and Systems Society (CAS) encompasses 19 important technical areas including VLSI, IC design, power electronics, multimedia systems and applications, electronic circuits, digital signal processing, biomedical engineering, computer vision, communications, multimedia systems and applications, etc.

Being one of the largest conferences held in Taipei for the year 2009, ISCAS 2009 attracts participation of over 1000 researchers, professionals, and experts from 38 different countries, including USA, Canada, UK, Spain, Japan, Singapore, etc., coming to Taiwan to share and exchange their most advanced and recent research achievements and experiences.

This year's conference program includes keynote speeches, lectures, posters, and special sessions, together with the newly added live demonstration and exhibitions. A total of 1631 papers from 49 different countries were submitted to 17 regular tracks, from which 734 papers were carefully accepted. Such a 45% low acceptance rate, the lowest in recent years, does reveal the relatively high quality of these accepted papers. These papers were organized into 88 lectures and 43 poster sessions distributed over the three-day conference. In addition to the regular technical programs, fourteen special sessions in prospective research areas, including two sessions organized by the IEEE GoLD and Technology Management Council, are also planed. Furthermore, in order to vividly animate state-of the-art research works in the most exciting and emerging areas within broad areas of circuits and systems, the ISCAS 2009 technical program has also innovatively incorporated a new track for live demonstration. NCKU will definitely play a key role in the introduction of these pioneering technologies into Taiwan with the aim of providing creative and beneficial developmental bases for domestic high-tech industries.

During the ISCAS 2006 meeting in Kos Island, Greece, under the leadership of University Chair Professor Jhing-Fa Wang, the NCKU team had actively and successfully bidden the privilege to organize the ISCAS 2009. Faced with severe competition from several outstanding teams from other countries, NCKU has nonetheless, after relentless endeavor and with an excellent proposal, won the opportunity for ISCAS to be held in Taiwan for the first time. Much like the Olympic Games, the selection of the organizing team and conference site indicates the recognition of Taiwan's research and industrial strength in circuits and systems.

Dr. M.C. Michael Lai, the President of NCKU, claimed that ISCAS 2009 offers a platform where all representatives and attendees from the fields of circuits and systems technology can share their research achievements with an aim to foster technological innovation and excellence for the benefit of humanity.

President Lai anticipated that the interactions among participants in exchanging experiences through the conference's technical programs could actively escalate Taiwan's research and development competence in these related areas, such as electronic circuits, digital signal processing, multimedia, biomedical engineering, computer vision and communications, resulting in considerable influences and contributions in both academia and industry domestically and globally. "ISCAS 2009 will also increase the visibility of Taiwan worldwide. The novel research outcomes of all participating experts from different countries will especially be inspirational for the next generation researchers domestically ", added President Lai.

Having brought ISCAS 2009 to Taiwan, the General Chair of the ISCAS 2009, University Chair Professor Jhing-Fa Wang anticipated it in demonstrating Taiwan's extraordinary research and developmental achievements both in industry and academia to the international community, and envisioning the formation of strategic alliances and international affiliation.

Professor Jhing-Fa Wang, the General Chair of ISCAS 2009 further stated that under the impact of the global economical crisis, many manufacturers are facing dilemmas that were never encountered before. This again reveals the significance and eminence of Taiwan's electronics and optoelectronics manufacturing industry in expediting the economical growth of our country. Hence, during the sluggish economical recovery, elevation of technical capabilities and levels in the electronics industry together with collaboration in research and developmental innovations from all perspectives should become the major direction of efforts.

Furthermore, the main purpose and multiple objectives of holding the ISCAS 2009 in Taipei includes the encouragement of international collaboration between research institutes and industry; elevation of Taiwan's research and practical application capabilities in areas of IC design, power electronics, multimedia systems, electronic circuits, digital signal processing, multimedia, biomedical engineering, computer vision and communications; adopting advanced know-hows through the information conveyed through international conference; providing opportunity for top notch researchers in interaction and exchange of most recent and advanced research experiences and directions, and to cope with the industrial development of Taiwan.

Being the theme of ISCAS 2009, "Human Centric Smart Living Technologies " is also the leading paradigm for future technology. This year's conference emphasizes on the seamless weaving of technological innovations into human lives by initializing cooperation among global IT industries and efficiently distributing the most concurrent information during this conference. Here in Taiwan, the ISCAS 2009 will bring together scholars, experts, and professionals in conveying knowledge and latest research achievements. To catch the wave in this trend as technology continues to evolve towards future smart living, you are cordially welcomed once again to join ISCAS 2009 and experience the futuristic life style in Taipei!

About Circuits and Systems Society (CAS) from official website
The purposes of the Society are scientific, literary and educational in character, directed toward the advancement of the theory and practice of electrical, electronics, and allied branches of engineering or the related arts and science, in order to increase the professional standing of the Members and Affiliates.

About National Cheng Kung University:
With three quarters of a century of distinguished history, and with well over 120,000 powerful alumni now dotting the globe, National Cheng Kung University in Tainan, Taiwan, has evolved from its engineering genesis to become a powerful comprehensive, research and international university in Asia Pacific.
NCKU boats some of the biggest and brightest stars in the arts, the business world, education, science, technology and healthcare.
With 20,000 academic selective students and 1,100 significant academic faculty members NCKU has both a healthy dose of international flavor, enormous regional support.
NCKU has a rapidly growing culture of proactive intellectual growth on the world's stage.