NCKU and University of Houston Sign MOU in Academic Collaboration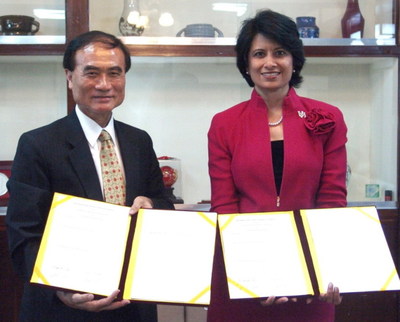 The President of University of Houston (UH) and also the Chancellor of the UH System and, Dr. Renu Khator, visited Academician Michael Ming-Chiao Lai (賴明詔), the President of NCKU, and together signed a memorandum of understanding (MOU) in academic collaboration to strengthen future collaboration opportunities between the two universities. In the early stages, each university will send six exchange students to study abroad, and develop new possibilities of collaboration in academic research.


President Renu Khator was born in India. She is the first female President of the University of Houston, and also the first Indian-American President to lead an important university in the United States. She is a graduate of Kanpur University, and received her master's and Ph.D. degrees at Purdue University. She is a world-renowned scholar in environmental politics.

Prior to the agreement ceremony, President Khator, with her husband Suresh Khator had a tour around NCKU campus and museum, followed by a meeting with NCKU President Lai at 11 am. President Khator was deeply moved by the museum presentations of Purdue-NCKU (Formosa) Project in the U.S. Aid Period and A Glance of Professor Su Xue-Lin's (蘇雪林) Study. She praised the NCKU campus for its beauty and scenery, and the school itself as being a great university. This was her first time in Taiwan, and the green culture and advanced technology have given her an outstanding impression. She expressed her confidence that the academic collaboration memo with NCKU will help lead a successful, long-term relationship between the two universities.

As an Indian-American, she especially mentioned the uniqueness in diversity of cultures among students at UH. Every research team consists of students of different nationalities working together in collaboration. UH specializes in energy research, and has produced distinguished results with the help of special funding. On this point, President Lai mentioned that NCKU has a government funding of five year, 50 billion NTD (5Y50B) towards research in environmental energy. Both presidents agreed that environmental energy may be a common ground to work towards.

The content of the academic collaboration MOU between the two universities includes efforts from both sides to establish a collaboration foundation on an international level, and build academic exchange relationships. It includes having instructors from both universities design courses together, new dual-degree programs, and possibilities of various academic events; the universities may exchange faculty members, staff, and students, inviting scholars to present lectures, participate in team research, teach classes, exchange learning materials and publications etc.