"Show the warmth and touch the heart" President Lai met parents of freshman at Sep 12, NCKU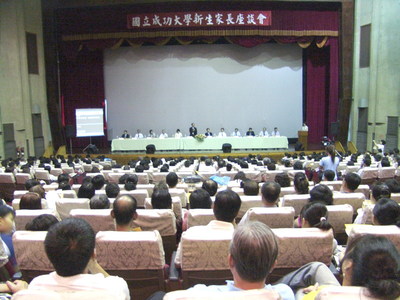 Tainan, TAIWAN, September 12, 2009 --- The NCKU President, Academician Michael Ming-Chiao Lai (賴明詔), attended the Freshman Parents' Day at the Cheng Kung Hall, Kuang-Fu Campus on September 12th to show the warmth and the highest respect to all the parents. There are more than 1000 parents present and packed all around the hall. The two sides discussed on the National Cheng Kung University's learning environment, students' future academic performance, accommodation and an extensive exchange of views on security issues. President Lai answered thoroughly all questions raised by the parents. Along with President Lai, there were senior academic administration staffs attending the dialogue, which included Prof. Bih-Ching Shu as the Vice President of Student Affairs, Prof. Ming-Jer Tang as the Vice President of Academic Affairs, Prof. Chi-Chuan Hwang as Deputy Vice President of Academic Affairs, Mr. Guo-Lang Hung as the Secretary and Deputy Vice-President of General Affairs, deans from academic colleges, etc.

"NCKU is one of the top universities in Taiwan and indeed a comprehensive university. Only the very top 5% students in Taiwan can get their opportunities to study in NCKU, and all of your kids must be very excellent and smart", said President Lai. NCKU provided so many resources such as advanced national-scale research centers and laboratories to support the teaching and research environment for all the students. Moreover, students graduated from NCKU mostly will possess excellent competence to ensure their career success in Taiwan and in the world.

NCKU, Taiwan really appreciates and cares about the communication between parents and university. NCKU is the only university in Taiwan to have organized the Parents' Day in such a large scale. With more than 30 years of teaching in the prestigious University of Southern California and his deeply appreciation on the significance of the Parents' Day, President Lai really emphasized on the importance of free communication between parents and university. "It's not only to hold the Freshman Parents' Day before the beginning of each academic year, but also the Parents' Day in the middle of semester mostly in Taipei, Taichung and Kaohsiung every year since I have been the President of NCKU two years ago," said President Lai. There were only around 400 parents attending the Parents' Day three years ago, but more than 1000 parents present earlier this year, which really showed importance of having such Parents' Day by NCKU and recognition from our parents that always cared about every aspect of lives and learning of their children in NCKU, Taiwan.

Besides that, President Lai commented strongly that education in NCKU, Taiwan is indeed successful and, hence, NCKU graduates have been extensively appreciated and recognized as the best employee and have gained high reputation especially in teamwork spirits, excellent technical competence, active learning and cultivation of cultural literacy in Taiwan according to the annual survey from Global Views Magazine (GVM). There is no doubt that the National Taiwan University (NTU) is always on the first choice of most high school graduates. However, after four-year of tertiary education, NCKU graduates have been recognized as the same as those NTU graduates, which also reflects the educational success of NCKU.

"The higher college system in the 21st century is quite different than before. Except learning the professional knowledge and skills, all the students need to excel and succeed in cultural literacy cultivation. Good cultural literacy cultivation does not only mean reading and studying lots of literature and art mentally, but also possessing a positive attitude to interpersonal skills and caring about others", said President Lai. The mission of education in NCKU, Taiwan is really to bring up the students with both excellent at professional skill and cultural literacy.

President Lai commented strongly that it is an important stage for younger generation to enter university. It is really a turning page for our younger citizens to study for their tertiary degrees. At high schools they were well protected by their guardians and studied hard to pursue their good performance for university entrance examination. However, they would encounter quite different educational scenarios in college. They have to be independent not only in their learning with active attitudes, but also in their everyday lives. "All of you might be quite uneasy and fidget about your children after they left home for their college lives in NCKU. I would petition all of you for your kids to have more space of their own for their active learning in NCKU", commented President Lai. In addition, President Lai reiterated the assistance from NCKU to alleviate the financial burdens of parents, if any, for example, issues arising from the lately global economy crisis. All parents should be free of fears and worries about their kids in contracting the pandemic H1N1 swine flu, since NCKU has already adopted proper measures. All parents should let go their children for learning and living in NCKU.

During the panel discussion of Freshman Parents' Day with all senior academic administration staffs, many parents raised questions and suggestions about NCKU, such as the improvement and upgrades of university dormitories, traffic issues inside NCKU campuses, to shut down the internet connections in dormitory to avoid Internet Addiction Disorder (IAD), and to post the students' academic scores and lecture attendance on the webpage directly, and so on. In his response to issues of shutting down the internet in university dormitories and public posting students' scores and attendance, Academician Lai could not agree and encouraged parents to let go their children, since college lives enables their children with opportunities of learning how to manage their own college live and how to be responsible for themselves. Of course, still NCKU will closely watch all students, especially freshman, to ensure they are on the right tracks toward their excellence in NCKU.

Regarding to the question of university advancement, President Lai reported that NCKU ranks in between 200th~300th worldwide in comprehensive evaluation, and the 101st in Webometrics Rankings of World Universities conducted by the Spanish National Science Council, which is only second to National Taiwan University (NTU) among all Taiwanese universities. However, in rankings of specific subject fields, NCKU's College of Engineering exceeds that of NTU and ranks the 30th globally according to the assessment conducted by the Higher Education Evaluation and Accreditation Council of Taiwan. A recent study by the new methodology developed by Elsevier, one of the oldest and largest publishers in scientific journals, magazines and education textbooks, revealed that NCKU has ranked the 19th worldwide in alternative energy research based on a new methodology for identifying multidisciplinary research leadership. NCKU is the only Taiwanese university advancing in the top 25 in this category. Moreover, according to statistics resulted from 2009 Essential Science Indicators database from Thomson Reuters, NCKU's materials science ranks the 52nd worldwide, together with the 30th in global ranking for engineering. All of these NCKU's performance is no doubt leading all Taiwanese universities, including the National Taiwan University.

President Lai commented that University of Hong Kong and National University of Singapore are more well-known than National Cheng Kung University owing to their more public image in international community, which does not mean that NCKU performs inferiorly than both universities. Indeed, their internationalization is much better than NCKU, leading to a higher international recognition. Hence, NCKU will make all efforts to upgrade level of internationalization in NCKU to earn appreciation duly. Accordingly, NCKU will encourage cooperative researches between NCKU and overseas prestigious institutes, students on exchange programs to overseas prestigious institutes, to improve English-friendly environment in NCKU to attract more international students, to enhance English comprehension and proficiency of local students, etc.

To answer the question raised by parents on when to have a building solely for electro-optical science and engineering, President Lai quickly answer "no, at least no in the near future". Instead, President Lai explained that the future buildings in NCKU campuses will not be built especially for a specific program, but for interdiscipline to promote close collaboration and dialogues inter-disciplinarily. President Lai also took the soon-to-be-finished building for social science, which will not house the College of Social Sciences only, but also other related research centers. That is, if there is any of this kind, the building will not be built for Department of Electro-Optical Engineering and Institute of Electro-Optical Science and Engineering, but for all optoelectronic related research and academic units in NCKU.

In response to issues on upgrade of university dormitory and traffic inside NCKU campuses, Prof. Shu, the Vice President of Student Affairs, guaranteed that the non-air-conditioned Kuang-Fu Second Dormitory, though with pros and cons on air-conditioning units, will be refurbished with air-conditioners by next summer, and restated that more traffic safety measures will be adopted to make sure of students on-campus safety.