Dream up!! NCKU 3000 freshmen create their future at Sep 13, NCKU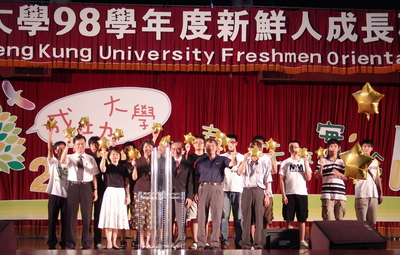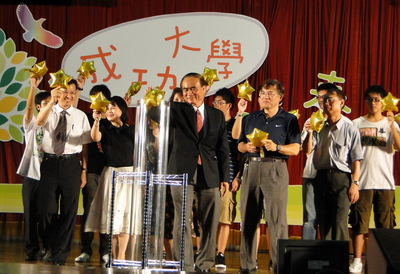 Tainan, TAIWAN, September 13, 2009 --- Whether to have successful careers and happy lives beyond your colorful college years really depends on how much you have done and how hard you have worked to realize your youthful dreams. There were around 3000 freshmen together writing a letter to themselves to bring a hope to create their successful futures at the Chung-Cheng Hall, Kuang-Fu Campus on September 13th. They carefully fold the stars as their dream wishes to be realized during the next four years of lives in NCKU, and throw in the glass wish tubes, under the witness of the NCKU President, Academician Michael Ming-Chiao Lai (賴明詔), Prof. Bih-Ching Shu (徐畢卿) as the Vice President of Student Affairs, Prof. Ming-Jer Tang (湯銘哲) as the Vice President of Academic Affairs, and Prof. Jing-Wen Chen (陳景文) as the Vice President of General Affairs.

President Lai (賴明詔) personally had a dream and a good wish for all freshmen. He encouraged all the freshmen to open their minds and become more internationalized to compete with others around the world when they graduated from NCKU four years later.

Vice President of General Affairs Chen (陳景文) promised to build up a safer, more comfortable, and more convenient campus. He commented that all freshmen need to take care themselves well especially in the traffic when riding motorcycles and bicycles. At last, he also encouraged all the students to write an email to him if they had any problem.

Vice President of Academic Affairs Tang (湯銘哲), well-known for his cultural literacy, personally wrote a dreaming poem to all freshmen mentioning that there are two levels of meanings in dreamboat: to build it up and to pursue it for its realization. There was a poem written by Prof. Tang for all freshmen as follows: "After 20 years of colorful youth life, 3000 freshmen get together to build up and pursue their dreams with a hope to make all dreams come true"

Vice President of Student Affairs Shu (徐畢卿) commented that college education is a specific and important step for all the freshmen to set up and decide their future lives. NCKU provided the excellent learning and experienced environment for everyone to create their dreams. "All freshmen could view yourself of any difference from others and not to minimize yourself even you are the freshman. You could think of that what you will be in four years and what you have to prepare before that," said Vice President of Student Affairs Shu.

President Lai made a truly heartfelt speech at the orientation to welcome all NCKU freshmen of Class 2013. "All of you will reflect the further achievement of NCKU, and hence, I personally show my highest sincerity to welcome all of you. You will need to learn how to be independent, determinative and responsible for yourself, when you enter the university, which also indicates that you are becoming mature enough to get away from the big protection umbrella of your parents. However, if you are only fooling around in the university during your college life, without doubt, the society, your family, your friends and even yourself in the future will be so disappointed with you. University life is often the shaping age. You will have to figure out what you want to learn from NCKU, and decide what you want to do after you graduated from NCKU," said President Lai.

NCKU is one of the two comprehensive universities in Taiwan and considered as one of the best Taiwanese universities. It is really great honor of you to become a NCKU student. The NCKU's motto is "pristine practicality", namely working hard and trying the best even down-to-earth to get truth and knowledge. That is, all NCKU students are encouraged to actively learn how to pursue the truth even down-to-earth. This has been a tradition of NCKU since its establishment in 1931. As NCKU students are educated with hard-working and team-work spirits, NCKU graduates with excellent competence and outperformance have been regarded as the best employee by entrepreneurs in Taiwan. That is, "NCKU" is like a work voucher for all NCKU graduates.

However, in addition to the spirit like NCKU's motto you possess, you still have to have technical competence and capability in internationalization in order to have your successful career in the 21st century. Your competitors are not only from Taiwan, but all from all over the world. It is not always enough at all to have the intellectual development through relentless exploration in knowledge in the 21st century. You have to take every moment of yours during your life in NCKU to learn and to reinforce yourself with more competence.

President Lai brings up four qualifications to encourage all the freshmen prepared well as bellows. First of all is to excel and succeed in cultural literacy cultivation. Except learning the professional knowledge and skills, all the students need to excel and succeed in cultural literacy cultivation. The most important part of good cultural literacy cultivation is to possess a positive attitude including building up interpersonal communication skills, in possession of a good life attitude and an interconnected social contact and network.

Second is in possession of interdisciplinary knowledge, namely to study any area outside your own major. President Lai took an example from Mr. Steven Jobs, the Chairman, CEO and co-founder of Apple Inc., at his keynote speech mentioning that the most influential course of his was not from electric engineering or computer science, but from art, which totally changed and reshaped his idea and mind. There are so many art and literature activities in NCKU with the cultural atmosphere. All kinds of delicacies can be savored on and off campus.

Third is internationalization. It is not only getting a job after you graduated and staying in Taiwan without noticing any stuff around the world, since your competition may come from all around the world. You need to be capable of communicating with others from the world. It is essential to have a good proficiency and learning skills in international languages. Out of international languages, you need to actively study English that is currently the most dominative language in the world. Hence, NCKU would promote a more English-friendly campus and to create a more internationalized campus.

Fourth is the ability to take care of the society. For example, catastrophic damage caused by Typhoon Morakot especially in the Southern Taiwan has evoked our concerns on environment and even our attention in participation of environmental remediation and society reconstruction. We have to walk beyond our close realm to care more of our people.

Besides those four qualifications, you will insist to have your own principles in "truth and honesty" as well as self-responsibility, and do not compete with others but yourself. The next is to peruse your own dream forever, keeping seeking what you like and what you want no matter if it is popular, mundane or not, as long as you understand what you want, and finally making it realized. If you are doubtful of your subject, and you could transfer to the other program once you are interested in. You will experience more and leave your foot steps as long as you went through. Moreover, all of you need to have a healthy body with frequent and regular exercises as well as a regular daily life. Healthy body is the basic of your life.

NCKU, Taiwan is one of the two comprehensive universities in Taiwan besides NTU. It is a great honor to study in NCKU. NCKU's school motto of "pristine practicality" is to search the truth and be the spirit of insisting on getting to the bottom of the matter. All the students are deemed as honesty and moderation, possessing professional skills, team-work spirit and diligence as the tradition of past 70 years had earned the reputation of the first choice among hiring managers or the enterprise's (industry's) favorites.

There are 3,042 freshmen in National Cheng Kung University. NCKU hold "2009 Freshmen Orientation" before starting the new semester at September 14th. There are more serial events at the Zero Week including "Experiment of Youth for the future" to welcome all freshmen, teaching the song of university, life overview in NCKU from part1 to part 5, fire control promotion, remind from all seniors, Clubs welcome party and etc.

Experiment of Youth for the future broadcasted the wishes video from all seniors, and shared with all the freshmen that there are four elements to be a real NCKU person which are professional knowledge, diverse study, time management and relationship with people, and integrate the among four elements to accumulate the result and research yourself inside for the next four years.

President of National Cheng Kung University Student Union, Mr. Lee commented that life is an experiment by never-end try to go through the improvement. It depends on how much you want to change and improve, and it will show up in your future life.