2009 International Academic Conference on Min Nan Culture kicked off in NCKU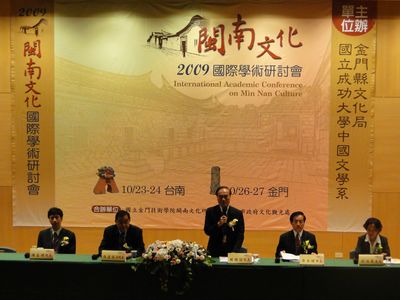 Tainan, TAIWAN, Oct. 23rd

"2009 International Academic Conference on Min Nan Culture" kicked off at 9am, Oct. 23rd at the Conference Room in the Library of National Cheng Kung University (NCKU). It was organized by NCKU Department of Chinese Literature and Culture Affairs Bureau of Kinmen County, and co-organized by Graduate Institute of Culture and History of South Fujian (Min) of National Kinmen Institute of Technology (KMIT) and Dept. of Culture and Tourism of Tainan City Government. NCKU President, Academician Michael Ming-Chiao Lai (賴明詔), attended together with Mayor of Tainan City, Mr. Tain-Tsair Hsu (許添財), as well as Prof. Da-Hsuan Feng (馮達旋) as the Senior Executive Vice President of NCKU, along with about 300 scholars and attendees from China, Hong-Kong, Malaysia, Singapore, Vietnam, Japan and Canada. The main theme of this conference is to promote and appreciate the tradition of Min Nan culture and to set solid foundation for close international cooperation in the future on Min Nan culture studies.

President Lai hosted the opening ceremony and sincerely welcomed all attendees. President Lai commented that, in 1661, Lord with the Imperial Surname, Koxinga (Cheng Cheng-Kung, aliased Zheng Chenggong, 鄭成功), who came from Quemoy (Kinmen) to Tainan to expel the governance of the Dutch East India Company (Vereenigde Oost-Indische Compagnie, VOC) away from Taiwan in 1662. Systematically, Koxinga brought Min Nan culture to Taiwan. Tainan was the state capital and is certainly a symbolic city of Min Nan culture. National Cheng Kung University (NCKU) located in Tainan City, indeed named after Koxinga, is a main university in Taiwan and has shared many similarities with Kinmen. For example, a majority of overseas alumni of NCKU come Southeast Asia to which Kinmen has many people emigrated. NCKU has participated in many academic activities such as Presidents' Forum of Southeast and South Asia and Taiwan Universities (SATU Presidents' Forum) to establish close and active relationship within Southeast Asian universities. Additionally, Cheng Kung in the official name of NCKU - National Cheng Kung University, is truly named from "Cheng Cheng-Kung", Koxinga's first name. NCKU and Kinmen are both the research hubs of Min Nan culture. Therefore, NCKU has imperative responsibility and willingness to hold this conference.

Mayor Hsu of Tainan City commented that NCKU began as a college of engineering and gradually transferred to a comprehensive and world-class university. He praised President Lai's contributions to promote NCKU and bring in fame to NCKU. Moreover, Mayor Hsu commented that "we need to envision more broad views to become much more in globalization and internationalization. This is also the main vision of NCKU now. However, we could not forget our root. If we neglect our origins, we would be lost in the global market. Hence, we have to focus more on those local factors specifically belonged to us, not anyone else. That is our niche". Mayor Hsu of Tainan City, hence, strongly recommended that Tainan is the best place to hold "2009 International Academic Conference on Min Nan Culture", regarding that Tainan is an ancient and historical city full of Min Nan culture for a long time since 1661. Mayor Hsu of Tainan City also made a wish that renaissance of great Taiwanese culture could be emerged from Tainan City, a city full of culture but vividness, as well as endeavor but romance.

Prof. Feng mentioned that, though he was born in India, he was really grown up in Singapore with Guangdong culture, but profoundly influenced by Min Nam Culture for a long time. Many Fujian people had emigrated to Southeast Asia and pounded great influence in economy, education and culture in that region. The Min Nan culture has, hence, become a very important one in the culture clan of the world.

Prof. Feng found out that the 1,000-year history of Kinmen can be coincidently divided into four parts. The first part is called "ancient south Fujian culture", which centers on Master Chu Hsi (Zhu Xi, 朱熹). Master Chu His brought Confucianism into Quemoy, which made Quemoy is always the center of Confucianism. The second part is called "nearly modern south Fujian culture", which centers on Koxinga (1624-1662). Koxinga was based around Quemoy (Kinmen) and Amoy (Xiamen), nowadays called "Kin-Xia", with which he was able to dominate the sea at that time with a hope to recover the South Ming Dynasty from Qing Dynasty. In 1687, Kinmen established a Wu Jiang College (浯江書院) to revere Zhu Xi. Coincidently, Sir Isaac Newton also published his epic Philosophiae Naturalis Principia Mathematica in 1687.

The third part is called "modern south Fujian culture", which begins with the latter part of the 19th century to the mid-20th century. During this period, many Min Nan habitants unwontedly emigrated to Southeast Asia to seek for better life as their lives in Min Nan were so miserable. Even nowadays, though many descendants of theirs have been neutralized and royal to their residential countries, they still have very deep link in their feelings with Kinmen.

The last part started from 1949 when China and Taiwan were engaged in hostile and malicious relationship, which is now still perplexed. During this period, Quemoy (Kinmen) was well known for its unsinkable position in a frontline of Cold War. Quemoy (Kinmen) was even mentioned for 16 times in the third presidential debate of President Nixon and President Kennedy on October 13, 1960. Prof. Michael Szonyi of Harvard University recently published an interesting book about Quemoy with the title "Cold War Island" that contains complete description on the history and development of Quemoy.

In addition, Kinmen with its particular geographical location has rooted the Min Nan culture deeply in China, Taiwan and South Asia. If for some historic reason that Kinmen became integrated with China, the link between Taiwan and South Asia will not be as solid as it is now. Furthermore, the current situations on both sides of Taiwan Straight will become totally different. Hence, Kinmen will become the center of the center of the "Kinmen-Xiamen-Southeast-Asia Greater Life-Circle" (金廈南洋大生活圈) and provide great opportunities to tertiary education in these regions.

NCKU and KMIT made a declaration to form a strategic coalition and partnership toward a trend of the improved cross-strait relationship and on a basis of social responsibilities before. The aim of this declaration was to jointly promote Min Nan culture which enriches the Taiwanese literature, to outline the development and blueprint of Kinmen in the twenty-first century, and to build modern Kinmen-Xiamen living community and to share economic development with Southeast Asia . Hence, NCKU, Kinmen and the Min Nan culture will be connected with each other deeply.