2010 SATU Presidents' Forum Began on October 2nd in NCKU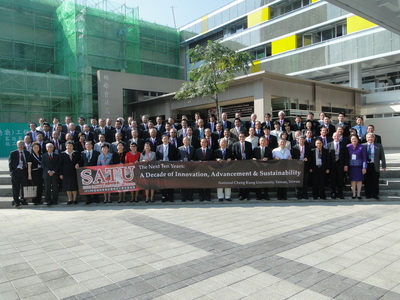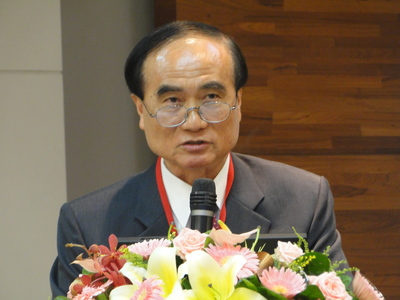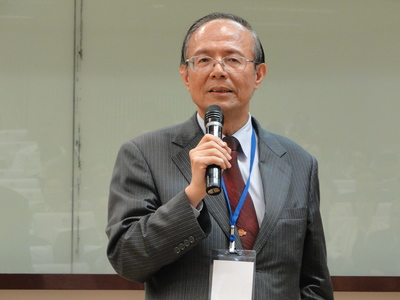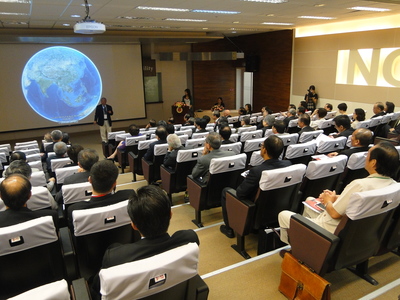 Tainan, Taiwan, October 2nd, 2010

The 2010 Presidents' Forum of Southeast and South Asia and Taiwan Universities (2010 SATU Presidents' Forum) is held on October 2nd and 3rd in International Conference Hall, Kuang-Fu Campus, National Cheng Kung University (NCKU), Tainan, Taiwan, inviting presidents and representatives from 71 universities in 8 countries to jointly explore the topic of "The Next Ten Years: A Decade of Innovation, Advancement, and Sustainability."

In the opening ceremony, NCKU President Michael Ming-Chiao Lai, the Chairman of SATU International Secretariat, first welcomed all the participating guests. He expressed, "Since 2003, we have gathered together every other year and discussed various topics of importance. I believe that SATU will further make its presence known as a unique and irreplaceable organization in Southeast and South Asia. Our theme this year properly captures the ongoing efforts made by all universities to innovate, to advance and to become self-sustainable."

President Lai also mentioned, "Certainly, our organization is still very young. However, what we have accomplished within the past years cannot be underestimated. This year's theme can also be a reminder to all of us to continually strive for excellence as we venture down the road of becoming top-notch universities to nurture future citizens of our society. It is my hope that SATU will continue to serve as a platform for all University leaders to be able to come together and discuss issues of importance in our region."

Political Deputy Minister Tsong-Ming Lin of the Ministry of Education, Taiwan, revealed in his opening remark, "On behalf of Taiwan's Ministry of Education, I would like to extend my warmest welcome to all of the overseas participants. Every country in the world has made the cultivation of human talent a priority in the 21st century. Education policies must rely on the Ministry's experience in order to recognize the core values and education mission for this century. Advanced countries have embarked upon a path of education reform, with Taiwan recognizing education as the bedrock of national development. To realize even greater achievements, we look forward to a deeper collaboration between local and central governments as well as efforts from both the private and public sectors."

Political Deputy Minister Tsong-Ming Lin explained, "The 21st century is a century that is centered on the development of the information economy. Whether we can make further progress in innovation and R&D hinges on higher education. Higher education has become the arena of knowledge innovation and human resources of many nations. It plays a key role in the continuing development of nations and is the source of upgrading national competitiveness. In recent years, in the face of rapid social changes, political freedom, rapid economic growth, change in industrial structure, and diversification of values, the importance of higher education is facing new challenges."

The competitiveness of higher education is an indicator of a nation. To ensure that development of higher education can adapt to the needs of diverse social development, higher education should seek new breakthroughs. Proper adjustments and forward-looking planning should be made. In addition to adjusting the role the government plays in higher education, allowing universities to have more say in their business, traditional social values should be broken through in order to shape the new higher education culture and establish each country's characteristics and international status.

Political Deputy Minister Tsong-Ming Lin concluded, "Aiming at the potential collaborations and benefits between the academic institutions throughout the Asia-Pacific region could provide a platform to all friends present here, for discussion and communication on issues affecting us all. Not only will this enhance the cultural exchanges of different countries, but also build solid friendships among universities in the Southeast and South Asia region."

A total of 71 international and domestic universities, including 3 universities from India, 5 universities from Indonesia, 5 universities from Malaysia, 7 universities from Philippines, 1 university from Singapore, 6 universities from Thailand, 5 universities from Vietnam and 39 universities in Taiwan, have attended the SATU Presidents' Forum.

The 2010 Presidents' Forum of Southeast and South Asia and Taiwan Universities (2010 SATU Presidents' Forum), which is held on October 2nd and 3rd, aims to provide a venue for academics to share their valuable experiences to improve higher education and international cooperation in the region.

In addition, various youth activities have been conducted to strengthen the cultural exchange and academic collaboration for all member university students. For example, the 2nd Student Business Plan Competition, which was held in September, 2010, aims to create a challenging and unforgettable experience for all student participants.