Architect Sheng-Yuan Huang of Field Office Resides at NCKU, Taiwan's First Architect-in-School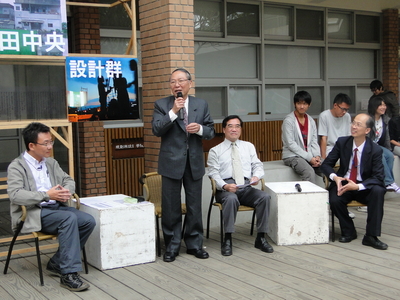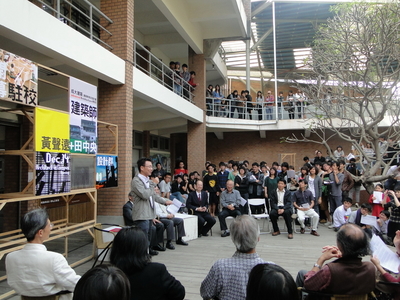 Tainan, Taiwan, December 14th, 2010

To provide students with a multi-learning channel of architecture, a complex research field covering humanities, science and art, Department of Architecture at National Cheng Kung University (NCKU), Tainan, Taiwan, has invited architect Sheng-Yuan Huang to reside at NCKU, starting on December 14th for an year, to jointly promote high-quality architectural education with the university, allow the integration of architectural teaching and application, and strengthen the completeness of architectural education.

The opening ceremony of the Architect-in-School began at 11:30am, December 14th, on the wooden stage, first floor of Department of Architecture at National Cheng Kung University, where Senior Executive Vice-President Hwung-Hweng Hwung, Dean Feng-Tyan Lin of College of Planning and Design, Director George C. Yao of Department of Architecture, Architect-in-School Sheng-Yuan Huang, as well as dozens of teachers and students from Department of Architecture have attended the ceremony.

"I want to thank Department of Architecture for inviting an architect to be an Architect-in-School. NCKU Department of Architecture is originally a department in the College of Engineering but we have specially established College of Planning and Design due to its outstanding performance. Teachers from NCKU Department of Architecture have been teaching for so long, lacking opportunities for practical constructions and forgetting creativities, thus, it is wonderful that the Department has recruited a creative architect to NCKU to interact with the students," said NCKU Senior Executive Vice-President Hwung-Hweng Hwung in his opening remark.

Vice-President Hwung-Hweng Hwung also mentioned, "Architecture is like art, which requires many feelings and innovations. I hope when architect Huang resides in the university, he can share his skills, knowledge and experience with the students, allowing them to explore the unique aspects of architecture in engineering, widen their perspectives and discover limitless creativities."

Architect Sheng-Yuan Huang revealed, "For me, National Cheng Kung University has been a mysterious place that we have kept contact with for many years. Graduates from NCKU, especially in government institutions, are crucial in decision-making, and recently, the number of students from NCKU has increased in our Office in Yilan County. Thus, by residing in NCKU, I believe we can complement each other. Being working in the industry for so long, the scariest thing is that one may slowly find excuses and forget about the original intention of architecture. This is why for many years I never dare to cut my relationship with the school."

Mr. Sheng-Yuan Huang stated, "I have planned 9 or 10 intensive activities for the future. Basically, we will organize a work camp, involving some practical experience of construction. My colleagues can provide assistance in this aspect, where we will invite 9 to 12 students to participate in the work camp located in Yilan and arrange the students to live in the construction site. They can personally witness the conditions of my colleagues discussing and working together. This will be a very real and rewarding experience. "

The Architect-in-School of College of Liberal Arts and Artist-in-School of Art Center at National Cheng Kung University have brought humanistic and artistic atmosphere to the university which is most noted for engineering, thus establishing a high-quality humanistic campus.

The Architects-in-School are expected to integrate professional knowledge from the three departments in College of Planning and Design from the perspective of architecture, reach the goal of inter-disciplinary integration through methods such as lectures and work camp, create a professional architectural environment in the campus, provide related information to the industry, cultivate students' ability of integrating architecture and other fields, help promote architectural education and develop industry-academia cooperation by integrating the practical experience of construction sites and school resources.

In addition, the Architects-in-School will make use of the school facilities to organize lectures, construction site sightseeing and hands-on implementations to strength the architectural professional and integrating abilities of students, to share their practical skills and experience with the students, and to provide an industry-academia communication platform for the contact and consultation between the industry and the students.