NCKU Student Won the 2nd Place in World Computing Competition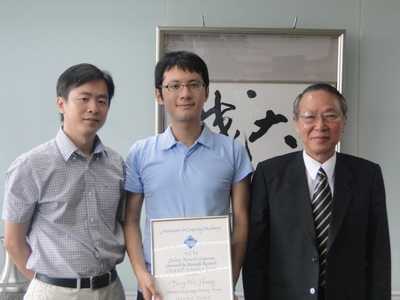 Tainan, Taiwan, June 21st, 2011

Tsung-Wei Huang from the Institute of Computer Science and Information Engineering of National Cheng Kung University (NCKU) has won the 2nd place in the undergraduate category of Student Research Competition (SRC) held by the Association for Computing Machinery (ACM) with his work on the design and optimization for digital microfluidic biochips.

More than 50 participants from countries like the United States, Canada, United Kingdom and Taiwan made the final competition and the top 3 winners received prizes of US$500, US$300 and US$200, respectively, and award plaques. The winners were invited to ACM's annual award banquet on June 4 in San Jose, California, along with their advising professors.

"I am grateful that my advising professor has brought me into the research field of biochips and helped me compete with students from different countries on an international stage," said Tsung-Wei Huang.

According to Tsung-Yi Ho, the advising professor, it is the first time that Taiwan's students were on the short list of ACM Student Research Competition and then won an award.

"This definitely gets NCKU align with Cambridge University, the 1st place winner, on the world map," he said.

President Hwung-Hweng Hwung pleasantly expressed that it is an honor that the research quality of NCKU students is recognized by the world's largest education and scientific computing society.

President Hwung urged the student to continue with his research and apply for the international patent for practical use in the future.

Tsung-Wei Huang recently obtained his master degree in computer science and information engineering after studying only one year in the program because of the quality of his outstanding research and papers which is equivalent to that of any doctoral student in a renowned university.

He plans to pursue a doctoral degree after he completes the required military service. Universities such as Duke University, University of California, L.A. and University of Texas at Austin have already offered him the admission.