NCKU Professor the First Chinese Conferred the IFToMM Honorary Membership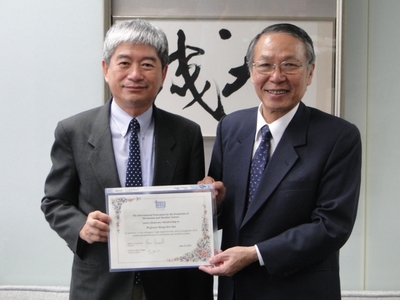 Tainan, Taiwan, June 28th, 2011

Hong-Sen Yan from the Department of Mechanical Engineering at National Cheng Kung University (NCKU) has been conferred the Honorary Membership by the International Federation for the Promotion of Mechanism and Machine Science (IFToMM) in recognition of his 30 years of accomplishments in mechanism and machine science, marking the first Chinese to receive the honor.

Yan received the membership certificate on June 22nd in the 13th World Congress in Mechanism and Machine Science, Guanjuato, Mexico, along with 3 other recipients from Germany, India and Mexico.

"The Honorary Membership is the highest award granted by IFToMM as it allows only 12 living honorary members," said Hong-Sen Yan, currently the Senior Executive Vice President of NCKU. "I was more than happy to become one of the recipients and the youngest honorable member."

Yan's areas of research are creative machine design and kinematics of mechanisms and he has published more than 300 academic papers, received 52 national and international patents and written 8 books.

In addition, he is the leading figure regarding the research and collection of ancient Chinese locks and has about 900 pieces of wooden locks, bronze locks, metal locks and pin-tumbler cylinder locks from different historical periods.

In the past 20 years, Yan has written prose that has won him a wide readership. He plans to become a prose writer after his retirement.